This post may contain affiliate links. If you click a link and buy something, I may receive a small commission at no extra cost to you.
The Marcy Upright Mag Cycle, AKA the Marcy ME-708 Upright Exercise Bike, is a compact, lightweight fitness aid with a very reasonable asking price that runs smoothly and quietly.
Though lacking some of the features of expensive exercise bikes, it has enough to provide an effective workout.  This includes adjustable resistance, a display panel that shows workout stats, and a height-adjustable seat.
Along with promoting weight loss by burning calories, regular use will improve your cardio health and shape and tone your lower body and core muscles.
With an upright exercise bike such as this one, your cycling experience will be similar to that you would get on a road bike.
Keep reading this Marcy Upright Mag Cycle review to find out more about this bike that has thousands of purchaser reviews online, the vast majority being positive.
Who Will the Marcy Upright Exercise Bike Suit?
The Marcy ME-708 Upright Exercise Bike best suits cyclists of new and intermediate levels.  Those with more experience will not find the resistance enough of a challenge.
People of most heights and weights looking for a small, budget-priced piece of exercise equipment that provides low-impact aerobic workouts should be happy with this model.
Marcy Upright Mag Cycle Review Video
Marcy Upright Mag Cycle Specs
Dimensions – The Marcy Upright Mag Cycle measures 48 3/4″ (H) x 31 1/2″ (W) x 18″ (D)
Inseam – The inseam adjusts between 26″ and 34″
Seat dimensions – The seat measure 10″ (L) x 10″ (W)
Handlebar to seat – The handlebar to seat distance adjusts between 23″ and 30″
Seat to floor height – The seat height adjusts between 30″ and 40″ above floor height
Weight – It weighs 41 lbs
User weight – Its user weight limit is 300 pounds
User height – The bike is recommended for users from 4′ 11″ to 6′ 4″, with shorter and taller uses leaving positive feedback
Color – It is black, gray, and copper
Batteries – You will need 2 x AAA batteries for the monitor
Marcy Upright Mag Cycle Key Features
The Marcy ME-708 Upright Exercise has a belt drive system that operates through pedal power.  Its flywheel is covered for safety and to keep the mechanics clean.
The bike's 14-gauge steel alloy frame has a powder-coated finish that resists scratches, chips, and corrosion.
Stability, Smoothness, and Noise Level
The bike's robust frame offers stability, as do the stabilizers that you can adjust to prevent wobbling if your floor is slightly uneven.
The drive and resistance systems provide a fluid pedaling motion.
Magnetic resistance eliminates friction to deliver very smooth, whisper-quiet workouts on par with those of far more expensive exercise bikes.
Its 8 levels of magnetic resistance are accessible at the turn of a dial.
A large, easy-to-read display panel shows Speed, Distance, Time, Calories burned, and Odometer, which is the cumulative distance of your workouts from day one.
Pressing reset will clear your metrics.
Selecting Mode will enable you to display a single stat of your choice.  If you'd like to see all of your stats, press Scan, and your stats will rotate, with each displayed for 4 seconds.
Alternatively, jump on and start pedaling.  There's no need to press the on/off button, and when you finish your session, if you don't switch the monitor off, it will shut down automatically after 8 minutes to conserve the batteries.
The seat of the Marcy Upright Mag Cycle is high-density foam covered in resilient PVC.
Adjustable seat height makes the Marcy Upright Mag Cycle suitable for just about anyone, short or tall.  Nine settings are available, with the lowest 30″ and the highest 40″ above floor height.
The most common complaint about the Marcy Upright Mag Cycle is that its seat is hard.  This observation usually comes from people who have never used an exercise bike before.
Most experienced cyclists consider the bike's seat to be no less comfortable than that of any bike.  Many individuals from both the non-experienced and regular cycling groups say they find it quite comfortable.
Regardless of the brand or model of bike, a bike seat cover will make your workouts a lot more comfortable.  One that teams well with this bike is the Imitation Sheepskin Padded Bicycle Seat Cover.  If you don't want to purchase a seat cover, try placing a cushion or folded towel on the seat, or wear gel cycling shorts during workouts.
Counterbalanced ergonomic pedals are textured to enhance grip.  Adjustable straps will keep your feet securely in place, making for safer, more comfortable rides.
You can reverse cycle to target different muscles without any loss of resistance, but you won't be able to stand and pedal. 
The bike's reversible multi-grip foam-padded handlebars are comfortable to hold.  Their position is not adjustable.
The end caps double as wheels for easy relocation or storage of the bike if required.  Grasp the handlebars, tip the bike forward, and roll it away.
Assembling the Marcy ME-708 Upright Exercise Bike is a quick and easy job that takes most people between 30 and 60 minutes.  Easy to understand written instructions come with the bike, along with the needed tools.  Diagrams are included for those who prefer a visual reference.
Some buyers who left feedback said that one part of the assembly process is a little fiddly but doable.
A 2-year warranty covers defective workmanship and materials. 

Pros
Low price –

The Marcy exercise bike provides the means for people on a tight budget to lose weight, tone up, and get fit.
Generous user weight limit –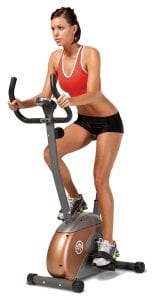 For an entry-level lightweight exercise bike, the 300-pound user weight limit is quite impressive.  Far heavier users have said they use the bike regularly, but it's always best to follow the manufacturer's guidelines.
Compact and Light –
The Marcy Upright Mag Cycle is compact enough for small houses, apartments, or dorm room residents.  It is quite light at 41 lbs, and it has transport wheels that make moving it easy if required.
Smooth & quiet –

The bike's magnetic resistance adds to the enjoyment of workouts because the cycling motion is almost silent and very smooth.
Accurate stat readout –

With some fitness equipment, the calories burned readout is questionable.  This is not the case with the Marcy Upright Exercise Bike, which users have found very accurate.
The Marcy Upright Mag Cycle has more positives than many other exercise bikes in its price range, but it does have some drawbacks.  We will look at these below.
Cons
Hard Seat –

As with any fitness aide, not everyone will find the seat comfortable.  A bicycle seat cover can be attached to the seat to overcome this.
Quality –
A small minority of purchasers said they find the Marcy Upright Mag Cycle to be flimsy.  Many others are extremely happy with its quality, especially considering its low price.
No backlight –

The display isn't backlit, so reading your metrics could be difficult in a dimly lit room.
Doesn't fold –

This model does not fold to store;l however, it has a pretty small footprint.
Lacks accessories –

The Marcy ME-708 doesn't have a media shelf, a water bottle holder, a heart rate monitor, or Bluetooth.
Closing Thoughts on the Marcy Upright Exercise Bike
If money is tight and you don't have a lot of space for exercise equipment, the Marcy Upright Exercise Bike should be on your shortlist.  Available at a
price that's hard to beat, it is smooth and quiet to use.  Its features are pretty basic, but it has everything needed to experience the benefits of a stationary bike workout.
If you're unaccustomed to cycling, the bike's seat can initially feel very uncomfortable.  The Marcy Upright Mag Cycle is no different from most other bikes in this regard.  The best way to enhance the comfort of workouts is to use a bike seat cover to provide an extra layer of padding.
All things considered, the Marcy Upright Mag Cycle is one of the best upright exercises bikes you can buy for the price.  Numerous people who have used the bike regularly for an extended period have left positive feedback, so it's well worth a closer look.
Not the bike for you?  Click this link to read more upright bike reviews