This post may contain affiliate links. If you click a link and buy something, I may receive a small commission at no extra cost to you.
The NordicTrack T 6.5 S Treadmill is a value-for-money treadmill suitable for walking, jogging, and light running sessions.
While its price is mid-entry-level, its features are anything but.  Included among these are a wide range of pre-programmed workouts, adjustable incline, and heart rate monitoring capability.
And its warranty is on par with that of a far more expensive model.
Workouts are smooth and quiet.  They are also comfortable thanks to the machine's large running surface and NordicTrack's FlexSelect cushioning system.
This unique system lets you adjust the deck's surface from soft for low-impact sessions that are easy on the joints, to firm if you want to simulate exercising outdoors.
In this NordicTrack T 6.5 S Treadmill review, we will look at its specs, key features, pros, cons, and more.
Who will the NordicTrack T 6.5 S Treadmill Suit?
The NordicTrack Treadmill T 6.5 S should suit new and intermediate level buyers looking for a treadmill with a variety of programs and useful features that will enhance their workouts.  Its soft-surface option will appeal to anyone who needs to do very gentle workouts.
Able to accommodate people up to 6′ 6″, this is a great model for tall individuals.
If you're a seasoned athlete who wants to do very fast-paced running, you will need a treadmill with a more powerful motor and a higher top speed.
NordicTrack T 6.5 S Treadmill Specs
Assembled dimensions – The NordicTrack T 6.5 S Treadmill measures 67.5″ (L) x 35.75″ (W) x 73″ (H)
Folded dimensions – When folded, the treadmill is about one-third of its assembled length
Step up – The running surface is about 8 inches above floor height with the front lifting another couple of inches when the deck is fully inclined, making the overall maximum elevation around 12 inches
Tread belt measurements – The tread belt measures 20″ (W) x 55″ (L)
Weight – It weighs 203 lbs
User Weight – The user weight limit for this model is 300 pounds
NordicTrack T 6.5 S Treadmill Overview
The NordicTrack T 6.5 S has a 2.6 CHP motor.  This is designed to accommodate long-duration workouts
without the motor overheating or choking, even if you are working at maximum speed.
Being an electric motor, you will have to connect the treadmill to a power circuit of 15 amp, 120-v.  The package includes a power plug and a 4-foot long cable to use for this purpose.
The deck of the NordicTrack T 6.5 S Treadmill features a One-Touch Automatic Lift System that provides up to 10 percent incline.
Incline adjustments are automatic with some programs.  There's also the option of pressing a button on the console to change the angle to anywhere between a 1% and a 10% slope.
The deck features FlexSelect cushioning which reduces the impact on joints by up to 25 percent, so your workouts will be safer and easier on your hips, knees, and ankles.
The treadmill's heavy-duty one-ply belt can comfortably support runners as tall as 6′ 6″. 

NordicTrack T 6.5 S Treadmill Infomercial
Key Features
The motor of the NordicTrack T 6.5 S Treadmill has sufficient power to support walking, jogging, or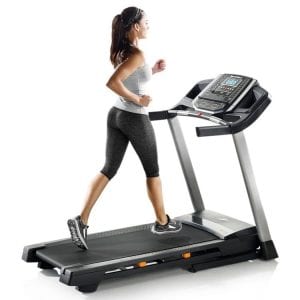 mid-paced running workouts.
Its top speed is 10 MPH, with adjustments able to be made in 0.5 MPH increments.
The deck lifts to an angle of up to 10% at the touch of a button.
FlexSelect Cushioning System 
The treadmill's cushioning system allows you to change the firmness of the desk at the turn of a dial.
Choose the cushioned option for a soft surface which absorbs impact for gentle low-impact workouts.  Turn the dial in the other direction to switch to a rigid surface.
20 preprogrammed workouts cater to a range of different fitness goals.  The intensity of the workouts varies, as does the distance you will travel, your speed, incline, and other metrics.  There's also the option of entering customized calorie, time, distance goals, etc.
A 5″ backlit LED monitor on the console features large digits which show workout stats including Elapsed
Time, Time Remaining, Incline, Distance, Speed, Calories Burned, 1/4 Mile Track, Pace (minutes/miles), and Heart Rate
Dual pulse rate sensors incorporated into the handlebars allow you to track your heart rate and stay in your best training zone.
The EasyLift Assist System enables the treadmill to be folded to store and lowered to use with almost no effort at all.
The NordicTrack Treadmill is iFit compatible.  While not a requirement, with an iFit subscription you will be able to sync to your tablet or laptop via Wifi to expand the treadmill's benefits.
Included among these is access to new workouts every day and the ability to use Google MapsTM to replicate virtual runs.  You will also be able to customize your sessions further, directly monitor your progress, have fun competing against your friends, and do a whole lot more.
Something to keep in mind, however, is that an iFit® membership and module will cost extra.
The treadmill's sound system, which has two 2-inch speakers, produces better than average audio, and it is compatible with most tablets, smartphones, and MP3 players.
Accessories include a media holder and two water bottle/cup holders.
Next, in this NordicTrack T 6.5S Treadmill review, we will look at its pros, then its cons.
Pros
Next in this NordicTrack T 6.5 S review, we will look at its pros, followed by its cons.
Robust and durable construction –
The NordicTrack Treadmill's steel construction makes it heavy, however; the weight adds to its strength and durability.
1.9" precision-machined and balanced non-flex rear rollers minimize wear on the belt, motor, and drive system, increasing the lifespan of these.
Smooth, Stable & Quiet workouts –
Combined with its robust construction, a small flywheel provides smooth and stable sessions.
Two pairs of rubber pads support the machine at the back and the front, with the back pads featuring adjustable deck stabilizers.
The machine is very quiet, so you won't have to worry that your workouts will annoy your housemates.
User-friendly –
One-Touch controls make for convenient incline and speed adjustments on the fly at the press of a button.
Variety of programs –
With so many preset programs to choose from, your workouts will feel fresh, and you will be able to mix things up for more significant fitness gains.
Effortless Folding and Unfolding –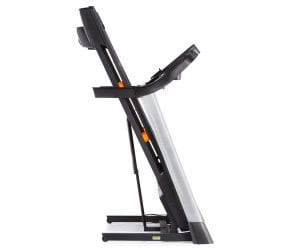 The treadmill's deck is easy to raise when you want to store the machine and equally easy to lower when you want to work out.
Quick assembly –
Assembling the treadmill takes most people about 60 minutes.  The deck and motor come preassembled, so all you will need to do is attach the upright posts, the folding leg, and the console.
Easy-to-understand instructions are included, as is an Allen wrench to help you finish the job.  You will also need a Phillips screwdriver.
Excellent warranty – 
The warranty for this model covers a lifetime for its frame, 25 years for its motor, and 1-year for parts and labor.
Cons
Not as smooth at lower speeds –
A few reviewers have noted that when used at speeds under 4MPH, the belt can stall slightly.
Not telemetry compatible –
The NordicTrack Treadmill T 6.5 S is not telemetry-enabled, and it cannot be used with an HR chest strap.  This means that you will only be able to monitor your pulse rate via the sensors incorporated into the front handlebars.
Assembly –
Because its parts are heavy, it may take two people to assemble the machine.
Lacks a fan –
This model does not come with a fan to help cool you during workouts.  This should not be a deterrent, as the fans on most models create minimal air movement.
Defective parts –
A small number of buyers received damaged treadmill parts.  Unfortunately, this can happen with any item.  If it does, notify the manufacturer who will send you a replacement.
NordicTrack T 6.5 S Treadmill Summary
The NordicTrack Treadmill T 6.5 S lacks the bells and whistles of some other models, but it has more than many others in its price bracket.  This includes adjustable incline, a decent top speed, heart rate monitoring, and a range of workout programs that rival many pricier models.
Add to this a deck that can be made softer or firmer to suit the individual's requirements and an excellent warranty, and you've got a treadmill that is well worth considering.  While it has a few negatives, its good points outweigh these, and it has everything most people will need to experience the benefits of treadmill exercise.
Not the right model for you?  To read reviews of other popular treadmills, click this link