This post may contain affiliate links. If you click a link and buy something, I may receive a small commission at no extra cost to you.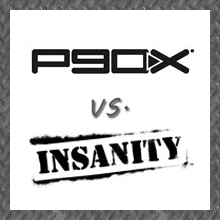 In this P90X Vs Insanity workout review, we look at and compare these two popular BeachBody programs.
I'd heard good things about both Insanity and P90X but was under the impression that the latter was better suited to guys.
Some women want to build a lot of muscle definition.  Others just want to lose body fat and tone up without fear of ending up with a masculine-looking physique.
For this reason, it's essential to know the aim of the program you are thinking of undertaking.
So I set about researching Insanity and P90X and comparing reviews from people, specifically women, who have completed both programs.
Keep reading to find out what I discovered.
* Read my full P90X3 review

here
* Read my full Insanity review

here
P90X Vs Insanity – The Aim
When it comes to assessing P90X Vs Insanity, knowing what to expect will enable you to decide which
program will work best for you.
Tony Horton's Beachbody P90X delivers a full-body workout consisting of cardiovascular, yoga, and weight training sessions.  A 90-day program, the primary aim is to shed excess weight and build lean muscle.
The workouts are done 6 days a week, with each approximately 60 minutes long.  A typical week comprises 3 days of weight training, one Plyo workout, one Kickboxing session, and one Yoga workout.
P90x workouts change every 3 weeks, so it's unlikely that boredom will be an issue.
While muscle toning will result from regularly doing Shaun T's Insanity workout, weight loss is the focus.  An intense program from BeachBody that runs for 60 days, the Insanity exercises are done 6 days a week.  An average session is approximately 45 minutes long, though some are shorter and others are longer.  Workouts include cardio, resistance, plyometrics, and more, with the pace markedly stepping up during the program's second half.
Insanity and P90X are quite challenging; however, with both, if the movements are too tough, there's the option of following a modifier who demonstrates easier versions of the moves.
Next, we will look at the style of the programs to help you decide if P90X or Insanity will best suit your requirements.
What Style are the Programs?
The premise of P90X is "muscle confusion."  Reliable results are attainable through alternating the types of exercise you do and varying your diet so that your muscles and metabolism don't know what to expect next.  This method will also help you avoid the dreaded weight loss and fitness plateau.
The core of the Insanity workout program is "Max Interval Training," this being undertaking extended bursts of intense cardio, followed by shorter, less intense cardio.  The workouts will quickly elevate your heart into its maximum fat-burning range and leave you drenched in sweat.
P90X Vs Insanity Comparison

Equipment needed for P90X includes resistance bands or dumbbells and a Chin-Up Bar.  While not a necessity, a yoga mat will make for more comfortable workouts.  Optional extras which will be helpful but not mandatory are Push-Up bars, a yoga block, and a heart rate monitor.
P90X Vs Insanity Diet
The P90X and Insanity diets are quite different.
The P90X diet centers around a 3-phase nutrition plan.  Phase 1 of the diet, the Fat-Shredder phase, involves eating mainly high protein, low fat, low carb foods.  This type of diet, especially when combined with regular workout sessions, usually results in significant weight loss, but also a decrease in energy due to the low level of carbs consumed.
Phase 2 is called the Energy Booster.  It is similar to the Insanity diet in that your meals will contain 40% carbohydrates, 40% protein, and 20% fat.
Phase 3 of the P90X diet is known as the Endurance Maximizer.  If you have a lot of body fat to lose, it's best to stick with phase 2, as with Phase 3, gaining body fat is a possibility.
More straightforward, the Insanity diet is not difficult to stick to.  Simply follow the instructions in the step-by-step guide to calculate your daily calorie allowance.  Also included with Insanity is a booklet containing some tasty recipes that are quick and easy to make.
P90X Vs Insanity Results
As far as P90X Vs Insanity results go, you really won't go wrong with either program if you put the effort in. Both will help you increase your fitness level, tone up, and lose weight.
As far as weight loss goes, I'd put Insanity slightly ahead of P90X.  I'd also rank it a little higher for increasing fitness.  When it comes to toning, P90X comes out on top for me.
Insanity or P90X – Which is for Me?
So what's it to be; P90X or Insanity?  Both are very challenging workouts, with the most difficult, in my
opinion, being Insanity.
With each, you will be working out 6 days a week and taking one day off.  Both programs are affordable, have a lot of excellent reviews from purchasers, and come with a money-back guarantee.
If you enjoy cardio but don't like lifting weights, you will probably do best with Insanity. On the other hand, if you like weight training, Push-Ups, Pull-Ups, and the like, P90X would probably be a better choice.