This post may contain affiliate links. If you click a link and buy something, I may receive a small commission at no extra cost to you.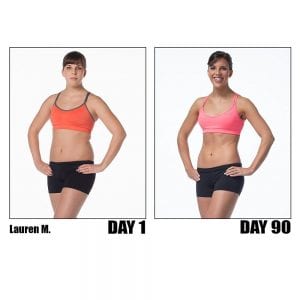 If you're looking for a comprehensive, unbiased BeachBody P90X3 review, you've landed on the right page.
When I first got into working out, I'd buy just about every new exercise program that hit the shelves.  Some I loved; others were a complete waste of money.
These days, I'm more discerning, thoroughly researching every product before I hand over my money.  I like variety, so buy a number of fitness DVDs/programs each year and those from BeachBody are among my favorite.
If I review a product, it's often because I own it and consider it to be worthwhile.  If I don't own it, sometimes a friend or family member does, and I've tried it.  I also review products with a high number of very positive independent reviews.
One such fitness DVD is the Tony Horton P90X3 Workout, which you can read about below in my P90X3 review.  We will also look at the differences between it and P90X and P90X2.
Tony Horton P90X3 DVD Workout Overview
This first part of my P90X3 review will be a general overview of the program.
Released in December 2013, the Tony Horton P90X3 fitness course is the third release from the popular P90X series.  (P90X was released in 2009, and P90X2 in 2011).  Over a year in the making, P90X3 is one of the most challenging and popular fitness programs you will find.  Not just from BeachBody, but across the board.
This comprehensive exercise program will take care of all of your fitness needs.  Included are 16 challenging 30-minute routines, designed to tone and shape your upper and lower body.  These feature a mix of everything from cardio, to Pilates to martial arts, yoga to plyometrics, and more.  The workouts are done 6 days a week.
The reason the sessions in P90X3 are relatively short is due to a system Tony created, called Muscle Acceleration.  Highly structured, Muscle Acceleration will enable you to get the most from every move.  You will be able to do so while avoiding the all too common plateau that can hinder progress and even prevent you from achieving your health and fitness goals.  With BeachBody P90X3, you're basically getting the benefits of a one-hour workout, in half the time.
What is the Difference between P90X, P90X2, and P90X3?
The workouts in the P90X3 DVD set are designed to get maximum results in less time than the P90X And P90X2 programs.  They're faster-paced, and there's a shorter rest period between each exercise.  The P90X3 workouts run for approximately 30 minutes.  You will also need to do a 2 to 3-minute Warm-Up before and a Cool-Down afterward.  P90X3 contains more variety than P90X and P90X2, helping to keep things interesting.
Each of the programs is 90 days long, but the workouts in P90X and P90X2 require that you work out for
60 to 90 minutes a day.  Along with being more time-consuming, with P90X and P90X2 your nutrition and food intake must be carefully monitored.  This is to ensure you are getting the correct nutrients, in sufficient quantity, to cope with the demands that long and strenuous exercise sessions place on the body.
P90X2 is more intense than P90X.  Part of the program is based on a system known as PAP (Post Activation Potentiation), which trains the brain to react more quickly, resulting in a faster response time.  This makes P90X2 especially suited to athletes, and people who want to use it to cross train to improve their sporting performance.
All three programs can easily be adapted to suit the individual's current fitness level, so if you have the time and really want to do P90X or P90X2, don't think these will be beyond your capability.  If you are not yet up to doing the regular workouts, follow along with the modifier who demonstrates an easier version of the moves.  When you get to the end of the program, if desired you can start it again, doing the regular version.
Most of the workouts in P90X and P90X2 are 60 to 75 minutes long, with 90 minutes required twice a week for the yoga sessions.
Who will P90X3 Suit?
Aimed at the more experienced exerciser, enthusiastic beginners can do the P90X3 workout by following the modifier who demonstrates an easier version of each exercise.  If, however, you are really out of shape, you might be better starting out with a less intense program such as Tony Horton's Power 90 DVD Workout, then progressing to the P90X3 DVD set when you are stronger and more fit.
In case you're wondering, P90X and P90X2 can be undertaken in conjunction with P90X3, or they can be done individually, without you having to work your way through each program before progressing to the next.  Start and end with whichever program you prefer, or do all three.  The choice is yours.
P90X3 Before and After Video
What's in the Box?
In this part of my BeachBody P90X3 review, we look at the program's inclusions.  These will vary,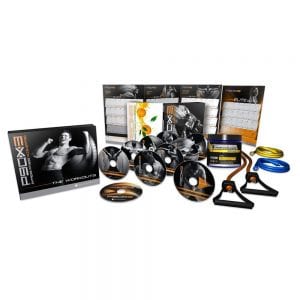 depending on whether you buy the P90X3 Base Kit, the Deluxe Kit or the Ultimate Kit.
The P90X3 Base Kit consists of 8 DVDs, containing a total of 16 x 30-minute workouts, plus a DVD entitled "How to Accelerate."  There's also a fitness guide, a nutrition plan, a workout calendar and access to a 24/7 online support forum.
Along with everything in the P90X3 Base Kit, the P90X3 Deluxe Kit comes with two additional DVDs, containing three extra workouts. 
Also included are 3 resistance bands of varying strength and a 30-day supply of a workout formula that will help you get the most from your sessions by delivering increased energy, focus, and endurance.  You will also receive an extra calendar.
As well as getting everything that comes in the Deluxe Kit, with the P90X3 Ultimate Kit you also get a BeachBody Jump Mat, a gym-quality Chin-Up Bar, the P90X Chin-Up Max (an aid which will help you use the Chin-Up Bar), and a 30-day supply of a post-workout drink that will enable you to recover faster from your workouts.
The DVDS
The eight main DVDs in P90X3 contain four exercise genres.  These include resistance, power cardio and core, flexibility, and balance workouts, as follows:-
1) Resistance Workouts:
• Total Synergistics – Total Synergistics is a total body resistance workout that quickly brings about visible results.
• The Challenge – The Challenge tones and strengthens the entire upper body.  The exercises are based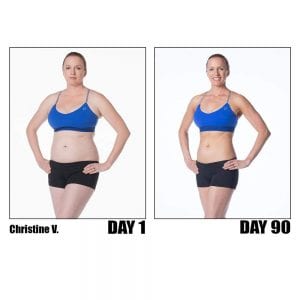 on a unique combination of Push-Ups and Pull-Ups.
• Incinerator – Incinerator is a full-on session that will push you to the max and beyond.
• The Warrior – The Warrior is a total body workout you can slot in, whenever and wherever you may be.
• Eccentric Upper – Eccentric Upper is an intense, fast-paced upper body workout that builds lean muscle in record time.
• Eccentric Lower – Eccentric Lower's focus is the lower body.  It works by slowing the eccentric (negative) half of each movement, sculpting muscles a lot faster.
2) Power Workouts:
• Agility X – Agility X combines aerobic and anaerobic exercise to increase strength, balance, flexibility, and precision.
• Triometrics – Triometrics is a dynamic new-gen plyometric routine that will very quickly increase your power and speed.
• Decelerator – Decelerator delivers multi-angle deceleration training at its best.
3) Cardio Workouts:
• CVX – CVX combines very effective resistance training with intervals.  It will work your entire body and strengthen your core.
• MMX – An excellent fat burner, MMX is a challenging workout with a focus on martial arts and cardio.  Along with lowering your body fat, it will increase your endurance, flexibility, and strength.
• Accelerator – Accelerator improves cardio fitness and muscular efficiency and shreds fat, fast.
4) Core, Flexibility & Balance Workouts:
• X3 Yoga – X3 Yoga is a flow-type workout that improves musculoskeletal flexibility, stamina, balance and core strength.
• Pilates X – Targeting the core, Pilates X is an efficient workout that increases muscular strength and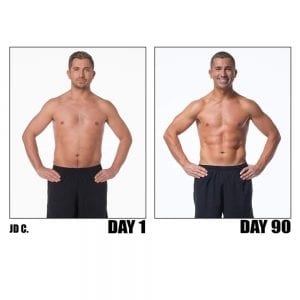 flexibility.  It also helps to stabilize the joints.
• Isometrix – Isometrix is an isometrics session like no other.  This session will help you build shapely muscles, fast!
• Dynamix – Dynamix improves stability, flexibility, and range of motion, maximizing the results of all of the workouts in the P90X3 package.
* The 3 Additional Elite Workouts which come with the P90X3 Deluxe Kit and the P90X3 Ultimate Kit are as follows:
• Complex Upper – Complex Upper is a 30-minute advanced level upper body workout that will help you to achieve the ultimate in upper body strength.
• Complex Lower – Complex Lower is a 30-minute workout that results in a leaner and stronger lower body.
• X3 Ab Ripper – X3 Ab Ripper is a 15-minute core strengthening workout, which will give you ripped abs and an impressive 6-pack.
* If you already have the base kit, the P90X3 Elite Workout DVD can be purchased on its own.
Helpful Tools 
In this part of my Tony Horton P90X3 review, we look at the helpful tools that come with the three kits.
• Fitness Guide – The fitness guide is a step-by-step guide that will help you attain the best from the
program.
• Nutrition Guide – The nutrition guide contains food recommendations, tips and suggestions, and recipes.  All are formulated to help you get ripped in the fastest possible time, without compromising your health.  Included are options for vegetarians and vegans.
• P90X3 Workout Calendar – The P90X3 Workout Calendar, will enable you to easily keep track of each day's exercise routine.
• "How to Accelerate" DVD – An introduction to the program, this DVD tells you how to get the best results from the program, in the shortest possible time.
• 24/7 Online Support – The forum allows you to get help from expert fitness trainers 24/7.  It also enables you to interact with fellow members – great for when you need extra support and encouragement!
Along with the additional workouts, the following tools are included in the P90X3 Deluxe Kit and the P90X3 Ultimate Kit:
• Elite Block Calendar – Keep on schedule with your three additional Elite Workouts, by using this handy workout reference calendar.
• 3 Pro-Grade Resistance Bands – Up the effects of your workouts, with this set of 3 resistance bands that provide the equivalent of a 25lb, 35lb, and 45lb weight.
• Energy & Endurance Pre-Workout Formula – Take 1 1/2 scoops of this lemon/lime flavored powder in water, 20 to 30 minutes before working out, for increased energy, focus, and endurance.
The formula contains a blend of natural energizers, advanced nitric acid boosters, B vitamins, electrolytes, amino acids, and natural sweetener.  It does not contain artificial flavors, sweeteners, or preservatives.
The P90X3 Ultimate Kit also includes the following:
• BeachBody Jump Mat – This premium quality mat will protect your floor from perspiration stains, and allow you to work out in comfort.  Thick, it will provide cushioning, and it won't move around or bunch up as you exercise.
• Gym-Quality P90X Chin-Up Bar – BeachBody's Chin-Up Bar in-Up Bar is a must for anyone who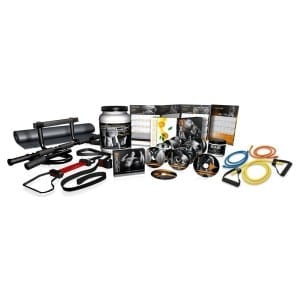 wants maximum results from their upper body workouts.  Attached to a door frame, this solid and secure piece of equipment will take your upper body workouts to a whole new level.
• P90X Chin-Up Max – Ideal for those not yet strong enough to do Chin-Ups without a little help, and anyone who wants to get in a few more reps, hook the P90X Chin-Up Max to your Chin-Up Bar, place one foot in the stirrup and the other foot on top, and proceed to do Chin-Ups.
The resistance of the straps is adjustable, so you can increase the challenge as you become stronger.
• P90X Results and Recovery Formula Post Workout Drink – This post-workout drink restores depleted glycogen, aids recovery and helps to repair muscle.  It contains the ideal 4 to 1 carb to protein ratio in a blend of scientifically proven ingredients, including various amino acids, plus key vitamins and minerals.
P90X3 Optional Extras
A number of complementary optional extras can be teamed with the P90X3 workout.  While not essential, they will enable you to benefit even more from the program.
The first of these is Tony Horton's Power Stands, which will enable you to exercise more comfortably.  They will also increase your range of motion during Push-Ups and Pike Presses.  Solid with a very stable base, Tony Horton's Power Stands will provide you with the height that is lacking in a lot of other Power Stands, enabling you to get a more effective workout.
Dumbbells and a medicine ball can also be used in conjunction with P90X3, but again, neither is a necessity.
Tony Horton's P90X3 Workout Review Summary
The Tony Horton P90X3 Workout will probably be one of the toughest fitness programs you will undertake.  If you're looking for an easy workout, it won't be for you.  If on the other hand, you want a challenging but achievable workout that will entirely change your shape for the better by working out for 30 minutes, six days a week, this could be just what you're looking for.
I hope you found my P90X3 review helpful and that it gives you a better idea as to whether P90X3 will be the right exercise program for you.
If you'd like to read reviews of some alternative fitness programs, click this link