This post may contain affiliate links. If you click a link and buy something, I may receive a small commission at no extra cost to you.
Today, we are looking at the Perfect Pushup device, which also goes by the name of the Perfect Fitness Perfect Pushup.
Traditional Push-Ups are an excellent bodyweight exercise for targeting the muscles of the upper body, including the chest, arms, and shoulders.  The upper back and abs are also worked, though to a lesser degree.
While very effective, unfortunately, the exercise places pressure on the joints that can result in wrist pain.  This is where the Perfect Pushup device can help.
An affordable and innovative training tool that was invented by a US Navy Seal, the device engages more upper body muscles and therefore maximizes your results.
Comprising two robust circular platforms with attached handles, it works with the natural movement of the arms and shoulders.  As you push down and lift your body upwards, your wrists will remain in a neutral position.
The platforms rotate during use, so less pressure is placed on the arm joints.  As a result, there is a substantially lower likelihood of experiencing the pain that can occur when doing traditional Push-Ups.
Keep reading this Perfect Pushup review to find out how it can help you to tone and shape your upper body.  We will look at its specs, an overview, its pros, and its cons.  We will also look at how the Perfect Pushup Basic and the Perfect Pushup Elite models compare.
Perfect Pushup Specs
Dimensions – The Perfect Fitness Perfect Pushup measures 8″ (L) x 8″ (W) x 4 1/2″ (H)
Weight – Each platform of the Basic model weighs, 1.08 lb, while the Elite model's platforms weigh 2 lbs
User weight – The maximum weight load is 300 pounds for the Basic and 400 pounds for the Elite
Whom will it suit?
The device will suit people of any fitness level who want to improve their strength and build muscle in their upper body and abs.
If you are new to exercise, read the "things to be aware of" section below.
Perfect Fitness Perfect Pushup Overview
The Perfect Pushup device allows you to target your chest, shoulders, arms, upper back, and ab
muscles to a greater extent than when doing regular Push-Ups.  This is due to the 90% arm rotation that occurs every time you lift and lower your upper body.
As with traditional Push-Ups, you can vary your workouts by changing the position of your hands from directly beneath your shoulders to a wide or a narrow grip.
You can also work with bent knees, with your feet elevated, and do any other variations that are possible with regular Push-Ups.
Ergonomic handles are comfortable to grip and textured to prevent your hands from slipping, even if you sweat.  They distribute weight evenly; therefore less stress will be placed on your wrists.
The manufacturer states that the device can also help to protect the elbows.  However, one study concluded that workouts produce the same pressure on the elbow joints as traditional Push-Ups.
A non-slip, non-marking rubber tread on the base provides an excellent grip, allowing you to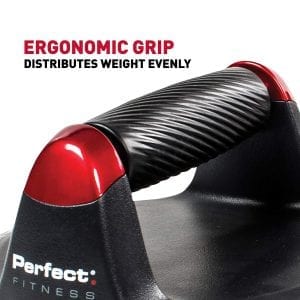 exercise with confidence on any floor surface including hardwood, laminate, tiles, and carpet.  If the unit moves during use, check that you are pushing straight down when lifting your body, not pushing sideways.
A patented steel ball-bearing system ensures smooth movement.  It also delivers durability, so you can expect to use your Perfect Fitness Perfect Pushup for many years.
A high user weight limit gives scope for most users to wear a weighted vest to increase the workout intensity.
While robust and durable, the device is light in weight so easy to move around if need be.
How do the two models differ?
The Perfect Pushup Basic and the Perfect Pushup Elite are quality products.  The shells of each are resilient toughened plastic.  Their ball bearing systems are identical, so your workouts will be smooth, no matter which one you buy.
Both versions feature high-quality rubber handles, with those of the Elite being padded, while the Basic's are not.  Each offers excellent floor grip.  Both come with a 1-year Limited Warranty.
The Perfect Pushup Basic weighs a little over 1 lb, while the Perfect Fitness Perfect Pushup Elite weighs 2 lbs.  The weight capacity of the Elite model is 400 pounds.  The weight capacity of the Basic is 300 pounds.  For most people, the primary advantage that the Elite has over the Basic is that a heavier weighted vest can be used with it if desired.
Each comes with a 21-day workout chart.
Both models have a lot of positive buyer feedback.  The Elite model is the more expensive of the two, but it is still very reasonably priced.  Some customers who have tried both have stated that the Elite is more comfortable.  Most buyers of the Basic model who have not used the Elite claim to be happy with it.
Things to be aware of
The rotating handles of the Perfect Pushup add a degree of instability to workouts that require
effort for the user to remain stable.  This provides a greater challenge for the abs and core, which can accelerate results.
If your core is weak, this added intensity may cause your back to sag.  This, in turn, could cause back pain.
The elevated position of the handles enables you to lower your chest closer to the floor and work your muscles harder as you rise from the Push-Up.  This movement will place extra pressure on your shoulders.
For the reasons outlined above, be sure to do some Warm-up stretches before and Cool-down stretches after your workouts.  If you feel too much strain on your back or shoulders, stop, and do fewer reps the next time you use the device.
If you are just getting into exercise, start with Bent Knee Push-Ups, and progress slowly.

Pros
The Perfect Pushup is affordable
Workouts provide a greater range of motion that targets muscles that traditional Push-Ups don't
It offers a better core workout than traditional Push-Ups
The device may help to protect your wrists and shoulders from strain
It comes with a 1-year warranty
Cons
The Perfect Fitness Perfect Pushup may not suit people with a weak core
The device could cause shoulder strain in people who are new to exercise and don't have a lot of upper body strength
Perfect Pushup Summary
Perfect Pushup workouts can help you to get better and faster results than you would by doing regular Push-Ups.  This is largely due to its elevated, rotating handles that add difficulty to Push-Ups while providing comfort.
People who have already been exercising for a while will appreciate the extra effort required to use the device.  Beginners can still use it and get great results, but those who are very out of shape or have existing elbow or shoulder injuries will need to be careful not to overdo it.
The model you choose to buy will depend largely on how often you intend to use the device and whether you want to wear a heavy weighted vest during your workouts.  If you plan light daily use, you weigh under 300 pounds, and you don't intend wearing a weighted vest, the Basic model should suit your needs.
Those who plan on doing extended workouts wearing a heavy weighted vest may find that the Elite suits them better.
Whichever model you buy, it will be relatively inexpensive, comfortable for most people to use, solid, and durable.  And, being lightweight, it will be easy to move if this is required.
For more information on the Perfect Pushup, click on one of the links below to visit Amazon.