This post may contain affiliate links. If you click a link and buy something, I may receive a small commission at no extra cost to you.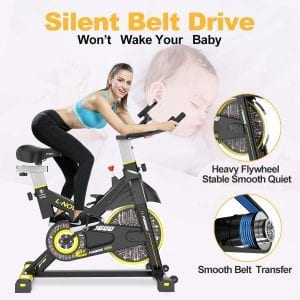 The Pooboo Indoor Cycling Bike is one of the most popular and highly-regarded fitness aids of its type.
New to the market in May 2019, the bike is slick and modern, it is budget-friendly, and it offers everything you will need to improve your health and fitness and lose your excess pounds.
This includes a fully adjustable seat that most buyers consider to be very comfortable and height-adjustable handlebars.
Combined with the bike's extremely generous user weight limit, these two features make this model a viable option for people of just about any height and weight.
Other noteworthy features include a heavy, bi-directional flywheel, infinite variable resistance, and an LCD monitor that shows useful workout stats.
A belt-drive system provides smooth and quiet workouts.
The bike's small footprint makes it ideal if you don't have a lot of spare space.  Transport wheels facilitate moving the bike if need be.
Keep reading this Pooboo Indoor Cycling review for more details that will help you decide if it will be right for you.
Pooboo Indoor Cycling Bike Specs
Assembled dimensions – Assembled, the bike measures 43.8″ (L) x 21.6″ (W) x 48.1″ (H)
Clearance – For safe, unrestricted use, allow a free space of 12″ or more to the front and rear and 24″ on either side
Seat dimensions – The seat measures approximately 6″ (W) x 8″ (L)
Distance from the seat to the floor – The seat adjusts to between 34″ and 41″ above floor height
Distance from the handlebar to the floor – The handlebar adjusts to between 37″ and 48.4″ above floor height
Weight – It weighs 75 lbs
Flywheel weight – The flywheel weighs 35 lbs
User weight – This model can support up to 330 pounds of weight
User height – It is recommended for users from 4′ 10″ to 6′ 2″ tall
Resistance – It has brake pad resistance
Batteries – You will need to buy 2 x AAA batteries for the LCD monitor
Color – It comes in black with yellow details
Pooboo Indoor Cycling Bicycle Overview
The frame and crank of the Pooboo Indoor Cycling Bicycle have a heavy-duty steel construction that can withstand years of regular workouts.  It's powder-coated is scratch, chip, and rust-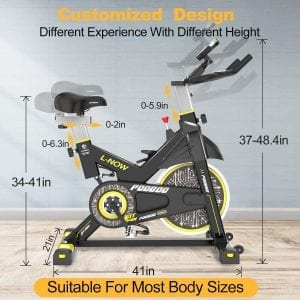 resistant.
The bike's 35 lb bidirectional flywheel enables both forward and backward pedaling, and it provides super-smooth workouts that feel similar to road cycling.
To target different muscles, you can pedal while standing.
The bike is very quiet to use, so you can exercise without having to worry about annoying other occupants of your house or waking anyone who is sleeping.
Stabilizers built into the feet provide additional stability, enabling the bike to be used on floors with an uneven surface, and allowing you to go hard and fast without unwanted movement or fear of the bike tipping over.
The saddle is well-padded to enhance comfort.  It is set into a seat post that adjusts in four directions – up, down, backward, and forward – enabling you to find the right position for your height.
Being a standard seat, if for any reason, you want to swap it for another one, doing so will be easy.
The height-adjustable foam-covered handlebar of the Pooboo Indoor Bike is non-slip and comfortable to grip.
Cage pedals made from aluminum alloy will support and protect your feet as rubber safety straps hold them securely in place.
Increasing the challenge of your sessions is as simple as turning the easy-to-reach variable tension knob.  Resistance changes are fluid, so your workout will not be interrupted.
The further you turn the knob to the right, the greater the intensity will be.
To decrease the tension, turn the knob to the left.  Downward pressure on the knob activates the braking system, allowing you to quickly and safely exit the bike if need be.
An LCD console relays useful workout stats including Time, Speed, Distance, and Calories burned.  There's also an Odometer and a pulse monitoring function.  The SCAN function lets you rotate through the metrics, displaying each for a few seconds.
The bike comes with the main components assembled.  You will need to complete the job following the easy-to-understand instructions using the provided tools.  This takes most people approximately 15 to 30 minutes, though it could take longer if you've never assembled machinery before.  While it's a one-person job, having a second person to help will hasten the process.
Two transport wheels in the front base facilitate moving the bike should you need to.
Accessories that enhance workouts' efficiency and enjoyment include a media shelf integrated into the bike's handle and a conveniently located water bottle holder that gives access to a refreshing drink.
The bike comes with a 12-month warranty for replacement parts should these be needed.
The next section of this Pooboo Indoor Cycling Bike review looks at its pros, then its cons.

Pooboo Indoor Bike Assembly
Pros
Affordable
The Pooboo Indoor Bike Model D525  is excellent value-for-money.
Suits a broad range of potential users 
With its generous user height limit and ability to adjust to suit people of different heights, most people will be able to use the Pooboo Indoor Bike Model D525.
As you become fitter, you can turn a knob to increase the resistance to make your sessions more challenging, if desired.   The knob is within reach during workouts, so you can adjust the tension at any time if you want to mix things up.
The built-in LCD shows useful workout stats so you can monitor your sessions and set new fitness goals.
As with the brand's other bikes, this one is quite compact, so it doesn't require a lot of room.
The bike's frame and crank are robust, and its finish resists rust, chips, scratches, and wear.
Stabilizers anchor the bike to the floor so you can put in as much effort as you like without fearing that the bike will tip over.
The bike is very quiet to use, so it would be an excellent choice for shared households and parents of children who are light sleepers.
With this model, you can pedal forward, backward, or stand and cycle to target different muscles.
Most users report that the seat of the Pooboo Indoor Bike Model D525 is very comfortable, even during long workouts.
Toe cages provide excellent support and safety.
Integrated transport wheels make it easy to move the bike if this is necessary.
A heavy flywheel delivers smooth and fluid sessions.
Useful accessories include an electronic device shelf and a water bottle holder.
Cons
Lacks built-in workout programs
The Pooboo Indoor Cycling Bicycle doesn't have any built-in workout programs.
The bike isn't Bluetooth enabled, so you won't be able to sync with your cell phone or upload and save your workout stats online.
This model doesn't fold to store.
The warranty is rather short at 12-months, but this is on par with most other bikes in its price range.
Final Thoughts on the Pooboo Indoor Cycling Bike
If you would like to experience spinning workouts' health and fitness benefits without spending a lot of money, the Pooboo Indoor Cycling Bike is worth a closer look.
The bike is compact, it suits people of just about any build, and it offers unlimited resistance.
It has overwhelmingly positive feedback, with 76% of Amazon buyers currently rating it 5 stars, and 14% giving it 4 stars.
The bike's most appreciated features include its comfortable seat, robust build, and quiet operation.  Its ease of assembly and mobility have also received many favorable comments.
The bike lacks Bluetooth, and it doesn't have any built-in programs.  However, not everyone needs these, so if you don't, there's no point in paying for something you won't use.