This post may contain affiliate links. If you click a link and buy something, I may receive a small commission at no extra cost to you.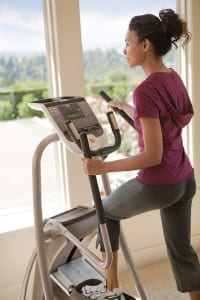 This Precor EFX 5.33 review covers everything you may want to know about it to help you decide if it will suit your requirements.
Creators of the first elliptical in 1995, Precor is renowned for producing high-quality commercial and home-use exercise equipment.  One of their most acclaimed models in recent years is the Precor EFX 5.33 Elliptical Cross Trainer.
Perfect for the home user who wants the best and is prepared to pay for it, this high-end machine has everything anyone could want in an elliptical.  This includes a range of built-in programs and variable incline, resistance, and stride.
Its wide variety of options makes this model suitable for new exercisers right through to seasoned athletes seeking very challenging workouts.
The EFX 5.33 also has some handy accessories and an excellent warranty.
While it is more expensive to buy than the average elliptical machine, its quality, stylish appearance, smooth and quiet operation, and range of sought-after features make it worth every cent.
Keep reading this Precor EFX 5.33 review to learn its specs, key features, pros, and cons.  We will also look at what purchasers have to say about it.
Precor EFX 5.33 Elliptical Specs
Dimensions – The Precor EFX 5.33 measures 84″ x 31″ x 63″
Weight – It weighs 240 lbs
User weight – The maximum user weight for this model is 350 pounds
Precor EFX 5.33 Elliptical Key Features
This model has 10 built-in programs.  These include 1 each for Aerobics, Cross Training, Gluteals, Intervals, Hill Climbing and Manual.  There are also 2 Heart Rate and 2 Weight Loss programs.
There's the option of monitoring your heart rate with either a Wireless Heart Rate Tracker or Handgrip Sensors.  To utilize the former, you will need a compatible chest strap.
20 levels of electromagnetic resistance make the Precor EFX 5.33 suitable for everyone, from new exercisers to very experienced ones.  The resistance starts at 20 RPM (10 watts) at level 1, going up to 100 RPM (625 watts) at level 20.
The incline of the CrossRamp adjusts to between 15 and 30 degrees by pushing a button.  This feature allows the exerciser to increase the challenge further and target different muscle groups.  There's also the option of doing Interval Training.
A touchpad makes customizing and monitoring your workouts a breeze.  The programs and your workout stats
are accessible at the push of a button.  An easy-to-read display shows stats, including Heart Rate, Calories Burned, Time, and Duration.  You can also elect to view goals, including Calorie, Distance, Time, or Vertical Feet climbed.
Two people can store their details and preferred workouts and retrieve these by pressing a button.
Pedals measuring 7″ x 15″ are positioned 3″ apart.  This allows for comfortable, safe, and effective workouts, regardless of how large or small your feet are.
Further adding to the comfort factor is the machine's adjustable stride.  This can be set anywhere between 21″ and 23″ to cater to shorter and taller users.
Reverse pedaling capability
For variety and to engage different muscle groups, the Precor EFX 5.33 Elliptical can be pedaled in reverse.
Upper body range of motion 
Ergonomically engineered arms can be set to move anywhere from between 12″ and 19″. 

Precor EFX 5.33 Elliptical Pros
A locking pin secures the arms and pedals into a stationary position when the elliptical is not in use.  This feature helps ensure the safety of young children or pets in your household.
The smooth feel of the Precor EFX 5.33 makes for workouts that are more comfortable and more enjoyable.
Navigating the touchpad is easy and intuitive.
A Quick Start button enables the user to start working out right away.
Handy accessories include a spacious storage shelf suitable for holding a water bottle, portable music player, or other electronic devices.  There's also a compartment for storing magazines you may want to access during workouts and a reading rack.
Assembling the Precor EFX 5.33 Elliptical CrossTrainer is a straightforward process that should take around two hours to complete.  Having a second person to help lift the components will be a definite advantage as they are weighty.
The warranty on the Precor EFX 5.33 covers a lifetime on the frame and welds.  There's also 10 years on parts and wear and 1 year on labor.
Precor EFX 5.33 Elliptical Cons
While not complicated, you will need to set aside a couple of hours to assemble the machine.
The cost of this machine will be out of reach for some people.  Given its quality, functionality, and potential longevity, I'm confident you will love it if it's within your budget.
Precor EFX 5.33 Demo
What Purchasers are Saying about the Precor EFX 5.33
The vast majority of Precor EFX 5.33 buyers are very happy with this elliptical cross trainer.  On par with the ellipticals you will find in a gym, the quality and solidity of the machine have received praise.  Its wide range of workout options is also much appreciated.
The machine's smooth feel and quiet operation have received a lot of positive comments.  Its user-friendly programming has received favorable comments, too, as has the ease of assembly.
One possible downside is the elliptical's weight.  Once assembled, you won't want to move it unless you have to.  This being the case, it's best to unpack the parts where you will be assembling it.
Final Thoughts on the Precor EFX 5.33 Elliptical CrossTrainer
If you want to experience the benefits of an elliptical and you have a little extra money to spend, it would be hard to find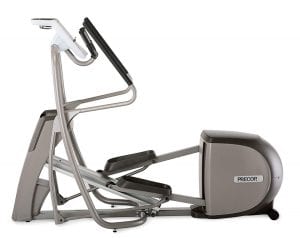 better than the Precor EFX 5.33 Elliptical CrossTrainer.
Following a test-run, I can't fault it.  It's as smooth and quiet a machine of its type that I've used.  In fact, it's smoother and quieter than most.  It has enough programming options to satisfy everyone, from the rank beginner to the fitness fanatic looking for a new challenge.
Add to this its variable incline, its resistance capability, and Precor's excellent manufacturer's warranty, and you've got a reliable and highly functional machine that should last a lifetime.
Not sure it's the right elliptical for you?  Click this link to read reviews of other elliptical machines