This post may contain affiliate links. If you click a link and buy something, I may receive a small commission at no extra cost to you.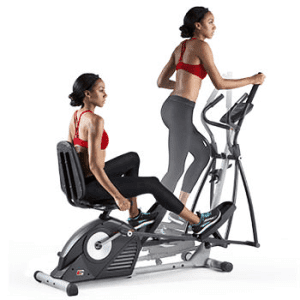 If you can't decide between an elliptical machine and a recumbent bicycle, you'll love the ProForm Hybrid Trainer, which is both in the one convenient, space-saving package.  It is Also known as the ProForm Hybrid Trainer Elliptical and Recumbent Bike.
It can be used as a recumbent bike for cardio and lower body toning and as an elliptical trainer for cardio and total-body toning.
Whichever you choose, your workout will be low-impact.  And, by mixing things up, you will burn extra calories, keep boredom at bay and improve your fitness faster.
Along with being versatile, this innovative piece of exercise equipment is solid and durable, and it is Bluetooth and iFit compatible.
Equipped with a wide range of programs and adjustable magnetic resistance, it has a user-friendly console.  And, being relatively compact, you won't need too much room to house it.
This ProForm Hybrid Trainer review will cover everything you may want to know about it before purchasing.
Why Buy a ProForm Hybrid Trainer?
If you're tired of traveling to the gym to work out in full view of anyone who happens by and paying a high price for the privilege, you may dream of owning your own exercise equipment.
While not as costly as an ongoing gym membership, equipping a home gym can be expensive.  Finding space to accommodate equipment can also be a problem.
When financial and space-saving advantages can be realized without compromising utility, this is important to consider.
A way of cutting costs and saving space is to use dual-purpose or convertible fitness equipment.  Before you purchase, it's wise to find out if trade-offs will need to be made for savings and convenience.
With this in mind, we will take a close look at the ProForm Hybrid Trainer Elliptical and Recumbent Bike to determine what you will be getting for your money if you purchase.
ProForm Hybrid Trainer Elliptical and Recumbent Bike Overview
Specs
Dimensions – The ProForm Hybrid Trainer Elliptical and Recumbent Bike measures 70 1/2″ (L) x 24 1/2″ (W) x 60 1/2″ (H)
Step-up height – The floor to pedal distance is 9″ at the lowest position and 15″ at the highest
Seat dimensions –  The seat measures 16″ across at its widest point, and it is 10-1/2″ deep
Ceiling height – The trainer should be used in a room with a ceiling at least 18″ higher than the tallest users height
Weight – It weighs 142 lbs
Flywheel weight – The flywheel weighs 13 lbs
User weight – The user weight limit for this model is 350 pounds
User height – Buyers from under 5′ tall to 6″ 4″ have left positive feedback for this model
Stride – This model has a 15″ stride
Batteries – The monitor needs 4 x DD batteries, or you can use an AC adapter
Color – It is black with chrome highlights
Overview
Most buyers consider the trainer's durable, padded, waterproof vinyl seat saddle to be comfortable, though not all do.  This is typical of stationary bikes.
The seat is two-way adjustable, so you can move it closer to or further away from the pedals to suit your height.  With 17 setting options available, it suits people of most heights.
The seat's curved backrest contains air vents for cooler sessions.  It offers excellent lumbar support, but its position is fixed, and its angle is not adjustable.
An LCD Window displays workout metrics, including Time, Speed, Distance, Cadence, RPM, Calories burned, and Pulse rate. 
You can view three metrics simultaneously or implement the Scan function so that the stats rotate, with each shown for four seconds. 
14 built-in program apps enable you to vary your workouts and progress to a more challenging level as your fitness improves.
Available programs focus on time, resistance, calorie-burning, and performance, with automatic adjustments made. 
Designed by a certified fitness trainer, the apps will allow you to get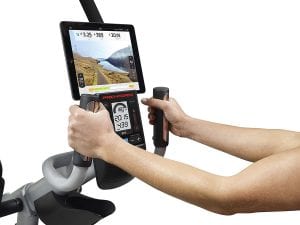 the most from your workouts in the shortest amount of time.
The machine has an onboard target pacer, a handy device that lets you customize your workouts.
A light will alert you if your pace slows down or speeds up and puts you outside your optimal training zone.  This feature makes it easy to track your progress and set new fitness goals.
14 levels of magnetic resistance make the ProForm Hybrid Trainer suitable for beginner to intermediate level exercisers and beyond.
With variable resistance, you can increase the challenge of your workouts whenever you feel like it, so they will be just as effective months and years down the track as they are today.
The ProForm Hybrid Trainer has an EKG heart rate monitor set into its hand grips.  Use it to train in your target heart rate range and monitor the effectiveness of your workouts in real-time.
A handily positioned water bottle holder provides access to a refreshing drink without you having to interrupt your workout.
There's also a ledge for holding a tablet or other electronic device.
If you need to move your ProForm Hybrid Trainer Elliptical and Recumbent Bike, the job is made easier thanks to built-in transport wheels.
Assembling the trainer is straightforward, with easy-to-follow instructions and the required tools supplied.  The process takes most people around two hours or less.
The warranty for this model covers 5 years for the frame and 90 days for parts and labor.
Next, in this ProForm Hybrid Trainer review, we will look at its pros, then its cons.

Pros
Generous user weight limit
This model has a very generous user weight limit.
Being an elliptical machine and recumbent bike in one, the ProForm Hybrid Trainer will save you money and space over buying two separate machines.
The machine's step-through design enables easy access to and from the seat, making it suitable for people with balance issues.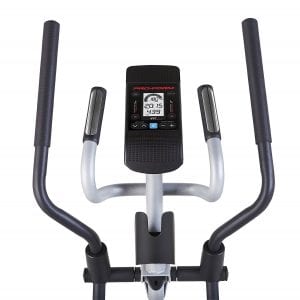 An adjustable console with an LCD window makes for easy reading of your workout stats, whether you are sitting using the bike or standing using the elliptical.
The console is battery powered, so you will be able to house the machine wherever you have spare space without worrying about access to a power outlet or resorting to using an extension cord.
Hand grips with resistance allow you to exercise your upper body when using the machine in elliptical mode, giving a total-body workout and burning additional calories.
Adjustable pedals 
Oversized adjustable pedals provide a safe and comfortable footing.
The angle of the pedals adjusts to suit the user's preferred position.
The warranty for this model covers 5 years for the frame and 90 days for parts and labor.
Cons
If you are well over 6 feet tall, you may find the stride of the ProForm Hybrid Trainer restrictive.
Heart rate monitor limitation 
The heart rate monitor is only usable when the machine is in elliptical mode.
While the warranty on the frame is adequate, the ProForm Hybrid Trainer parts and labor warranty is short.
ProForm Hybrid Trainer Elliptical and Recumbent Bike Buyer Feedback
The overwhelming majority of reviews published for the ProForm Hybrid Trainer are very positive.
Most people who leave feedback believe that it gives a great workout and is excellent value for money.  Converting the machine between modes is regarded as being a quick and straightforward process.
The assembly process, on the other hand, has mixed reviews.  Most purchasers found the instructions adequate, with some completing the job in around an hour.
A few people, however, found the instructions slightly confusing.  For these people, assembling the machine took considerably longer.  The consensus is that assembling the machine is a two-person job that takes at least two hours to complete.
The ProForm Hybrid Trainer Elliptical and Recumbent Bike isn't totally silent.  Buyers who use the supplied oil to assist with the assembly have no complaints about the noise level.  In fact, many people have said they consider the machine to be very quiet.
Some reviewers complained that at 15 inches, the stride is too short.  However, most of these people went on to say that they quickly adjusted to it.
While a too-short stride can be temporarily uncomfortable, a too-long stride can make exercise equipment virtually unusable.  It seems ProForm intentionally erred on the short side to ensure that the broadest possible range of body sizes could reap the benefits of the trainer.
Overall, this strategy has paid off, as people from very short to very tall have commented upon how comfortable the ProForm Hybrid Trainer is to use.
Still, with some very tall customers having left less than glowing reviews of the machine's stride, if you are over 6 feet tall, I recommend you check out some other options to be on the safe side.
Numerous purchasers have expressed disappointment that the heart rate monitor only works when the apparatus is used in elliptical mode.  This is apparently a trade-off to keep costs down and avoid electronics issues by simplifying the wiring.
If it's crucial that you have a heart rate monitor and you will be using the recumbent bike often, this probably won't be the machine for you.
The 5-year frame warranty for this model is perfectly acceptable, but it is disappointing that the parts and labor coverage is just 90 days.  Still, many purchasers have reported using the trainer regularly for extended periods without a problem.
ProForm Hybrid Trainer Conclusion
All things taken into consideration, the ProForm Hybrid Trainer is a versatile fitness device with some great features.  It is also reasonably priced considering all it delivers, and it will give you a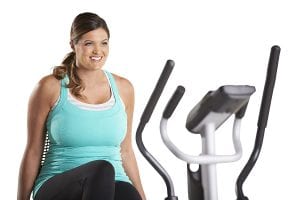 very effective workout.
Essentially two different exercise machines in one, it offers variety and targets different muscle groups.
Exercising in this manner provides the potential to burn more calories than you would if you were using a single machine.
If you don't mind the heart rate monitor limitations and can adapt to the stride, you should love this machine.
Purchasers who had a second person to help set up were happier about the assembly process.
If you intend to assemble the machine on your own, be aware that the job could take up to several hours.  Don't let this deter you from purchasing.
Once assembled, you will quickly appreciate the money and space you've saved by opting for a combination machine and the extra benefits it offers.
If you're looking for a hybrid exercise machine that functions as an elliptical, a recumbent, and an upright bike, check out the Body Rider 3-in-1 Trio-Trainer.  (Click the link to the left to read a review.)
At 13 inches, its stride is shorter, and at 300 pounds, its weight limit is lower than that of the ProForm Hybrid Trainer, but it has some great features, and it comes in at a lower price.