This post may contain affiliate links. If you click a link and buy something, I may receive a small commission at no extra cost to you.
In this review, we will look at Run Fast Eat Slow: Nourishing Recipes for Athletes.  While its title may suggest otherwise, you don't need to be a professional sportsperson to benefit from this book.
Coauthored by long-distance runner Olympic medalist Shalane Flanagan and her long-time friend wholefoods chef Elyse Kopecky, the book is full of healthy recipes that are as delicious as they are easy to prepare.
To keep up with the rigors of competition and stay in peak form, athletes need to follow a wholesome eating plan.  No matter how fit and athletic you are, the wrong diet will let you down.
The right diet, on the other hand, can be the difference between performing at one's best and putting in a lackluster performance.  This is the case regardless of whether you're a new fitness fan, a dedicated weekend warrior, or an elite athlete.
More than just a cookbook, along with the Run Fast Eat Slow recipes, the book contains nutritional advice.  There are also inspiring stories that will make you want to eat healthier and train that little bit harder.
Keep reading to find out more about Run Fast Eat Slow: Nourishing Recipes for Athletes.  We will look at an overview, some of the recipes, and how they can benefit you.  We will also see what customers are saying about the book.
Run Fast Eat Slow: Nourishing Recipes for Athletes Overview
The Run Fast Eat Slow recipes prove that healthy food doesn't have to be bland and boring.  And, unlike some diet recipe books, you won't have to drastically cut calories, eat only low-fat foods, and obsess over how much protein you're taking in to benefit.  You won't even have to count calories!
Featuring over 100 different recipes, these run the gamut from breakfasts, lunches, and dinners, to desserts, snacks, and beverages.  Just about everyone is catered to, with gluten-free, dairy-free, vegetarian, and vegan options included.
Though very diverse and varied, the offerings all have some things in common, this being that they are satisfying, nutrition-packed, and scrumptious.  All are formulated to increase energy, improve cardio health, and encourage healthy brain function.  They will also help to prevent sugar cravings and digestive distress, promote lean muscle, balance your hormones, and combat inflammation.
This combination of benefits provides everything you will need to exercise effectively, reach new fitness goals, and excel in competitive endeavors.
Each of the Run Fast Eat Slow recipes has a specific purpose.  Some are categorized as "recovery snacks," others "immediate energy boosts," "speed workout day meals," and so on.  This information enables you to best feed your body according to your needs and the occasion.
Run Fast Eat Slow Superhero Muffins Recipe
What sort of recipes does the book contain?
Run Fast Eat Slow recipes include pancakes, soups, salads, dips, dressings, and marinade. You will find instructions for making spaghetti and meatballs, linguine with shrimp, lasagne, burgers, and bacon wrapped stuffed chicken.  Other offerings include quiche, salmon sweet potato cakes, pizza, chili, yam fries, muffins, chocolate cookies, and many more.

What Customers are Saying About the Run Fast Eat Slow Cookbook
Run Fast Eat Slow: Nourishing Recipes for Athletes is the most popular cookbook of its type.  To date, it has several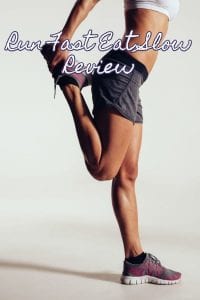 hundred positive reviews on Amazon alone.
The vast majority of purchasers have nothing but praise for the book.  Many have stated that they have enjoyed all of the recipes they've made from the book.  The variety on offer and their relative simplicity to execute is also appreciated.
Customers love that the book accommodates people with specific food preferences and allergies, with this information marked at the top of each page.  The recipes that are suitable to make ahead and freeze are also notated.
Parents also love that some of the recipes allow them to sneak in vegetables that their kids won't usually eat.
On the downside, some of the meals require lengthy preparation, and none come with a nutritional breakdown.
The ingredients for some of the recipes may not be readily available at your local food store.  Also, a number of the recipes contain nuts, and these won't be suitable for anyone with a nut allergy.
Run Fast Eat Slow: Nourishing Recipe for Athletes Summary
If you are an active person, Run Fast Eat Slow: Nourishing Recipes for Athletes will help to ensure that you are getting the best nutrition to help cope with the demands of working, caring for a home, and keeping fit.
Athletes have vitamin, mineral, and antioxidant requirements over and beyond that of people who lead a sedentary lifestyle.  In today's fast-paced world, many of us like the speed of preparation that packaged food offers.  Though convenient, unfortunately, most processed food lacks the nutritional value that active people, and indeed all of us, need to thrive.
While the book is an excellent resource for athletes, anyone will benefit by regularly including Run Fast Eat Slow recipes in their diet.  The recipes are tasty and easy to make, but some are somewhat time-consuming to prepare.  Regardless, when you find out how much better you feel when eating them, I think you will agree that they are worth the extra effort.
If you like this book and want more similar recipes, take a look at Run Fast. Cook Fast. Eat Slow: Quick-Fix Recipes For Hangry Athletes on Amazon.
If the Run Fast Eat Slow book isn't what you're looking for, click here to read reviews of other diet and healthy lifestyle books.