This post may contain affiliate links. If you click a link and buy something, I may receive a small commission at no extra cost to you.
The Schwinn 170 Upright Bike is a value-for-money exercise bike that has a wide range of programs and resistance levels.  It delivers quiet, smooth and vibration-free cycling sessions, even when used at top speed.
Far more comfortable than a lot of stationary bikes, it is suitable for people of any height.  This makes it a great buy for families or several people looking for a bike to share.  A higher than average user-weight limit makes it ideal for heavier people.
These positives and more have made this stationary bike very popular, with the overwhelming majority of purchasers who have left feedback having nothing but good things to say about it.
In this Schwinn 170 Upright Bike review, we will look at its specs, key features, pros, cons, and buyer feedback.
Schwinn 170 Upright Bike Specs
Dimensions – The Schwinn 170 Upright Bike measures 13″ x 41″ x 22 1/2″
Weight – It weighs 62.8 lbs
User Weight – The upper user weight limit for this model is 300 pounds
User height – People from under 5′ tall and up to 6′ 5″  have left positive feedback for the bike
Schwinn 170 Upright Bike Overview
The Schwinn 170 Exercise Bike is a robust model that offers smooth, near-silent workouts.
It is among the most feature-packed stationary bikes you will find in its price range.  Offering 29 built-in programs, these include 12 Profile, 9 Heart Rate (4 Beginner, 4 Advanced and 1 Custom), and 4 Custom User-Defined.  There are also 2 Fitness Tests (1 beginner, 1 Advanced), 1 pre-set Recovery Test, and 1 Quick Start program.
The bike comes with 25 levels of ECB Magnetic Resistance, catering to beginners through to advanced athletes.  Ten of the levels can be accessed instantly by pressing a single key.
Two easy-to-read blue backlit LCD screens include one measuring 3″ x 5″, and one measuring 1″ x 5″.  The metrics displayed total 13.  These include Time (with options for the total workout time, the average time for the user, and the total operational time for the machine) and Distance (in miles or kilometers per hour).
The metrics will be displayed when you being pedaling, and the monitor will go into sleep mode after a few minutes of inactivity.  The workout stats of up to four users can be saved.  This makes it easy to monitor progress and set new fitness goals.
Other stats displayed include Pulse rate, Speed (in miles or kilometers per hour), RPM, Calories, Resistance Level.  There's also Course Profile, Heart Rate, % Complete, Intensity, User Indicator, and Goal Achievement.  This model also offers USB data transfer functionality to Schwinn Connect, and it is compatible with MyFitnessPal.
The Schwinn 170 has telemetric heart rate monitoring capability that is accessible by gripping its arms.
The extra-wide seat of the Schwinn 170 is adjustable, both in height and length.  Contoured and well-padded, it offers support and comfortable workouts.  It can easily be moved backward or forwards, by turning a knob.
The bike's handlebars adjust to suit the exerciser's height and comfort.  Detachable forearm rests provide additional support.
Extra-large pedals with toe straps provide comfortable and secure slip-free workouts.
Integrated levelers enable the bike to be used on an uneven surface, while built-in transport wheels facilitate moving it.
Other features that enhance workouts include a fan, a water bottle holder, and a media tray.
Assembling the Schwinn 170 Upright Bike takes most people about an hour.  Having a second person to help will shorten the time.
The warranty covers 10 years for the frame, 2 years for mechanics, 1 year for electronics, and 90 days for labor.
Next, in this Schwinn 170 Upright Bike review, we will look at its pros, then its cons.
Schwinn 170 Upright Exercise Bike Video Overview
Pros
A high speed, high inertia perimeter 13 lb weighted flywheel ensures smooth and quiet sessions
The bike's sturdy, high-quality construction makes for an exercise bike that is very stable and durable.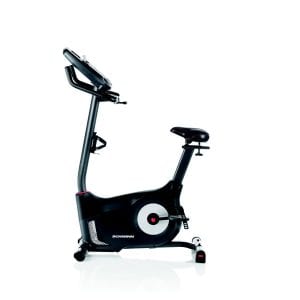 A walk through frame allows easy access to and exiting from the bike's seat.
Built-in transport wheels assist with moving the Schwinn 170 Upright Exercise Bike if this is required.
Hook up an MP3 player and listen to your favorite sounds through acoustic chamber speakers that provide sharp, clear audio output.
A USB port enables you to charge your cell phone or other mobile devices.  It can also be used to upload your workout details and monitor and share your progress online via Schwinn Connect or MyFitnessPal.
The Schwinn 170 has a 3-speed fan to help keep you cooler during workouts.   There's also an extra-large cup/bottle holder and a media tray.
Assembling the bike is a quick and easy process.
The warranty for this model is longer than that of most similar fitness aids in its price range.
Cons
Monitoring your heart rate with a chest strap is a more accurate method than using grip monitoring.  Unfortunately, this model does not come with one.
If you want to monitor your heart rate this way, order one when you order the bike. They're not expensive, and any uncoded Polar Electro or POLAR® compatible chest strap will work.
The Schwinn 170 requires a power outlet, so it needs to be used near one.
A conveniently positioned media tray is roomier than average.  However, if you rest a large iPad on it or something of a similar size, you may not be able to view all of your relayed stats as you work out.
While the bike comes with an excellent warranty for its frame and a good warranty for its mechanics and electronics, the Labor warranty covers just 90-days. 

Next, we will look at some Schwinn 170 Upright Bike reviews from verified Amazon customers.
Schwinn 170 Upright Bike Reviews
With hundreds of Schwinn 170 Upright Bike reviews posted online to date, it is
one very popular fitness aid.
The vast majority of purchasers who have left feedback have nothing but praise for the bike, leaving positive comments on its quality, smooth feel, and the excellent cardio workout it provides.  Many reviewers have commented on the bike's durability, including some who have used it regularly for extended periods.
Most people who use the Schwinn 170 said they consider the seat to be very comfortable.  This includes some owners who regularly use it for up to 90 minutes in the one session.  The fan's strength and ability to cool has also been praised.
The quietness of the bike has repeatedly been mentioned, with purchasers saying they can easily watch their TV or listen to music while cycling.  Virtually the only sound you will hear is a beep when you key in your desired program and when you reach your workout goals.  For truly silent sessions, turn off the alert system.
Many users have commented positively on the ease of adjusting the seat.
Complaints about the Schwinn 170 are mainly related to things other than quality and performance.  These include the occasional defective or missing part and damaged packaging.  Customer service will rectify any such problems should they occur.
Schwinn 170 Upright Bike Summary
Anyone wanting to experience the benefits of using a stationary bike would do well to check out the Schwinn 170.
Reasonably-priced and aesthetically pleasing with its sleek profile and matt black finish, it is stable, sturdy, quiet, durable, and comfortable to use.
Equipped with a range of useful programs and resistance levels, it has everything most people will need to improve or maintain their fitness.  Whether you're short or tall, light or heavy, new to exercising or more experienced, if you're in the market for an upright stationary bike and you don't have a lot of money to spend, the Schwinn 170 Upright Bike should be on your short-list.
Click here to read more upright bike reviews