This post may contain affiliate links. If you click a link and buy something, I may receive a small commission at no extra cost to you.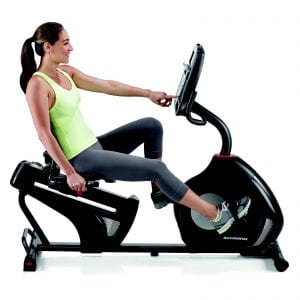 The Schwinn 230 Recumbent Bike is a high-quality recumbent exercise bike packed with features discerning buyers seek in a stationary bicycle.
A step down in price from the Schwinn 270 Recumbent Bike (review here) and lacking some of its features, the Schwinn 230 has proven to be very popular with buyers who don't have the budget to go with Schwinn's top-end model and those who don't require all of its features.
With its sturdy frame and quiet, smooth operation provided by a high-speed perimeter weighted flywheel, the Schwinn 230 has a variety of built-in workout programs and a high number of resistance level options.
In this Schwinn 230 Recumbent Bike review, we will look at the latest model, that being the Schwinn MY16 230.  We will discuss its specs, key features, pros, and cons.
We will also look at the Schwinn 230 Vs 270 Recumbent bike, and consider what you will be giving up by stepping down the product line to the second tier.
Schwinn 230 Recumbent Bike Specs
Dimensions – The Schwinn 230 Recumbent Bike measures 64″ x 27 3/4″ x 50″.
Weight – It weighs 81 1/2lbs.
User weight – Solid and robust, the bike has an upper user weight limit of 300 pounds.
Schwinn 230 Recumbent Bike Key Features
Programs 
22 built-in programs include 9 profile options and 8 heart rate control options.  Four of these are for beginners,  and four are for advanced level exercisers.
There are also 2 customizable programs, 2 fitness tests (one for beginners and one for the advanced level cyclist) and 1 quick start program.
The Schwinn MY16 230 Recumbent Bike offers 20 levels of resistance, half of which are accessible by selecting one of the 10 Quick Keys.  This convenient feature will enable you to immediately go from low to high resistance and anywhere in between and back again, on the fly.
This model comes with two backlit screens that display data relevant to your workout.  The larger screen measures 3″ x 5″, while the smaller one measures 1″ x 5″.  Stats shown include Time, Profile Preferences, Distance Covered, RPMs, Speed, Pulse Rate, Calories Burned, Resistance Level, Heart Rate, % Complete, User Indicator, Workout Intensity, and Goals.
Ergonomically designed padded handlebars make for more comfortable workouts.
A contact heart rate monitor is set into the handlebars.  This enables you to track your heart rate and train in your target zone.
A slider seat rail system provides quick fore and aft seat position adjustment at the push of a lever.
A step-through design makes climbing onto and off the bike easy, even for those with mobility problems.
A USB port enables you to charge your electronic devices.  It also allows you to transfer workout data to SchwinnConnect,
or popular apps such as MyFitnessPal, UA, GoogleFit, Apple Health, Endomondo, or MapMyRun/Ride so that you can track your progress online.
Acoustic chambered speakers provide access to audio during workouts.
Accessories include a 3-speed fan that will help to keep you cool as you pedal.  A water bottle holder provides easy access to water or an energy drink during workouts.  There is also a media tray, which is handy for storing an iPad, Kindle or other electronic media device.
Transport wheels set into the front of the bike, enable it to be easily moved around if required.

Next, in this Schwinn 230 Recumbent Bike review, we will look at its pros, then its cons.
Schwinn 230 Pros
Stats, workout preferences and settings for two users can be saved.  This feature makes the Schwinn 230 an excellent choice for couples or
two people who want to share the bike
An adjustable backrest with lumbar support containing air vents enhances the comfort of the Schwinn MY 16 230.
Two levelers and oversized crossbar tubing provide a highly stable workout platform with minimal movement even during fast and hard workouts.
Assembling the Schwinn MY16 230 Recumbent Bike is a straightforward process that is not too time-consuming.  Most reviewers have estimated it to take between 45 minutes and an hour.
The warranty for the Schwinn 230 Recumbent Bike covers 10 years for the frame, 2 years for the mechanics, 2 years for electronics and 90 days for labor.
Schwinn 230 Cons
The seat of the Schwinn 230 is unpadded.  While most purchasers of the newer Schwinn MY16 230 regard it as being comfortable, some have stated that it is uncomfortable, especially during long workouts.
Schwinn 230 Infomercial
Schwinn 230 Purchaser Opinions – Good and Bad
Feedback for the Schwinn MY16 230 is very positive overall.
Numerous reviewers have commented on the bike's stability and smooth pedaling action.  Many people have left positive feedback regarding the ease of changing between programs and resistance levels, with the process said to be fluid and gradual, with no jarring.
Many purchasers have commented on the user-friendly monitor, which makes entering workout data a simple process.  This feature also enables the user to tailor workouts to their personal goals.
Detailed instructions make it easy to assemble the bike.
On a less positive note, several purchasers stated that the plastic seat of the Schwinn 230 Recumbent Bike is hard and uncomfortable.  A bicycle seat cover will help counteract this.  Alternatively, a towel or cushion placed on the seat can help enhance comfort.
Next, we will look at the Schwinn 230 Vs 270 Recumbent bike to help you decide which, if either, will be right for you.
Schwinn 230 Vs 270 Comparison & Conclusion
The Schwinn 230 Recumbent Bike is an excellent option for people who don't want to pay the premium required to move up to the Schwinn
270. The features removed are logical for the reduction in price.  Along with being able only to accommodate the data of two users, the main differences are fewer programming options and resistance levels.
The construction of the Schwinn 230 is the same solid quality as the higher-end model.  You still get the 300-pound user weight limit and the same long warranty.  While the seat lacks the padding of the Schwinn 270, the seatback is equipped with lumbar support.
The Schwinn 230 features the same flywheel system as the Schwinn 270 for smooth, quiet operation.  The resistance level options, however, are cut from 25 to 20, and the pre-programmed workouts are reduced from 29 to 22.
For those who can afford the premium and wish to take advantage of its extras, I recommend the 270 for its more comfortable seat, which can increase the time you spend using it.  Its additional user profile capacity and extra programs and resistance levels also add to the 270's overall usefulness, as does its backlit display which gives greater flexibility in positioning,
If, however, it's not within your budget, the Schwinn 230 is a great deal for the discount you get considering the few features lost.
Click here to read a review of the Schwinn 270
I hope you found this Schwinn 230 Recumbent Bike review helpful.  Still deciding which model to buy?  Click this link to read reviews of other recumbent bikes