This post may contain affiliate links. If you click a link and buy something, I may receive a small commission at no extra cost to you.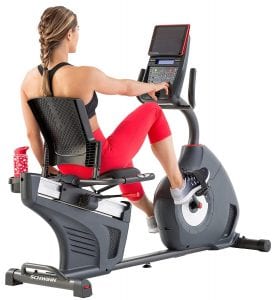 Created by reputable fitness company Schwinn, the Schwinn 270 Recumbent Bike is one of the most comfortable and technically advanced exercise bikes available for home use.  Here, we will look at the latest 2017 version, the Schwinn M17 270.
The bike is affordable. highly customizable, robust, smooth, and quiet to use.  Numerous workout programs and a wide range of resistance levels make it suitable for exercisers of all fitness levels.
In this Schwinn 270 review, we will look at its key features, pros, and cons, along with purchaser opinions.
Why buy a recumbent bike?
The stationary bike was one of the first home fitness aids invented, and it is still a very popular and effective way to exercise at home.  A huge leap in comfort was made with the development of the recumbent bike design.
Providing the user with better lower back support than an upright exercise bike, it also puts considerably less stress on the knees.  This gentler option opened the way for more people to experience the fitness benefits of working out on a stationary bike.
While its benefits are well-documented, not all recumbent bikes are created equal.  The Schwinn M17 270 is one of the better mid-priced models on the market today.  Keep reading to find out all you need to know to decide if it will meet your requirements and be a worthwhile purchase.
Schwinn 270 Recumbent Bike Specs
Dimensions – The Schwinn 270 Recumbent Bike measures 64″ x 27″ x 50″
Weight – It weighs 86.6 lbs
User height – This model is recommended for users from 4′ 1o" to 6′ 3″ tall
User weight – Robust and built to last, this model can support users of up to 300 pounds
Schwinn 270 Recumbent Bike Key Features
The Schwinn 270 comes with 29 built-in workout programs, allowing you to tailor your workout to your fitness level and goals and progress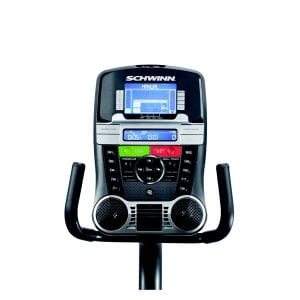 to more challenging levels as your fitness improves.
Programs include 12 profile, 9 heart rate (4 for beginners, 4 for the advanced and 1 that is customizable).  Four of the programs are user-defined and there are two fitness tests (1 for beginners, and 1 for advanced cyclists.)  There's also 1 recovery test and 1 quick start program.
Capable of storing and tracking the details of up to 4 users, the Schwinn M17 270 Recumbent Bike can be utilized by multiple household members.
A dual blue backlit LCD enables tracking of 13 different statistics, including Course Profiles, Time Elapsed, Distance Covered, Calories Burned, RPM, Intensity Level, Resistance, Speed, Pulse Rate, % of Workout Completed, Goals and more.
The display windows measure 3″ x 5″ and 1″ x 5″ respectively.  The larger of these can be used to watch movies.
Workout stats display on the monitor automatically when you start pedaling, with no need for you to press any buttons.  At the conclusion of your workout, the electronics will switch off when you alight from the bike.
25 levels of eddy current resistance ranging from very easy to super challenging, make this model especially useful for interval training.
10 one-touch quick select keys enable you to immediately change the resistance level you are working at, on the fly.
The seat of the Schwinn 270 houses a built-in heart rate monitor.  There's also the option of using a chest strap to monitor your heart rate.
Transport wheels facilitate moving the machine.
The Schwinn 270 is compatible with MyFitnessPal, a free app that allows you to easily and accurately track your diet and exercise programs.
A USB port allows the user to transfer data to and from the Schwinn Connect™ website or connect an iPad, Kindle or similar device.   Acoustic chamber speakers will enable you to listen to music or another form of entertainment while working out. 

Next, in this Schwinn 270 review, we will look at the bike's pros, cons, then buyer feedback.
Schwinn 270 Recumbent Bike Pros
The adjustable padded seat of the Schwinn 270 is more comfortable than that of many exercise bikes.  The seat's back is supportive and it contains an air vent for cooler workouts.  A contoured leg area adds to the comfort.
The bike's step-through frame makes for easy access, whether climbing aboard or alighting. 
When you finish your workout, the Schwinn 270 automatically switches itself off.
A 3-speed fan circulates air, helping to cool your workout area.
An integrated media tray allows you to keep your media devices within reach.  A side-mounted water bottle holder provides access to liquid refreshment without you having to stop exercising to get a drink.
Most people find that assembling the bike takes them between 60 and 90 minutes, working alone.  Having a second person help will speed up the process.
The warranty for this model covers 10 years for the frame.  You also get 2 years for mechanical and electrical components and 90 days for wear and labor.
Schwinn 270 Recumbent Bike Cons
The LCD screen is a little bright.
Short wear and labor warranty
The warranty for wear and labor is very short.
Schwinn 270 Recumbent Bike Video Overview
Customer Feedback – The Good and the Bad
Schwinn 270 Recumbent Exercise Bike reviews have, in the main, been extremely positive.  Almost everyone who has left feedback has commented on its quietness and stability.  The ease of selecting and changing programs has also been given the thumbs up.
Many positive comments have been left regarding its seat, with people from short to tall of various weight claiming that it is very comfortable,  Adjusting it to suit the individual's preference is said to be a very quick and easy process.  Many purchasers stated that assembling the bike is very easy, even when working alone.  It has been noted, however, that having a second person help will cut the assembly time almost in half.
While the Schwinn 270 Recumbent Bike has a lot going for it, it does have some negatives.  A number of purchasers said that even when used at the highest setting, the breeze the fan creates is quite weak.  This is a common complaint with 99% of exercise bikes, so it shouldn't be a deterrent to purchasing.
Some people have commented that the display monitor is too bright for their liking.  Other people were happy with the brightness level, so this obviously comes down to personal preference.
A small percentage of purchasers had a problem with some parts not fitting correctly.  Others received parts that had been damaged in transit.  After contacting customer service, those affected were promptly sent replacements.
Schwinn 270 Conclusion
The Schwinn 270 Recumbent Exercise Bike will be a great choice if you're looking for an exercise bike several members of your household can utilize.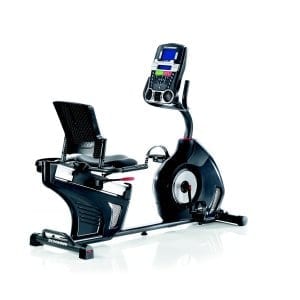 This user-friendly bike has a range of useful features that will help you achieve your fitness goals.  These include multiple workout programs and resistance levels to suit everyone from the rank beginner to the very experienced cyclist.
Robust and reliable, the Schwinn 270 can support cyclists weighing up to 300 pounds.  With quiet operation, a comfortable, easily adjustable seat with excellent lumbar support, air vents that allow air circulation, plus numerous other desirable extras, this model has overwhelmingly positive feedback from purchasers.
I have no hesitation in recommending the Schwinn 270 Recumbent Exercise Bike to anyone who is looking to buy an exercise bike.
If you like the sound of the Schwinn M17 270 Recumbent Bike but don't need quite so many features and would like to save a bit of money, the Schwinn 230 could be right up your alley.  (Click the previous link to read a review.)
Still not sure which model to get?  Click here to read more recumbent bike reviews