This post may contain affiliate links. If you click a link and buy something, I may receive a small commission at no extra cost to you.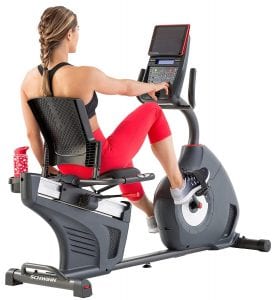 Created by reputable fitness company Schwinn, the Schwinn 270 Recumbent Bike is among the most comfortable and technically advanced home-use exercise bikes in its price range. 
Here, we will look at the latest model, the Schwinn M17 270, which has received a lot of positive buyer feedback since its release in 2017. 
The bike is affordable, highly customizable, robust, and smooth and quiet to use.
In this Schwinn 270 review, we will look at its key features, pros, and cons, along with purchaser opinions.
Whom will it best suit?
With its broad range of workout programs and resistance levels, this model is suitable for cyclists of all fitness levels looking for a bike that is beyond basic but still affordable.
Multiple user capability makes it ideal for families of up to four people who want to store their preferences, goals, and progress.
The bike's step-through frame makes for easy access, whether climbing aboard or alighting, making it an appealing option for people with balance or mobility issues.
Schwinn 270 Recumbent Bike Specs
Dimensions – The Schwinn 270 Recumbent Bike measures 64″ x 27″ x 50″
Clearance – When using a stationary bike, a free area of around 12″ on either side and 24″ to the back and front will make for safe and unrestricted cycling
Seat dimensions – The seat measures 17 3/4″ (W) x 12 1/2″ (L)
Weight – The bike weighs 86.6 lbs
Flywheel weight – The flywheel weighs 17 lbs
User height – This model isuits users from 4′ 10″ to 6′ 3″ tall
User weight – Robust and built to last, this model can support users of up to 300 pounds
Color – The bike is dark gray with red and silver highlights
Schwinn 270 Recumbent Bike Overview
Drive –
The Schwinn 270 Recumbent Exercise Bike has a high-speed, high inertia drive system.
Finish – 
The Schwinn 270 Recumbent Exercise Bike has a solid steel tubing frame that is powder-coated to resist scratches, chips, and rust.
Stability, Smoothness, and Noise Level –
The bike's solid frame and center support bar provide stable workouts even when pedaling hard and fast.  Front and back base stabilizer bars with levelers increase workout stability.  The levelers adjust, enabling the bike to be used on slightly uneven floors.
A perimeter weighted flywheel delivers smooth and consistent sessions.  It runs very quietly, so you won't need to worry about disturbing anyone in your vicinity.
Resistance –
The bike's 25 levels of eddy current magnetic resistance range from almost non-exsistent to super challenging, and everything in between.
10 one-touch quick select keys enable you to immediately change the resistance level you are working at on the fly.  Alternatively, you can opt for gradual adjustment.
Programs –
The Schwinn 270 comes with 29 built-in workout programs, allowing you to tailor your workout to your fitness level and goals and progress to more challenging levels as your fitness improves.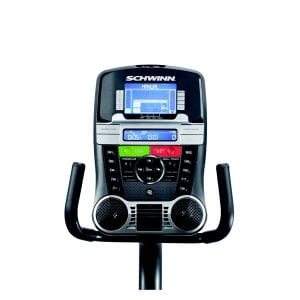 Programs include 12 profile, 9 heart rate (4 for beginners, 4 for the advanced, and 1 that is customizable).  Four of the programs are user-defined, and there are two fitness tests (1 for beginners and 1 for advanced cyclists.)  There's also 1 recovery test and 1 quick start program.
With a Schwinn M17 270, you will be able to store and track the workout details of up to 4 users.
Heart Rate Monitoring –
The seat of the Schwinn 270 houses a heart rate monitor.  There's also the option of using a chest strap to monitor your heart rate.
Console –
A dual blue backlit LCD enables tracking of 13 different statistics, including Course Profiles, Time Elapsed, Distance Covered, Calories Burned, RPM, Intensity Level, Resistance, Speed, Pulse Rate, % of Workout Completed, Goals, and more.
The display windows measure 3″ x 5″ and 1″ x 5″ respectively.  The larger of these can be used to watch movies.
Workout stats display on the monitor automatically when you start pedaling, with no need for you to press any buttons.  After you finish your workout, the electronics will switch off automatically when you alight from the bike.
Seat –
The bike's large, padded seat with contoured leg area is more comfortable than that of many exercise bikes.  The backrest has a lumbar support and it is vented to enable air flow for cooler
workouts.
Most buyers who posted feedback for the Schwinn 270 claim that its saddle is very comfortable.  However, what one person deems to be comfortable, another may not, so not everyone is happy with the seat.
New cyclists especially can have trouble adapting to the feel of cycling.  A folded towel placed over the saddle will help, as will wearing cycling shorts or attaching a gel seat cover.
The seat is height adjustable, and it can be moved forward or backward by means of an easy-to-use sliding-rail system.
Pedals –
The large slip-resistant pedals have safety straps to hold your feet securely in place.  Reverse as well as forward pedaling is possible if you want to target different muscles.
Handlebars –
The fixed position padded ergonomic handlebars of the Schwinn 270 Recumbent Exercise Bike are slip-resistant and comfortable to grip.  Handles on either side of the seat provide additional support if needed when pedaling hard and fast.
Transportation wheels –
Transport wheels in the front base facilitate moving the machine by grasping the handle on the back, tipping the unit forward, then rolling it.
Accessories –
The Schwinn 270 Recumbent Exercise Bike offers a range of useful accessories.
Included amongst these is a 3-speed fan that circulates air, helping to cool your workout area.
A side-mounted water bottle holder provides access to liquid refreshment without you having to stop exercising to get a drink.
An integrated media tray allows you to keep your media devices within reach.
Bletooth and a USB port allows the user to transfer data to and from the Schwinn Connect™ website or connect an iPad, Kindle, or similar device.
You will also be able to sync with an IOS or Android device to access the free Schwinn Trainer App.  And, it is compatible with some other apps, including MyFitnessPal, Apple Health, and RideSocial.
Acoustic chamber speakers will enable you to listen to music or another form of entertainment while working out.
Assembly –
The Schwinn 270 arrives partially assembled.  You will only need to attach the handlebars and bases, the seat frame and seat, the console and water bottle holder.
Most people find that assembling the bike takes them between 60 and 90 minutes, working alone.  Having a second person help will speed up the process.
The instructions are clear, and the needed tools come with the bike.
Warranty –
The warranty for this model covers 10 years for the frame.  You also get 2 years for mechanical and electrical components and 90 days for wear and labor.
Next, in this Schwinn 270 review, we will look at the bike's pros, cons, then buyer feedback.   

Next, in this Schwinn 270 review, we will look at the bike's pros, cons, then buyer feedback.
Schwinn 270 Recumbent Exercise Bike Pros
The Schwinn 230 is a high-quality model that offers good value
It is robust and resilient, and it can support a higher load than many home-use exercise bikes
Workouts on this model are stable
Sessions on this model are fluid, stable, and near-silent
A broad range of resistance makes this model suitable for almost everyone, and makes it conducive to interval training
The programs cater to different goals and provide motivation
The heart rate monitoring features lets you exercise in your optimum training zone
The bike's step-through design enables easy access to and from the seat, even for individuals who are unsteady on their feet
Handles on either side of the saddle provide extra support
The Schwinn M17 270 has a range of convenient and useful accessories
The Schwinn 270 is compatible with many popular fitness apps
Transportation wheels allow the bike to be easily moved if required
Assembling the bike is an easy process that isn't too time-consuming
The bike comes with a solid warranty
Schwinn 270 Recumbent Exercise Bike Cons
As with anyone bike, not everyone will find the seat comfortable
The console's position is not adjustable
For your workout stats to show and to cycle with resistance, the bike will need to be plugged in to a power outlet
This model doesn't fold for storage
Some of the compatible apps may require a paid subscription
The warranty for wear and labor is very short
Schwinn 270 Recumbent Bike Video Overview
Customer Feedback – The Good and the Bad
Schwinn 270 Recumbent Exercise Bike reviews have, in the main, been extremely positive.  Almost everyone who has left feedback has commented on its quietness and stability.  The ease of selecting and changing programs has also been given the thumbs up.
There have been many positive comments regarding the bike's seat with people from short to tall of various weight claiming that it is very comfortable.  Adjusting it to suit the individual's preference is said to be a very quick and easy process.
Many purchasers who left feedback stated that assembling the bike is very easy, even when working alone.  It has been noted, however, that having a second person help will cut the assembly time almost in half.
While the Schwinn 270 Recumbent Bike has a lot going for it, it does have some negatives.
A number of purchasers said that even when used at the highest setting, the breeze the fan creates is quite weak.  This is a common complaint with 99% of exercise bikes, so it shouldn't be a deterrent to purchasing.
Some people have commented that the display monitor is too bright for their liking.  Other people were happy with the brightness level, so this obviously comes down to personal preference.
A small percentage of purchasers had a problem with some parts not fitting correctly.  Others received parts that had been damaged in transit. After contacting customer service, those affected were promptly sent replacements.
Schwinn 270 Conclusion
The user-friendly Schwinn 270 Recumbent Exercise Bike has a range of useful features that will help you achieve your fitness goals.  These include multiple workout programs and resistance levels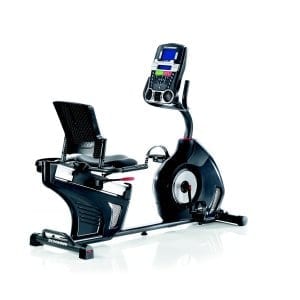 to suit everyone, from the rank beginner to the very experienced cyclist.
It is robust and reliable, and it can support cyclists weighing up to 300 pounds.  With quiet operation, a comfortable, easily adjustable seat with excellent lumbar support, air vents that allow air circulation, plus numerous other desirable extras, this model has overwhelmingly positive feedback from purchasers.
I have no hesitation in recommending the Schwinn 270 Recumbent Exercise Bike to anyone looking to buy an exercise bike.
If you like the sound of the Schwinn M17 270 Recumbent Bike but don't need quite so many features and would like to save a bit of money, the Schwinn 230 could be right up your alley.  (Click the previous link to read a review.)
Still not sure which model to get?  Click here to read more recumbent bike reviews