This post may contain affiliate links. If you click a link and buy something, I may receive a small commission at no extra cost to you.
The Schwinn 430 Elliptical Trainer is an affordable elliptical that is proving to be very popular with purchasers.
Crafted from the highest quality materials, this sturdy and innovative elliptical performs well, and it looks great.
Manufactured by renowned fitness giant Schwinn, it is packed with user-friendly features that simplify workouts and make them more effective and enjoyable.
If you tend to become bored when working out, this model's onboard entertainment will lower the likelihood of this occurring.
Hook up your iPod and watch a movie on the monitor, or read a Kindle and your workout will be over before you know it.
Following is a detailed Schwinn 430 Elliptical Machine review.  We will look at the machine's specs, an overview, its pros, cons, and more.
NB: Please note that the Schwinn 430 is also known as the Schwinn Compact Elliptical Machine.  
Schwinn 430 Elliptical Trainer Specs 
Dimensions – The Schwinn 430 measures approximately 70″ x 28 1/4″ x 63 1/4″
Stride – It has a 20″ stride
Weight – The trainer weighs 168 1/2 lbs
User weight – It has a maximum user weight of 300 pounds
User height – Customers from 5′ to 6′ 4″ have left positive feedback for this model
Schwinn 430 Elliptical Trainer Overview
The frame of the Schwinn 430 Elliptical Trainer comprises robust steel tubing that is coated in corrosion-resistant paint that resists scratches.
It comes with 22 preset programs that will enable you to cater to different fitness goals.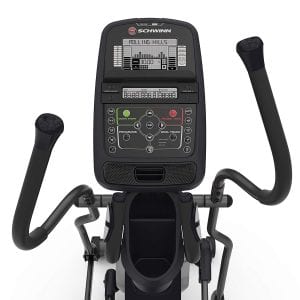 Included are 9 Profile programs.  These automatically select the resistance level and offer workouts such as Fun, Rides, Challenges, and Mountains.
There are 8 Heart Rate programs.  Four of these are for beginners, and four are for experienced exercisers.  There's 1 Quick Start program that allows you to hop on and start your workout without selecting a specific option.  The Schwinn 430 also offers 2 Customizable programs, and 2 Fitness Tests, with one of the latter being for beginners, and the other for advanced level users.
This broad range of options will enable you to vary your workouts so you won't get bored, and you will be able to continue to grow your fitness level.
Two LCD windows enable tracking of up to 13 workout elements and compare them to past sessions.  These include Profile, Time, Distance, Speed, Pulse, RPM, Calories, and Resistance Level.
Other available stats include an HR Zone Indicator, % Complete Indicator, Intensity Meter, plus User Indicator, and Goal Achievement.
There is also the provision for you and one friend or another member of your household to program in and save their workout details.
The handlebars house a grip heart monitor.  Use it to track your heart rate and keep in the best training zone to achieve your fitness goals.
Twenty levels of resistance provide plenty of scope to increase the challenge of your sessions gradually, as you become fitter.   Ten of these are accessible at the push of a single button, to increase or decrease the resistance immediately.  These are levels 1, 3, 5, 7, 9, 12, 14, 16, 18, and 20.  To access all of the levels from 1 to 20, use the up or down arrow keys, depending on if you want to choose a higher or a lower setting.
The elliptical's incline manually adjusts to any of 6 levels, with an angle of up to 10% possible.  This feature allows you to take your workouts to another level again, and burn more calories.
The Schwinn Compact Elliptical Machine has articulating footplates that are large enough for feet of any size.  They are cushioned for comfort and their slip-resistant finish makes for safe workouts. 
A mid-range 20″ Precision Path stride simulates the feeling of running and allows even taller users stretch out fully.
This model has two sets of handlebars, one static, and the other movable.  Both offer multiple grip positions to enhance user-comfort.  Their rubber coating further adds to the comfort factor.
If you only want to work your lower body, use the static handlebars.  An ergonomically designed movable pair enables you to exercise your upper body.
With this updated version of the Schwinn Elliptical 430, you can watch movies via your iPod or read a Kindle as you work out.  A USB port is useful for charging a smartphone, tablet, or another media device.
Workout details can be tracked, uploaded, and saved through MyFitness Pal or SchwinnConnect™.
High quality sealed acoustic chamber speakers provide a clear, full sound.
Other noteworthy features include an integrated 3-speed cooling fan.  There is also a media tray that is useful for holding a tablet or other electronic device.  A center-mounted water bottle holder gives easy access to water or an energy drink, without you having to stop exercising.
The trainer comes partially assembled.  Completing the job is straightforward and it should take approximately 45 minutes.  Easy-to-follow written and illustrated instructions and the tools you will need are included.
Transport wheels enable easy relocation of the Schwinn 430 if this is required.
The warranty for this model covers 10 years for the frame, 2 years for mechanics, 1-year for the electronic components, and 90 days for labor.
Next, in this Schwinn 430 review, we will look at its pros, followed by its cons.  

Schwinn 430 Elliptical Machine Review
Schwinn 430 Elliptical Trainer – Owner's review
Pros
The Schwinn 430 Elliptical machine has Eddie current resistance and a high speed; high inertia perimeter weighted flywheel.  These features ensure that your workouts are smooth, quiet, and comfortable.
The control panel of the Schwinn 430 is user-friendly.  It enables quick and easy selection of your desired workout program, at the touch of a button.
The pedals of the Schwinn Compact Elliptical Machine are low-set, allowing easy access onto and off the footplates, even for those with mobility issues.
The Schwinn 430 Elliptical machine comes with a longer warranty than most models in its price range.
Cons
The display screen lacks a backlight, so it will be difficult to view your workout stats if you are in a dimly lit room.
A few purchasers noted that their elliptical machine squeaks during use.  Spraying oil on the rollers should eliminate the problem.
While most people found the Schwinn 430 Elliptical Trainer easy to assemble, some consider it to be a two-person job.
Final Thoughts on the Schwinn 430
Elliptical workout benefits are undeniable, and the Schwinn Elliptical 430 is proof you don't have to
pay a lot to get a quality elliptical trainer.  Modern and stylish, this model has a host of useful features that make working out comfortable, enjoyable, and productive.
A dual monitor displays more workout stats than a lot of ellipticals that are far pricier.  Its wide range of programs provides variety.  And, by varying your workouts, you will lose weight and increase your fitness level faster.
Efficient, the 430 Elliptical from Schwinn will enable you to exercise your upper and lower body simultaneously.  Along with saving you time, working out this way burns more calories, promoting further weight loss.
The negatives of this model are few and quite minor, with its positives far outweighing them.  If you're in the market for a well-priced elliptical that will provide you with smooth and varied workouts, the Schwinn 430 Elliptical machine is worth considering.
To read reviews of other popular elliptical machines, click this link