This post may contain affiliate links. If you click a link and buy something, I may receive a small commission at no extra cost to you.
In this review, we look at the Schwinn A20 Recumbent Bike, which is the entry-level model in this popular range from Nautilus who are renowned for their reliable, high-quality offerings.
The Schwinn A20 is robust, stable, smooth and quiet to use.  It comes with enough built-in workout programs and resistance levels to provide effective workouts that will enable new exercisers to progress to an intermediate level as their fitness improves.
While the A20 is slightly more expensive than most other brand's basic models, its quality and features are worth the extra outlay.
Why consider a recumbent bike?
Stationary bike workouts promote weight loss, provide cardiovascular benefits, and tone the muscles of the lower body.
Many people who cycle for fitness favor recumbents, such as the A20, over upright models.  The reason for this is that they don't have a bar at the front, so it's easy to climb on and off the seat.
Recumbents are also very gentle on the knee and hip joints, and typically more comfortable to use than upright bikes.
Schwinn A20 Recumbent Bike Specs
Dimensions – The Schwinn A20 Recumbent Bike measures 50 1/2″ (H) x 19″ (W) x 61″ (L).
Seat dimensions – The seat is approximately 16″ (W) x 10″ (D).
Weight – It weighs 60.1lbs.
Storage area requirement – If you want to store the bike, you will need an area of 19″ x 61″.
User weight – The maximum user weight limit for this model is 275 pounds.
User height – The seat adjusts to accommodate people between 4′ 10″ and 6′ 3″ or even taller.
Color – The bike is gray and black,
Batteries – 4 x D batteries are needed for the monitor to function. These are included.  If preferred, you can buy an A/C adaptor.
Schwinn A20 Recumbent Bike Overview
The Schwinn A20's robust steel frame and wide stabilizer bars provide durability and quiet, wobble-free workouts.  A high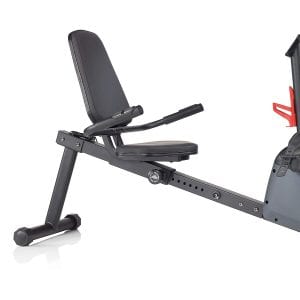 speed, high inertia perimeter weighted flywheel offers smooth, quiet sessions.
It comes with 7 preset workout program including six profile, and 1 Quick Start.  These provide variety as they guide you through your sessions and motivate you to progress to new levels.
A 5″ x 3″ LCD monitor shows your speed, distance, time, RPM, and calories burned.  When using the ergonomically designed pulse grips, your heart rate will be displayed on the screen.
Eight levels of magnetic resistance allow you to increase the difficulty of your workouts as your strength and fitness improve.  Changing levels is smooth.  Level 1 provides next to no resistance, with levels 2 to 8 increasing incrementally.
With this model, it's not possible to slide into the seat due to the upward angled handlebars which are a few inches above seat height.  The plus side of this is that you hold onto the handlebars to steady yourself when accessing and exiting the seat.
Most people who have left feedback have stated that this bike offers enough resistance to get their heart rate up and develop a sweat.  However, the top resistance levels won't challenge those who are very fit and looking for demanding workouts.
While you can use the bike without them, you will need to buy an A/C adaptor or 4 x D batteries if you want to view your
metrics on the monitor.
The bike has a contoured padded seat and a supportive backrest that adjusts forward and backward.  Adjustments, which take around thirty seconds, will enable you to find the most comfortable position for your height.
Just turn the knob beneath the seat, pull it outwards to release the holding pin, slide the seat to where you want it, then tighten the knob.
Most users find the seat comfortable; however, this is a personal thing.  If it feels too hard for you, you can place a folded towel or a cushion on it.  Alternatively, buy a bicycle seat cover.
Assembling the Schwinn A20 is easy, taking most people under 60 minutes from start to finish.
Being quite light, the bike is easy to move, with transport wheels assisting the process.
The warranty is longer than that of many stationary bikes in the A20's price range.

Schwinn A20 Infomercial
Schwinn A20 Key Features
With its walk-through design, accessing and exiting the Schwinn A20 is easy and safe, even for people with physical limitations.
The A20 features 7-profile programs, making the bike ideal for family use.  Included among these are Fun Rides, Mountains, and Challenges, with each simulating road cycling.  Fun Rides includes Rolling Hills, and Ride in the Park.  Mountains comprises Pike's Peak and Pyramids.  Challenges offers Uphill Finish and Cross-Training.  

There's also a Quick Start program.  Just press the start button and pedal!
The eight different levels of magnetic resistance can be selected manually by pressing the increase or decrease buttons on the console.
The buttons activate a band of magnets inside the shroud, moving them closer to the flywheel to increase the resistance, or further away to decrease it.)
When using the pre-set programs, the resistance changes automatically
A large LCD monitor shows your Speed, Distance covered (in miles and kilometers), RPM (revolutions per minute), and  KCAL (calories burned), with each stat displayed for six seconds before moving to the next.
A RESULTS Indicator shows your workout data results, and there's a Battery Indicator which comes on when the battery is low.
A Contact Heart Rate Monitor (CHR) in the handlebars shows your current LEVEL (resistance), and  HR (heart rate) in beats per minute BPM (beats per minute), with each shown for six seconds along with the states outlined above.
The padded seat has an angled back that provides good support.  The seat has fore and aft adjustment to accommodate people from very petite to very tall.
One of the bike's two handlebars houses the pulse grips.  Comfortably angled, the handlebars have a sweat-resistant coating.
The oversized pedals of the Schwinn A20 Recumbent Bike will fit feet of any size.  The attached rubber/plastic straps are textured to enhance grip and to hold your feet securely in position.
The monitor will enter Sleep Mode after five minutes of inactivity, helping to preserve the batteries.
The end caps on the back stabilizer bar double as levelers, enabling the bike to be used on floors that are slightly uneven.  If your floor is too uneven for the levelers to compensate, using the bike on a rubber exercise mat will add extra stability.
The A20 has an integrated water bottle holder, a media tray, and a sound system.  There's also an MP3 player and a small speaker.
Transport wheels in the base facilitate moving the bike as required.
The warranty for the bike covers 3 years for the frame, 6 months for mechanics, 6 months on electrical parts, and 60 days on wear parts and labor.
Pros
Comfortable – Most buyers of the Schwinn A20 Recumbent Bike consider its seat to be comfortable, even during long sessions.  Comfort is, however, a personal thing.  Some buyers who left a review stated that the seat is too hard.  To help overcome this, a folded towel or a cushion can be placed on it.  Alternatively, you can buy a bicycle seat cover.
User-friendly – This model is somewhat basic, making it a great choice for beginners who don't want to spend time reading the owner's manual before exercising.  The functions are easy to operate and offer plenty of variety for beginner and intermediate users.
Smooth & Quiet workouts – A high speed, high inertia perimeter weighted flywheel ensures that your workouts are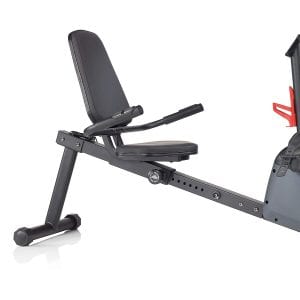 quiet and fluid even when working at a lower resistance level.
At the higher levels of resistance, there may be a slight pulsing as the resistance acts as a break when you aren't pushing or pulling on the pedals as happens at the bottom and top of each stroke.
The Schwinn A20 is very quiet to operate.  It won't disturb your housemates, and you will be able to watch the TV without turning the volume up.
Sturdy & Stable – The bike is long and low to the ground, making it very stable even when working hard at the highest resistance level.
Durable – Purchasers who have used the bike regularly for several years have stated that it has held up well without any problems.
Generous user weight capacity – The weight limit for this model is higher than some others in its price range.
Easy assembly –  The A20 is easy to assemble, taking most people under an hour when working alone.  Directions are included to guide you through each step.
Cons
Limited resistance for advanced users – Some exercise bikes of similar price offer more resistance levels than this one.
Monitor – The monitor isn't backlit, so viewing your workout stats will be difficult if the bike is housed in a dimly lit area.  When using the media shelf, the display will not be visible.
Power cord costs extra – If you'd rather use a power cord than batteries, you will need to pay extra for one.  While very inexpensive, some buyers have complained that at 6″ long the cord is on the short side, which can limit the bike's placement.
Schwinn A20 Recumbent Bike Summary
If you're a new to intermediate level exerciser looking for a robust and reliable indoor bike, the Schwinn A20 Recumbent is worth putting on your short-list.  The bike is high in quality, smooth and quiet to use, and great value.
Being recumbent it is easy to access and exit. It also has one of the most comfortable seats you will come across on an exercise bike in this or a higher price bracket
Its range of pre-set workout programs provides a variety of effective low-impact training sessions.  A quick adjustment enables it to accommodate people of almost any height which makes it an excellent choice for couples or families who want to share the bike.
Not the model for you?  Click here to read reviews of alternative recumbent bikes