This post may contain affiliate links. If you click a link and buy something, I may receive a small commission at no extra cost to you.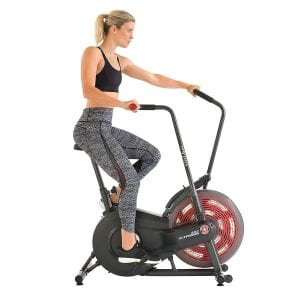 In this Schwinn AD2 Airdyne Exercise Bike review, we will look at everything you may want to know about it to help you decide if it's right for you.
Taking aerobic cycling to a new level, this fitness aid is suitable for cyclists of any fitness level.
High in quality, as one would expect from Schwinn, the bike is compact, sturdy, and competitively priced.
An upgraded version of the very popular original AD2, this model has more and better features.
Unlike most exercise bikes, this one also has synchronized arm and leg capability.  So along with cardio and lower body toning, you will also get an upper-body workout.
Based on Airdyne wind resistance technology, pioneered by Schwinn 30 plus years ago, the cyclist dictates the intensity of the workouts.  The faster you pedal, the stronger the resistance will be.
When working with greater resistance you will burn extra calories which, over time, can result in significant weight loss and a high level of fitness.
The Schwinn Airdyne Bike comes in three different models.  The Airdyne AD2 is the most budget-friendly of these.  Keep reading to find out more about this popular upright exercise bike.
Schwinn AD2 Airdyne Exercise Bike Specs
Dimensions – The Schwinn AD2 Airdyne Exercise Bike measures 46″ (L) x 25″ (W) x 50″ (H).
Weight – It weighs 96lbs.
User weight – The Schwinn AD2 Airdyne can support a maximum user weight of 250 pounds.
Batteries – The display monitor requires 2x AA batteries.  These are supplied.
Schwinn AD2 Airdyne Bike Review Infomercial
Schwinn AD2 Airdyne Exercise Bike Key Features
The seat of the Schwinn AD2 Airdyne can be adjusted to suit people of just about any height.  Purchasers from 4 feet 11 inches to 6 feet 4 inches have left positive feedback.
The bike's padded ergonomic seat is designed to enhance comfort and reduce back strain.
An easy-to-read and navigate LCD screen displays various workout stats.  These include Speed, Time Exercising, RPM, Distance Traveled, and the number of Calories Burned.  This information makes it easy to customize the perfect workout and monitor your progress.
Wind resistance technology allows for either a gentle or a tough workout, with the cyclist being in total control.
When pedaling at a slow pace there will be little resistance, so your workout will be easy.  By increasing your speed, the resistance will be stronger, and your workout will be a more challenging one.
Quiet during operation, the bike's fan disperses a flow of air that will help keep you cooler and more comfortable.

Pros
While a regular exercise bike gives a great cardiovascular workout and does an excellent job of toning the lower body, it tends to fall short when it comes to shaping the arms and upper body.  This is not the case with the Schwinn AD2 Airdyne which, operating by way of a belt drive system, synchronizes arm and leg movement.
When exercising both the upper and lower body at the same time, the motion is very natural, resulting in a comfortable workout experience.  The stationary footrest pegs can be utilized to exercise your upper body independently of your lower body if desired.
With its simple design, the Schwinn AD2 Airdyne Bike has relatively few pieces.  This makes it faster to assemble than a lot of other exercise bikes.  Count on around 30 minutes to 1 hour to complete the job.  The required tools are included.
Transport wheels enable easy relocation of the bike if required.
Warranty 
The Schwinn AD2 Airdyne Exercise Bike comes with a 5-year warranty on its frame and a 1-year warranty for mechanical and electrical parts.  There's also 3 months coverage for labor and wear parts; such as the bike's drive belt.
An extended warranty can be purchased if you would like longer coverage.
Cons
While Schwinn states that the seat of their AD2 Airdyne Exercise Bike remains comfortable during extended sessions, many buyers have said that it does not contain enough padding and that they do not find it comfortable at all.  Attaching a padded seat cover will make your workouts more comfortable.  With so many suitable seat covers to choose from, this is an easy fix for what is otherwise a near-perfect exercise bike.
A seat cover that is proving popular with purchasers is the Schwinn Cruiser Gel Seat Cover, which fits the AD2 perfectly.
Alternatively, you can try placing a folded towel or a cushion on the seat.
There's the option of utilizing the Schwinn AD2 Airdyne Exercise Bike to exercise only your upper body and arms.  The arms cannot be immobilized though.  If you only want to work your lower body, you will have to rest your hands on your thighs as you pedal.
Schwinn AD2 Airdyne Exercise Bike Summary
You really can't go wrong with exercise equipment manufactured by fitness leader Nautilus Inc., whose brands include Nautilus, Bowflex, Schwinn, and Universal.
The originators of wind resistance technology for exercise bikes, while a number of other fitness equipment manufacturers have utilized the technology in the intervening years, Schwinn has remained the market leader in this competitive field.
Offering both an upper and lower body workout, the wind resistance technology the Schwinn AD2 Airdyne Exercise Bike offers provides infinite resistance for a range of workouts ranging from very light to exceptionally intense.
The Schwinn Airdyne Bike is excellent value.  Constructed from top quality material and parts, it comes with a good warranty.
A major downside of stationary bikes, including the Schwinn AD2, is a lack of seat comfort.  Using a seat cover with the bike will make your workouts more comfortable.  Still, it is disappointing that Nautilus does not appear to have addressed the issue in its recent upgrade.
This factor aside, with so much going for it and so many positive reviews from satisfied purchasers of the original model, the Schwinn AD2 Airdyne Exercise Bike is definitely worth considering if you are planning on buying a new piece of home exercise equipment.
I hope you found this Schwinn AD2 Airdyne Exercise Bike review helpful.  If it's not the right bike for you, Click this link to read reviews of other popular upright bikes