This post may contain affiliate links. If you click a link and buy something, I may receive a small commission at no extra cost to you.
In this Schwinn Airdyne Pro review, we will look at everything you may want to know about the bike before you purchase it.
The Schwinn Airdyne Pro Bike (model 111446-001) is the top-of-the-line model in the popular Airdyne exercise bike range.  A commercial-grade upright air bike, it offers the quality and reliability associated with the renowned Schwinn Brand.
And, unlike most stationary bikes, with this one, you can exercise your upper and lower body at the same time.  A cushioned seat with a universal rail, four-direction adjustability, and a higher than average user weight limit further add to its appeal.
People of any fitness level can use an air bike.  The resistance is created when air pushes against a fan as the user pedals.  The faster you pedal, the greater the resistance will be.  Pedal slowly, and the resistance will be low.
Designed with efficiency and effectiveness in mind, this model comes with built-in HIIT programs, so you can vary your workouts and reach your fitness goals faster.
Keep reading this Schwinn Airdyne Pro review to find out more.  We will also look at the Schwinn Airdyne Pro Vs the Ad7 to see how they compare.
Whom does it suit?
This model is recommended for professional use by personal strainers or in commercial gymnasiums.
It also suits home-users of any fitness level who want a model with a longer warranty.
It is ideal for busy people weighing no more than 350 pounds who don't have the time to do separate lower and upper body workouts.
Schwinn Airdyne Pro Vs the AD7
The differences between the Pro model and the Schwinn AD7 Airdyne Bike include its recommended usage, the price, and the warranty.
The Pro model is recommended for commercial-use.  It costs more than the AD7, and its warranty is longer.
With the Pro, you get a 10-year frame warranty, 2 years for parts and electronics, and 6 months for labor.   The Airdyne AD7 comes with a 5-year frame warranty, 1-year for parts and electronics, and 3 months for labor.

Schwinn Airdyne Pro Specs
Dimensions – The Schwinn Airdyne Pro Exercise Bike measures 42″ (L) x 20″ (W) x 52″ (H)
Fan wheel diameter – The diameter of the fan wheel is 27″
Seat dimensions – Its seat measures 10.5″ (W)  x 10.5″ (L)
Clearance – For unrestricted workouts, you will need a clear space of approximately 2 feet all around the bike
Weight – The bike weighs 113 lbs
User weight – It has an upper user weight limit of 350 pounds
User height – This model suits users from under 5′ tall to well over 6′ tall
Batteries – 4 x DD batteries are needed for the monitor, or you can use the included AC adaptor
Color – It comes in a choice of black or silver
Schwinn Airdyne Pro Overview
Build –
The Schwinn Airdyne Pro model 111446-001 features a commercial-quality double-coated moisture-repellent steel body that will withstand pretty much anything you throw at it short and long
term.  It's fan wheel is heavy-duty plastic.
Stability, Smoothness, and Noise Level –
While the unit is more compact than a treadmill or an elliptical trainer, the frame of this model is slightly longer and wider than most other air bikes.    This ensures stable and safe workouts, no matter how hard you go.   Four levelers in the base add additional stability and enable the bike to be used on slightly uneven floors.
The Schwinn Airdyne Pro Bike utilizes a 26-blade performance fan and a single-stage belt drive system that matches the cyclists' energy output to increase the effectiveness of workouts.  Along with being more efficient, this system ensures that your sessions will be ultra-smooth and incredibly quiet.
Resistance –
Infinite user-controlled resistance adapts to the amount of effort expended.  The more energetically you move your arms and legs, the more challenging your workout will be.
Console –
A large, easy-to-read backlit LCD screen displays workout metrics, including your time, distance, speed, calories, RPM, and watts.  These stats stats will enable you to monitor your progress and make new fitness goals.
A tachometer enables you to see how much effort you are putting into the workouts.
Programs –
The Schwinn Airdyne Pro Bike has nine built-in training workout programs that cater to people of different fitness levels.  These allow you to vary your workouts, exercise according to your current fitness level, and continue to challenge yourself as your fitness improves.
The programs offered include Manual, 20/10 Interval, 30/90 Interval, and Custom Interval.  Other options include Time Target, Calories Target, Kilojoule Target, Miles Target, and Heart Rate Zone.  (To track your heart rate you will need to buy a compatible chest strap.)
The Manual workout allows you to mount the bike, press start, and pedal at your chosen pace for as long as you like.
The 20/10 Interval workout comprises eight 20 seconds sprinting rounds, followed by 10 seconds of recovery.  The 30/90 Interval is eight rounds consisting of 30 seconds of sprinting, followed by 90 seconds of recovery.
Choosing the Custom Interval workout lets you select your desired Sprint and Recovery time and the number of rounds you wish to do.
Time Target, Calories Target, Kilojoule Target, and Miles Target are self-explanatory.
Heart Rate Zone lets you choose your pace based on the heart rate you want to work at, with preset options being 65%, 75%, and 85%.
A noteworthy feature of this model is its built-in temperature sensor which provides a more accurate reading of the number of calories you burn.
Heart Rate Monitor –
To track your heart rate, you will need an un-coded chest strap monitor.  The bike's manufacturer recommends the Polar T31.
Seat –
The bike's large, comfortable, cushioned saddle has a durable vinyl cover.  It adjusts up, down, forward, and backward, catering to people of most heights.  A universal rail and clamp system
enables the saddle to be replaced with a standard bike seat if preferred.
Most buyers consider the seat to be comfortable.  However, saddle comfort satisfaction varies between individuals, and it can take a few sessions to adapt, particularly if you haven't cycled before.
If you don't like the seat's feel, you can swap it out to another standard model, use a gel seat cover, or wear gel cycling pants.  Placing a folded towel on the seat will also help to ease any discomfort.
Handlebars –
Multi-position movable handlebars make for comfortable rides that target both the upper and lower body.  The handles can be gripped either horizontally or vertically, depending on your preference.
To work your lower body only, place your hands on your thighs during workouts.
Pedals –
The Schwinn Airdyne Pro Bike's foot platforms are slip-resistant and textured to allow excellent grip and a stronger push-off.  Toe grips and safety straps ensure that your feet won't fall off the pedals.  Backward and forward pedaling is possible.
If you only want to work your arms and upper body, rest your feet on the foot pegs behind the pedals.
A stepping platform located between the base of the seat bar and the beginning of the flywheel makes for easy mounting and dismounting.
Transportation Wheels –
Rollers in the base facilitate moving the bike if need be.
Accessories –
Useful accessories include a ledge for holding a cell phone and a conveniently positioned water bottle holder.
Assembly –
The bike comes partially assembled.  Completing the job requires that you attach the seat, the handlebars, and pedals.  This takes most people between thirty and sixty minutes.  The tools for this are included.
Warranty –
A solid warranty covers 10 years for the frame, 2 years for parts and electrical components, and 6 months for labor, so you can buy with confidence knowing that the manufacturer will repair or replace the bike if there is a problem.
An extended warranty is available for an additional cost.
The next part of this Schwinn Airdyne Pro review highlights its pros, followed by its cons.
Schwinn Airdyne Pro model
111446-001

Infomercial
Pros
Generous user weight limit
With a 350-pound user weight limit, the Schwinn Airdyne Pro caters to most potential users.
It is one of the most robust air bikes you will find.  Its heavy-duty double-coated
steel body repels moisture, so it will resist rust and look like new for years to come.
The bike's long, wide frame and built-in base stabilizers provide excellent stability.
A belt drive ensures smooth workouts.  The only sound you will hear as you pedal is the whooshing of the air generated by the fans.  The harder and faster you go, the louder the noise will be.
Air bikes are capable of infinite resistance, so you can continue to challenge yourself as you become fitter.
Nine built-in programs provide diversity and cater to a variety of fitness goals.
A tachometer makes it easy to track how much effort you are expanding and so better set goals.
Heart rate monitoring facility
The Schwinn Airdyne Pro offers wireless telemetry using an uncoded chest strap such as the Polar T31.
An LCD screen enables you to view your stats and see your progress.
Most reviewers stated that the bike's seat is comfortable, even when doing extended sessions.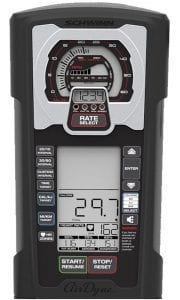 Movable, multi-position handlebars allow for a total body workout.  The handles are slip-resistant and well-padded to enhance comfort.
Oversized textured foot pedals accommodate all shoe sizes and provide excellent grip.  Toe straps hold feet securely in place.
This model comes with a cell phone tray and a water bottle holder.
The bike comes with a 10-year warranty for its frame, 2 years for parts, and 6 months for labor.
Cons
It doesn't come with a heart rate monitor
If you want to monitor your heart rate, you will have to buy a chest strap.
There are no speakers or Bluetooth
This model lacks speakers and Bluetooth capability that is standard with many other models in its price range.
While there is no fan, the flywheel creates a cooling breeze as you pedal.  The breeze is very light, but if it bothers you, an air diverter can be purchased and attached to shield you.
Schwinn Airdyne Pro Exercise Bike Summary
The Schwinn Airdyne Pro is one of the best air bikes on the market today.  It is fully adjustable, it can accommodate people of most heights, and it has a higher than average user weight capacity.
The bike offers smooth, quiet sessions, infinite resistance, and a total body workout that will save you time.
Being of commercial grade, it isn't the cheapest model you will find, but it is mid-priced compared to most other types of stationary bike, and its quality, durability, and range of useful programs make it excellent value for money.
The price difference between the Pro and the Schwinn AD7 Airdyne Exercise Bike isn't that great considering the far longer warranty that the former offers.  However, both are up there with th4e best on the market, so if you'd like to save a bit of money, visit Amazon for more info on the Airdyne AD7.
If this isn't the right air bike for you, you may like to check out this review of the LifeCORE Fitness Assault Air Bike Trainer.