This post may contain affiliate links. If you click a link and buy something, I may receive a small commission at no extra cost to you.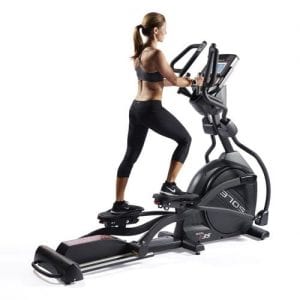 If you're looking for a high-quality elliptical machine with top-notch performance and you have a little extra money to spend, it's hard to go past the Sole E35 Elliptical.
Named Best Buy Elliptical in its price category by the Treadmill Doctor, this elliptical trainer has also received the thumbs up from various other fitness industry publications.
This is the brand's second-tier model.  As with all of their offerings, its quality can't be faulted.
Noteworthy features include automatically adjustable incline and resistance and a generous stride – back and forth motion – that suits most people.  It also offers a range of built-in programs and an adjustable pedal angle.
Quiet to use, the trainer is incredibly solid and has a higher user weight limit than most elliptical trainers.  A heavy flywheel and high gear ratio ensure a smooth ride.
This Sole E35 Elliptical review looks at the most recently upgraded model. Introduced to the market in 2019.  It offers a more comprehensive range of features than its predecessors and program options comparable to those found in health club fitness equipment.
Whom does it suit?
This model suits new and intermediate-level users wanting a comfortable, low-impact, total-body workout experience similar to what they will get at the gym.  Seasoned athletes will not find the resistance enough of a challenge.
Being in the mid to high price bracket, it won't be for those with a tight budget.
It has transport wheels, but it is large and does not fold, so it won't suit you if you want an elliptical you can store between workouts.
Sole E35 Elliptical Machine Specs 
Dimensions – Assembled, the Sole E35 Elliptical Trainer measures 82″ (L) x 31″ (W) x 71″ (H)
Clearance – A clearance of 2′ on all sides of the trainer will enable safe and unrestricted workouts
Ceiling height – A standard 8′ ceiling will accommodate this model
Step-up height – The step-up height is approximately 14″ above floor height at the lowest point
Weight – It weighs 231 lbs
Flywheel weight – The flywheel weighs 25 lbs
Stride – The stride length is 20″
User weight – The maximum user weight for this model is 375 pounds
User height – Users from 5′ to 6'2″ have left positive feedback for the trainer
Color – It is available in black
Sole E35 Elliptical Overview
Drive –
The Sole Fitness E35 operates through a front-drive system.
The power outlet and power button are beside the flywheel on the front left, near the base.  This is something to keep in mind when deciding where to locate the machine.
Construction and finish –
The trainer's construction is powder-coated steel that resists scratches, chips, and corrosion.
Smoothness, Noise level, and Stability –
The Sole E35 Elliptical offers fluid, whisper-quiet workouts. The arms and pedals move smoothly, and your sessions won't disturb anyone in your vicinity or wake sleeping babies.
There's a low whirring sound as you transition between incline levels, but this is not intrusive.
As you increase or decrease the resistance, a beep indicates each change.  Upon reaching the chosen level, the beeps cease.
The elliptical's weight and front, center, and rear base stabilizers ensure steady workouts with no unwanted movement.  The pedal's dual-track system adds further to this stability.
Resistance –
The Sole Elliptical E35 has 20 Eddy Current Brake (ECB) resistance levels, accessible at the push of a button on the handlebar.
These allow you to vary your workout intensity and increase the challenge as your fitness grows.
Incline –
This model has 20 incline-level options, with the ramp lifting as much as 30 degrees by pushing a button.
As with the resistance, you can implement these changes by pushing a button on the handlebar.
Programs –
The Sole E35 Elliptical Trainer has 10 built-in programs.  This includes 6 preloaded, 2 customizable, and 2 Heart Rate programs.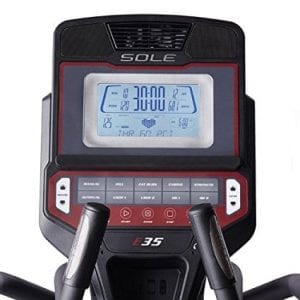 The preset options include Manual, Hill, Fat Burn, Cardio, Strength, and HIIT.
Manual allows you to personalize the program to your liking.
Hill simulates traversing up and down hills, with the resistance automatically increasing and decreasing. 
The Fat Burn program allows you to exercise in your best training zone at a steady pace.
The Cardio program increases your cardiovascular strength and endurance.
Strength improves your lower body strength.
HIIT varies the pace for faster fitness gains and optimal fat burning.
The customizable programs allow you to enter the details of two different workouts for yourself – for example, the incline, resistance level, and the number of minutes you want to do.
Two people can store their details, such as Gender, Age, Weight, Max Heart rate, etc.   This information will enable ensure that the program's automatic changes will bring you the best results.  It will also give you a more precise reading of the number of calories you burn.
Heart Rate program 1 is designed to work at 60% of your maximum heart rate, while Heart Rate program 2 works at 80% of your maximum heart rate.  If desired, you can alternate between the two on the fly.
If you choose to monitor your heart rate using the chest strap, the elliptical trainer's resistance and incline levels will adjust automatically to keep you in your preferred training zone.
Heart Rate monitor –
Dual heart rate monitoring capability allows you to track your heart rate using the pulse grips in the static handlebars or the included chest strap.
NB: The pulse grips only provide a reading when you exercise with the handlebars in the static position. 
Chest strap monitoring provides the most accurate reading. Opt for this method if you want to move the machine's arms back and forth during your sessions. 

LCD screen –
A 7 1/2″ user-friendly backlit LCD shows workout stats so you can monitor your progress and set new fitness goals.
Metrics shown include the following:
Time counting up from zero to 99.59 minutes, or counting down from your selected time to zero.
Speed/RPM – these rotate, with each shown for 6 seconds.  Your speed is viewable in MPH or KMPH.
Distance counts up from zero to 99.9 miles (or km) or counts down from the distance you choose to zero.
The Calories setting is an approximation of your calories burned from zero to 9,999. 

The other settings are Watts and Pulse, with the latter showing the reading from the pulse grips or chest strap, depending on the system you use.

Your Resistance and Incline levels are also displayed.
The incline adjustment buttons are on the console's left, with changes made by pressing the up or down arrow.
The resistance buttons are on the right of the console.
If preferred, you can change the incline and resistance by pressing the relevant button on the right handlebar.
The screen will automatically power up when you plug it in.  It switches to standby mode after 4 minutes of inactivity is detected.  Press any key, and it will power up again.
Pressing the Stop/Reset key will pause your workout for 5 minutes.  You can then press the Start key to resume your session.
Pressing and holding the Stop/Reset key for 3 seconds will reset your metrics to zero.
Handles –
The Sole Fitness E35 Elliptical Machine has two sets of handlebars, one movable, the other static.
The movable handlebars enable you to exercise your upper and lower body simultaneously.  This feature provides a higher calorie burn and delivers a total body workout.
The static handlebars contain pulse grips for monitoring your heart rate.  Use these if you only want to work your lower body.
They are also helpful in assisting you to access and exit the footplates.
Pedals –
The machine's 15-inch foot pedals were designed with input from a physical therapist.
Set at a 2-degree inward slope to decrease ankle, knee, and hip stress, they are adjustable to any of three heights/positions.  Adjustments involve pulling on a lever then locking in your preferred position.  This takes a couple of seconds to implement.
You can pedal backward to target your quads and glutes further.
Accessories –
A height-adjustable ledge above the console provides a place to lock in a tablet or similar device you may want to access during workouts.
A smaller ledge on the lower right of the screen is handy for holding a cell phone.
A compartment beneath the console's controls can hold a water bottle or other small bits and pieces.
The Sole Elliptical E35 is Bluetooth-enabled, so you can sync it to your phone, tablet, or similar device.
Built-in speakers enable you to listen to music by plugging in your phone.
A USB port on the upper right side of the console is useful for charging your devices.
A fan in the center of the console provides a very light breeze.  Its angle adjusts, but it best suits taller users.
Transport wheels –
Transport wheels in the base make it easier to move the trainer if required.
Assembly –
After thoroughly researching the trainer, the only real negative I've found is that some buyers found the assembly process challenging and somewhat time-consuming.
Those with a problem said that the instructions weren't easy to understand.  However, some buyers who referenced Youtube videos found the process straightforward.
The assembly process should take one person approximately 3 to 4 hours or two people two hours or so.  If you're familiar with assembling machinery, you may be able to do it in less time.
If you don't want to assemble the trainer, you can have it done for you at an additional cost.
Warranty –
When purchasing exercise equipment, it's important that it comes with a good warranty.
It's equally vital to buy
from a reliable source who will honor the contract if there's a problem.
Sole Fitness will stand by their warranty for the Sole Fitness E35 Elliptical, which covers a lifetime on the frame, 5 years on electronics and parts, and 2 years on labor.
Next, in the Sole E35 Elliptical review, we will look at its pros, then its cons.
Pros
The Sole Fitness E35 is very robust and durable
Workouts are smooth, super-quiet, and exceptionally stable
The stride length allows for fluid movement
The LCD is easy to read, and the stats shown will help you track your progress and set new fitness goals
It offers a broad range of incline and resistance levels
This model comes with a variety of programs that will enable you to target different fitness aspects
Bluetooth compatibility allows you to sync with your electronic devices
It has two heart rate tracking options
Two sets of handlebars allow you to exercise your entire body or lower body only
The non-moving handlebars will enable you to steady yourself and climb onto and off the pedals easily
The large, ergonomic, slip-resistant pedals are adjustable
It comes with functional accessories to make your sessions more pleasant and effective
The warranty is better than that of some other elliptical trainers in the same price range
Cons
Some buyers have stated that the assembly process isn't as simple as they'd like
The fan isn't very powerful, but this is typical of fitness equipment fans
While perfectly acceptable, the quality of the speakers could be higher
It does not have a touch screen
If you want to stream workout videos, you will need to do so on your own tablet or similar device
Comprehensive Video Review of the Sole Fitness E35 Elliptical Machine
What Purchasers are saying about the Sole E35
The vast majority of Sole E35 Elliptical Machine purchasers are very happy with their purchase.  This includes some long-time users who have left reviews.
Many reviewers commented on the solidity and stability of the Sole Fitness E35, saying it doesn't wobble or shudder, even if you are working really hard.
Many purchasers also commented favorably on the smoothness and quietness of workouts.
Its variety of resistance options and the strong resistance of its upper levels received positive feedback from people requiring a challenging workout.
Numerous people said they consider it as good as the elliptical trainers they've used at the gym.
A number of negative reviews were left by individuals whose machines repeatedly showed an error message on the display monitor.  This prevented them from tracking their workout stats.
The problem actually occurred with an older Sole E35 model.  It seems to have since been sorted out in the new and improved version of the elliptical.
Some negative comments regarding the manufacturer's customer service were left back in 2013.  Again, this issue has since been addressed.  They now respond quickly to queries and fix any problems that crop up in a timely fashion.
A few people said that the sound quality of the speakers isn't great.
A small number of buyers noted that the fan doesn't create a very strong breeze.  The latter is a common complaint, even with elliptical machines that cost a lot more than the Sole E35.
At best, fans on exercise equipment create some air movement, but nothing close to that of a room or desk fan.
Sole Fitness E35 Elliptical Summary
The elliptical is great for promoting weight loss, toning muscles, and improving cardio fitness.  It can burn up to 300 calories in a 30-minute session as it tones and sculpts your lower body and core.
By working out on an elliptical with movable arms, such as the Sole E35 Elliptical Trainer, you will also get a shoulder, upper back, and arm workout at the same time.
The Sole Fitness E35 would be an excellent choice for anyone who has the space for a non-folding treadmill.
It won't be for you if you need a model that you can fold to store after use.  It does, however, have transport wheels, which make relocating it easy, should you ever need to do so.
The Sole E35 is solid, and it is one of the best elliptical trainers you will find for the price.
Its frame is sturdy; its flywheel is relatively weighty, it has a high gear ratio and a smooth braking system.
Most users will find its stride length comfortable workout.
Having a broad range of resistance and incline options, the Sole E35 Elliptical will grow with you as your fitness improves.  You will also be able to use it for interval training.
With so much going for it, the Sole Fitness E35 should be on your short-list if you are thinking of buying an elliptical machine.
Click here to read reviews of alternative elliptical trainers