This post may contain affiliate links. If you click a link and buy something, I may receive a small commission at no extra cost to you.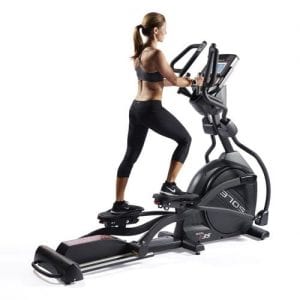 If you're looking for a high-quality elliptical machine that performs well and you have a little extra money to spend, it's hard to go past the Sole E35.
Named Best Buy Elliptical in its price category by the Treadmill Doctor, this mid-priced elliptical trainer has also received the thumbs up from various other fitness industry publications.
While the Sole E35 lacks some features that come standard with pricier ellipticals, it has everything most people will require, including a range of built-in programs, adjustable resistance and incline levels and adjustable stride length that will give you a comfortable workout, regardless of your height.
Quiet to use; it is solid, durable and it has a higher user weight capacity than most elliptical trainers.  A heavy flywheel and high gear ratio ensure a smooth ride.
In this review, we will discuss the key features, pros, and cons of the Sole E35 Elliptical.  We will also look at what purchasers are saying about it.
Sole E35 Elliptical Specs 
Dimensions – The Sole E35 Elliptical machine measures 27″ (W) x 58″ (H) x 83″ (D).
Weight – It weighs 215lbs.
User weight – The maximum user weight for this model is 375 pounds.
Sole E35 Key Features
The Sole E35 has 6 built-in programs, 2 customizable programs, and 2 heart rate programs.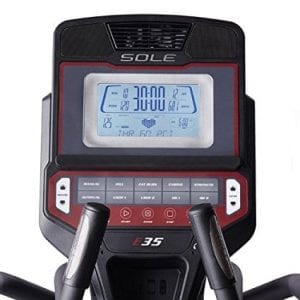 The integrated programs include Manual, Hill, Fat Burn, Cardio, Strength, and Interval.  The customizable programs allow you to enter the details of two different workouts for yourself – for example, the incline, resistance level and the number of minutes you want to do – or two people can enter their details.
Heart Rate program 1 is designed to work at 60% of your maximum heart rate, while Heart Rate program 2 works at 80% of your maximum heart rate.  If desired, the two can be alternated on the fly.
If you choose to monitor your heart rate using the chest strap, the elliptical trainer's resistance and incline levels will adjust automatically to keep you in your preferred training zone.
The Sole Elliptical E35 has 20 levels of resistance that are accessible at the push of a button.  The levels provide scope for you to vary your workouts and increase the challenge as your fitness grows.
The ramp can be inclined up to 30 degrees, by pushing a button.
Tracking your workout stats on the Sole E35 Elliptical Trainer is easy, thanks to a 7 1/2″ blue backlit LCD monitor.
Movable handlebars enable you to exercise your upper and lower body simultaneously.  Along with delivering a total body workout, this feature allows you to burn extra calories.  Those who only want to work their lower body can work out with the handlebars in the static position.
Dual heart rate monitoring option 
Dual heart rate monitoring capability allows you to track your heart rate, using either the pulse grips or the included chest strap.
* The pulse grips will only give a reading when you are exercising with the handlebars in the static position.  Chest strap heart rate monitoring provides the most accurate reading.  Opt for this method if you want to move the machine's arms back and forth during your sessions.
The machine's 15-inch foot pedals were designed with input from a physical therapist.  Set at a 2-degree inward slope to decrease ankle and knee stress, they are adjustable to any of three positions.
Along with forward pedaling, you can also pedal backward to target your quads and glutes further.
Next, in the Sole E35 review, we will look at its pros, then its cons.

Pros
On-board accessories include a cooling fan, a water bottle, a water bottle holder and speakers.
Assembling the Sole Fitness E35 is straightforward, though a little time-consuming.  The process will take two people approximately two hours and one person around 3 to 4 hours.  If you're familiar with assembling machinery, you may be able to do it in less time.  If you don't want to assemble the trainer, you can have it done for you at an additional cost.
When purchasing exercise equipment, it's important that it comes with a good warranty.  It's equally important to buy
from a reliable source who will honor the warranty in the event there's a problem.
Sole Fitness will stand by their warranty for the Sole Fitness E35 Elliptical, which covers a lifetime on the frame, 5 years on electronics and parts and 2 years on labor.
Cons
While perfectly acceptable, the quality of the speakers could be higher.
The fan on this model isn't very powerful.
Comprehensive Video Review of the Sole E35 Elliptical Machine
What Purchasers are saying about the Sole E35
The vast majority of Sole E35 Elliptical Machine purchasers are very happy with their purchase.  This includes a number of long-time users who have left reviews.
Many reviewers commented on the solidity and stability of the Sole Fitness E35.  It won't wobble or shudder, even if you are working really hard.  Many purchasers also commented favorably on the smoothness and quietness of workouts.  Its variety of resistance options and the strong resistance of its upper levels received positive feedback from people requiring a challenging workout.
Numerous people said they consider it to be as good as the elliptical trainers they've used at the gym.
A number of negative reviews were left by individuals whose machines repeatedly showed an error message on the display monitor.  This prevented them from tracking their workout stats.  The problem actually occurred with an older Sole E35 model.  It seems to have since been sorted out in the new and improved version of the elliptical.
Some negative comments regarding the manufacturer's customer service were left, back in 2013.  Again, this issue has since been addressed.  They now respond quickly to queries and fix any problems that crop up, in a timely fashion.
A few people said that the sound quality of the speakers isn't great.  A small number of purchased also noted that the fan doesn't create a very strong breeze.  The latter is a common complaint, even with elliptical machines that cost a lot more than the Sole E35.  At best, fans on exercise equipment create some air movement, but nothing close to that of a room or desk fan.
While the Sole Fitness E35 lacks a reading rack or a place to hold an iPad or mobile phone, a conveniently located "ledge" will comfortably hold any or all of these.
Sole Fitness E35 Elliptical Summary
The elliptical is great for promoting weight loss, toning muscles and improving cardio fitness.  It can burn up to 300 calories in a 30-minute session, as it tones and sculpts your lower body and core.  By working out on an elliptical with movable arms, such as the Sole E35, you will also get a shoulder, upper back, and arm workout at the same time.
The Sole Fitness E35 would be an excellent choice for anyone who has the space for a non-folding treadmill.  If you need a model that can be folded to store after each use, it won't be for you.  It does, however, have transport wheels, which make relocating it easy, should you ever need to do so.
The Sole E35 is solid, and it is one of the best elliptical trainers you will find for the price.  Its frame is sturdy; its flywheel is relatively weighty, it has a high gear ratio and a smooth braking system.  The elliptical's adjustable stride makes for a more comfortable workout.  And, able to be pedaled backward as well as forwards, more muscle groups can be targeted at a deeper level.
Having a broad range of resistance and incline options, the Sole E35 Elliptical will grow with you as your fitness improves.  You will also be able to use it for interval training.
With so much going for it, the Sole Fitness E35 should be on your short-list if you are thinking of buying an elliptical machine.
Click here to read reviews of alternative elliptical trainers