This post may contain affiliate links. If you click a link and buy something, I may receive a small commission at no extra cost to you.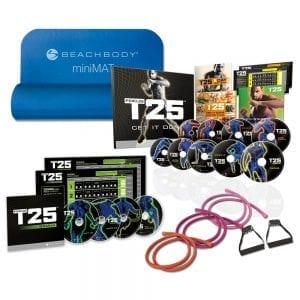 An exercise program that has been getting excellent feedback from many in the fitness industry is Shaun T's Focus T25 DVD Workout Deluxe Kit.
You may already be familiar with Shaun T's Focus T25 DVD Workout Base Kit, a best-selling fitness kit available in some physical store and online.  If you've been thinking about buying it but haven't yet done so, it's good that you waited.
The latest version of the program, Shaun T's Focus T25 DVD Workout, comes with the original two workouts – ALPHA and BETA – and the associated tools and accessories found in the base kit.  Plus, there's an even more advanced phase called GAMMA, that will enable you to take your fitness to another level again.
* Already have the base kit and want to buy just the advanced workout?  If so, click this link to buy Shaun T's Focus T25 GAMMA Cycle Workout on Amazon. 
Seeing many hundreds of positive Focus T25 reviews from people who have completed the program, I wanted to find out more.  When I did, I decided to write this review.
Is Shaun T's Focus T25 DVD Workout Deluxe Kit Effective?
Many fitness programs deliver great results if you have an hour a day to work out.  The problem is, some of us just don't have 60 minutes a day to spare for exercise.
Enter Shaun T's Focus T25 DVD Workout Deluxe Kit!  This BeachBody DVD will enable you to get into excellent shape working out for just 25 minutes, six days a week.  If you have the stamina, you can do a 50-minute session on day 5 and have two exercise-free days.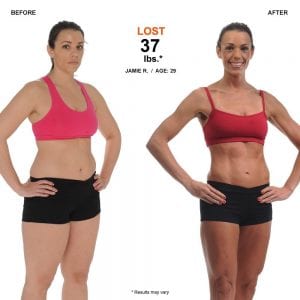 T25 is one of the most popular and well-rated fitness programs available.  Personal preferences vary widely, though, and not everyone is entirely happy with it.
A common complaint about the BeachBody T25 Workout is from customers who have stated that claiming it is 25 minutes long is misleading.  They do have a point.  To prevent injury, a 5 to 10-minute Warm-Up should be done before starting.  Time also needs to allocated to do a Cool-Down at the end.
A year in creation, renowned fitness coach Shaun T trialed a variety of exercises to come up with the most efficient combination for his T25 Workout.  Providing the equivalent of one hour's worth of exercise in 25 minutes, you will love what this program can do for your body and, subsequently, your confidence level.
There's no denying the T25 workout program is challenging.  It will have you sweating within minutes of starting.  However, being of relatively short duration, most people should be able to get through it without a problem.  If you find a sequence too challenging, follow the instructor demonstrating the modified version.  As time passes and your strength and fitness improve, you will be able to do the regular version.
In the next part of this Focus T25 review, we will look at what you will get for your money if you decide to buy the workout.
What's in the Box?
Included in Shaun T's Focus T25 DVD Workout Deluxe Kit are three workouts known as ALPHA, BETA, and GAMMA (more about these below).  Each is 25 minutes long.  There are 15 different segments and three phases, which should be completed in order. 
The T25 workout comes with some useful tools that will help you optimize your results.  We will take a look at these first, then look at the workouts.
The T25 Workout tools consist of the following:
• 3 Resistance Bands – Extremely light, compact and transportable, resistance bands can be used instead of weights, and they give just as good a result.  Of varying strength, the bands in the kit are equivalent to weights of 15lb, 20lb, and 25lb.
* Be aware that the resistance bands contain latex.
• A Mini Exercise Mat – Measuring 24″ by 40″, the non-slip mat provides a safe, and comfortable workout surface.
• Quick-Start Guide – The Quick-Start Guide will quickly get you up-to-speed, enabling you to gain the most from the program.
• 5-Day Fast Track Plan – This 5 Day 1,100 calorie diet allows for a balanced mix of protein, fat, and carbs, to kick-start your weight loss.
• Get It Done Nutrition Guide – Take the Get It Done Nutrition Guide quiz to determine your daily calorie allocation.  With five meals a day and plenty of delicious and nutritious recipes to choose from, losing weight becomes an easier undertaking.
• Pure Strength Hybrid Calendar – Using this calendar for guidance, you will easily be able to incorporate the strength workouts from each exercise phase of the program to sculpt long, lean and strong muscles.
• ALPHA Workout Calendar – Containing the training schedule for the first five weeks, this handy calendar will allow you to view the day's workout at a glance.  When you complete this phase, you can move on to the more advanced BETA phase.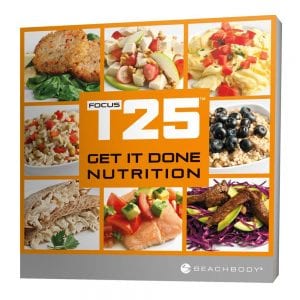 • BETA Workout Calendar – As with the ALPHA calendar, the BETA calendar is a handy reference for tracking your exercise schedule.
• Pure GAMMA Calendar – The Pure GAMMA Calendar contains your training plan for the more advanced Gamma workout.  A four-week intensive exercise program, it is done after completing the ALPHA and BETA workouts.
• 24/7 Online Support Forum – The Focus T25 Forum is accessible at any hour of the day or night.  Use it to receive personalized guidance and connect with other members.
Shaun T's T25 Infomercial
Focus T25 DVD Workout ALPHA Phase
Five weeks long, the Focus T25 ALPHA Phase is the first step towards attaining total body conditioning.
The workouts consist of the following segments:
• Cardio – A 25-minute workout that burns lots of calories.
• Speed 1.0 – This quick-paced fat-burning workout gets results fast.
• Total Body Circuit – A weight-free strength-building segment that tones through resistance.
• Ab Intervals – Tone and eliminate fat from your waist and abdomen with this workout which alternates between cardio and ab exercises.
• Lower Focus – This lower-body focused workout will help you boost your metabolism and burn excess fat.
Focus T25 DVD Workout BETA Phase
In this five weeks long second phase of Shaun T's Focus T25 DVD Workout, your fitness level will
increase.  The primary focus of this phase is the core.
The workouts are as follows:
• Core Cardio – Burn even more calories and shred fat fast, with this progressive cardio/core workout.
• Speed 2.0 – Increase the speed and intensity, with this calorie-scorching segment that incorporates speed drills and works the core.
• Rip't Circuit – This 25-minute total body segment provides the ultimate potential for fat reduction and muscle sculpting.
• Dynamic Core – This fast-paced workout comprises standing and floor core exercises.
• Upper Focus – An upper body workout that tones and develops the arms, back and chest,
Focus T25 DVD Workout GAMMA Phase
The advanced 4-week GAMMA phase of T25 will enable you to reach peak fitness, burn even more fat and sculpt strong lean muscles.  The featured workouts include:
• Rip't Up – Build strength as you trim fat from your upper body including your back, shoulders, chest, triceps, and biceps with Shaun T's 360-degree moves.
• Extreme Circuit – Sculpt lean muscles as you burn fat with this weight-based sequence.
• The Pyramid – This 25-minute strength and cardio session will test your endurance as you accelerate the reps and attain a high degree of fitness.
• Speed 3.0 – Expect exceptional results from this challenging, very fast-paced workout which will leave you sweating.
• Stretch – A slower-paced, more relaxed workout to lengthen the muscles and improve flexibility.
Final Thoughts on Shaun T's Focus T25 DVD Workout Deluxe Kit
Ideal for people who want to attain maximum results in a short period, Shaun T's Focus T25 DVD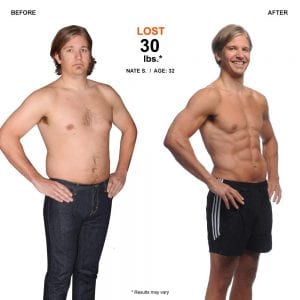 Workout Deluxe Kit has everything you need to get into and stay in great shape.  While the workouts are quite intense, Shaun T's positivity and encouragement will motivate you to stick with it.
Typical users of the program report losing several pounds and inches within a couple of weeks of starting.  Seeing such results early on makes sticking with the program quite easy.  If you've tried other programs and not been happy with your results, give this one a try.  You won't be disappointed.
Click here to read reviews of other popular fitness DVDs 
To find out more about the workout, and to read more Focus T25 reviews, click the link below.