This post may contain affiliate links. If you click a link and buy something, I may receive a small commission at no extra cost to you.
In this article, we will look at the SKLZ Super Sandbag Heavy Duty Training Weight Bag from Pro Performance Sports, an American-based company known for producing quality, affordable fitness products.
Sandbag training has been around for many years.  Used originally by martial artists and wrestlers as part of their training regimens, these days more and more men and women are getting excellent results by incorporating sandbags into CrossFit, HIIT, and other workouts.
Sandbags are a simple yet very versatile training aid.  You can lift them, swing them, squat with them, and include them in hundreds of other movements.
Regular workouts will improve your strength, stability, conditioning, and endurance.  They will also lower your body fat, burn a lot of calories, and tone the muscles of your body from head to foot.
Keep reading to read an overview of the SKLZ Super SandBag, along with its pros, cons, and buyer feedback.
SKLZ Super Sandbag Specs
Shell dimensions – The shell of the SKLZ Super Sandbag measures 13.1″ x 4″ x 10″
Weight bags – Fully filled, the combined weight of the four inner bags is 40lbs
Color – This item is available in yellow and black
SKLZ Super Sand Bag Overview
The SKLZ Super Sand Bag Heavy Duty Training Weight Bag can be used when doing exercises including
Lunges, Squats, Presses, Dead Lifts, Bicep Curls, and many more.
Comprising four removable weight bags that zip into a rugged Velcro reinforced outer shell, each of the bags can hold up to 10lbs of filler, giving a total weight of 40 pounds.  Place one, two, three, or all four weight bags into the outer bag, depending on the desired intensity of your workout.
The outer bag has six handles, including one on each end, and two on either side.  This facilitates lifting and swinging it.  The weight bags also have handles which enable them to be used on their own if desired.
Each exercise you do can be varied depending on how you hold the sandbag.  For example, you could do Squats with the sandbag either resting on one shoulder, both shoulders, held overhead or hugged against your chest.
With each movement, the sand in the bag will shift forcing you to make minor adjustments to maintain your balance and form.  During this process, you will engage more muscles and burn extra calories.
With the SKLZ Sandbag, you can be working out within minutes or opening the box.  Just fill the weight bags with a high-density filler – the manufacturer recommends sand – then seal them.  Slot the weight bags into the outer shell and start exercising.
Who will benefit from using the SKLZ Super Sandbag?
The maximum weight of the SKLZ Super Sand Bag makes it best suited to new and intermediate level fitness enthusiasts.

How to load the bag
SKLZ Super Sandbag Pros & Cons
Pros:
Most people will find the SKLZ Super Sandbag to be affordable
The number of different exercises and variations sandbag training provides makes for a comprehensive workout and helps to keep boredom at bay
The weight you work with can be changed to suit your strength and the exercise you want to do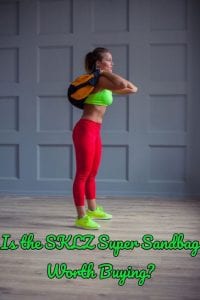 The bags' fabric is strong and tear-resistant
The bags' handles are securely attached to the shells for safer and more comfortable workouts
Remove the filler from the bags for easy storage or transportation
Cons:
A small percentage of buyers have stated that the bags sometimes leak sand
Hard to install the weight bags
It can be difficult to fit all four bags into the shell when they are fully filled
Before using the SKLZ Sandbag, you will need to fill the weight bags
Customer Feedback for the SKLZ Super Sandbag
Buyer feedback for the SKLZ Super Sandbag is, in the main, very positive.  Many praised the bag's sturdiness and durability and the positioning of its handles which extend its use.  The bag's versatility also received many favorable comments.
Most purchasers have found that the bag's zipper closure and Velcro reinforcement contains the sand-filled weight bags securely.  However, some had trouble with fine-grained sand escaping through the bag's seams.  Some got around this by putting duct tape along the seams.  Others used a filler with larger granules such as aquarium gravel, wood pellets, rice, or pebbles.
SKLZ Super Sand Bag Summary
Sandbags have been used as exercise tools for centuries.  These days, you don't have to make your own when you can buy the Super Sandbag Heavy Duty Training Weight Bag for a great price.
The bag is sturdy and resilient; it provides access to many different exercises and training methods.  Conveniently placed handles make for easy lifting and hoisting, and the bag's weight can be varied to suit your needs.
The main downside of these bags is that they sometimes leak sand.  To help prevent this, use a dense filler, or seal the bags' seams with duct tape.
Overall, the SKLZ Sandbag provides an inexpensive means of intensifying your workouts, and I recommend it for this reason.