This post may contain affiliate links. If you click a link and buy something, I may receive a small commission at no extra cost to you.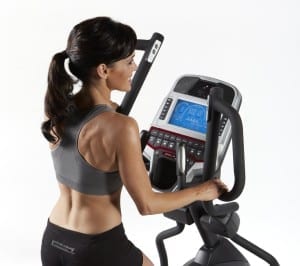 The Sole E95 Elliptical Machine provides users with superior performance and a high degree of comfort.
The winner of several "Best Buy" awards, it is equipped with a number of built-in workout programs, adjustable resistance, adjustable stride, and variable incline.  It also has the highest user weight capacity available in a non-commercial elliptical machine.
Designed after consultation with a physical therapist, workouts are smooth, with minimal pressure placed on the exerciser's knee and ankle joints. 
Adding further to this model's appeal, are its unique articulating pedals.  Equipped with "worm drive," the pedals adapt to the exerciser's natural stride.  Other positives of this club-standard model include its fluid operation and a great warranty.  Two sets of handlebars include one that is movable and a stationary set with a heart rate monitor.
In this Sole E95 Elliptical review, we will look at the specs and key features of the upgraded Sole Fitness E95S.  We will also discuss its pros and cons, purchaser opinions and more.
Who will this Model Best Suit?
The Sole Fitness E95 would be a great option for anyone with painful joints who wants to improve their fitness without creating further damage.
Extremely quiet to use, it would be perfect for anyone who shares a house with others or wants to exercise while their baby is napping.
Sole E95 Elliptical Machine Specs
Dimensions – The Sole E95 Elliptical measures 27″ (W) x and 62″ (H) x 83″ (D).
Adjustable stride – Equipped with power adjustable stride, this can be set to between 20″ and 22″.
Weight – It weighs 215lbs.
User weight – The Sole E95 has an upper user weight limit of 400 pounds.
Sole E95 Key Features
A heavy 30lb flywheel ensures that your workouts are smooth.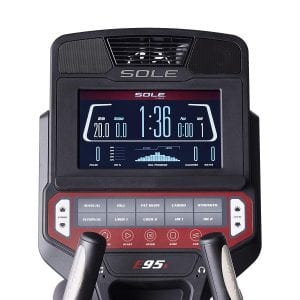 10 program capability includes 2 User-Defined, 1 Manual, 1 Hill, 1 Fat Burn, 1 Cardio, 1 Strength, 1 Interval and 2 Heart Rate.
A monitor displays workout stats.  Measuring 10.1″, the TFT Bright blue LCD screen is very easy to read, even in a dimly lit room.  It can be angled to suit the exerciser's height.
Stats displayed include Time, Speed/RPM, Distance, Calories Burned, Watts, Pulse, and Level.  Being able to access these in real time makes for easier progress tracking, and it will help you stay motivated.
Dual heart rate monitoring 
You can monitor your heart rate using built-in sensors on the stationary hand grips.  For more accurate, hands-free tracking, use the included wireless chest strap.  Sole Fitness includes one with every purchase, for no additional charge.
Power adjustable, the Sole E95 has 20 incline levels, enabling you to raise the deck by as much as 40 degrees.
20 levels of magnetic ECB resistance enables interval training.  It also allows you to increase the resistance level when you become stronger.
Cushioned 15″ slip-resistant foot pedals are adjustable to any of 10 positions.  The pedals' 2-degree inward slope mimics a natural stride and reduces joint impact, making for safer and more comfortable workouts.  Backward as well as forward pedaling is possible, enabling you to target different muscles.
The height of the movable handlebars is adjustable.  Molded, they add to the comfort of workouts.
The elliptical's resistance and incline controls are built into the stationary handlebars, enabling easy access during workouts.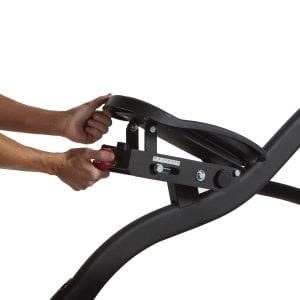 A Bluetooth connection allows you to share your workout metrics with fitness apps such as MyFitnessPal and iHealth.
Accessories include two cooling fans, a water bottle holder, and a sound system.  There's also a small open compartment for holding an iPod, iPhone, or another electronic device.
The warranty for the Sole Fitness E95S covers a lifetime for its frame, 5 years for parts and electronics, and 2 years for labor.
Next, in this Sole E95 Elliptical review, we will look at its pros, then its cons. 

Pros
A solid frame and base ensure safe, supportive, jolt-free workouts.
A higher than usual user weight capacity makes the Sole E95 suitable for almost everyone.
Four rear wheels attached to heavy-duty rails delivers a very smooth ride.  The wheels also provide a stable feel and limit the side-to-side rocking that can occur when using some ellipticals.
Articulating pedals take the stress off the user's knees and ankles.
Conveniently located incline and resistance controls.
Apple & MP3 compatibility provides access to audio entertainment during workouts.
A heart rate strap is included with your purchase, so you won't have to order or pay extra for one
Transport wheels enable easy relocation of the machine when required.
The warranty for the Sole Fitness E95S is longer than that of some similarly priced ellipticals.
Cons
The Sole Fitness E95 Elliptical Machine doesn't come with as many programs as most similarly priced models.  However, those it does have are ample.
The Sole E95 requires quite a bit of room, and it doesn't fold for storage.
The machine is quite heavy, but there is a handle on the back to facilitate moving it.
While adequate, the speakers on this model are not very powerful.
Sole E95 Elliptical Machine Video Overview
Sole E95 Elliptical Machine Purchaser Opinions
The Sole Elliptical E95 has received a lot of excellent feedback from purchasers.  The machine's solidity, performance, and durability have received numerous positive comments, some being from long-time, frequent users.
Customers have remarked upon its smooth motion and very low noise level.  The ease of adjusting the resistance and incline levels has received praise, as has the smooth transitioning between these.
A small minority of purchasers said that their machine squeaked after using it for a while.  An application of lubricant addressed the issue.
Some purchasers noted that the hand grip heart rate monitor does not give a very accurate reading.  This is usually the case with this type of monitor.  If an accurate heart rate reading is important to you, use the chest strap.
Some reviewers have said that setting up the elliptical is an easy process that takes approximately 90 minutes.  Other estimates of the assembly time is 2 to 4 plus hours, with some purchasers saying they found it to be a bit complicated.  The instruction manual explains things clearly, though.  There are only four steps.  The parts are numbered, and assembly tools are included.
If you hit a snag, refer to the troubleshooting videos on Sole's website.  These will walk you through the assembly process, step-by-step.
Sole Fitness is renowned for excellent customer service, so don't hesitate to contact them if you have any questions.  If you don't want to set the machine up yourself, you can pay extra to have it done for you.
Sole E95 Summary
While there are more expensive elliptical machines on the market than the Sole E95, there are also less costly ones.  If your budget can stretch
to it, this model should give you many years of trouble-free use.
There's no getting around that it has fewer programs than some other elite elliptical machines and it lacks some of their more advanced entertainment options.  It is, however, one of the smoothest, quietest and most stable and reliable ellipticals you will find in any price bracket.  It is also one of the safest for people with joint issues.
Equipped with revolutionary features designed by expert engineers and physical therapists, the Sole Elliptical E95 has a natural feel.  It delivers very effective workouts and all of the associated benefits of these.  And, its construction ensures a reduced risk of the possibility of injury that can occur when using a poorly designed machine.
Easy access to the user-friendly program and functions keys, enable the exerciser to work out without having to stop and change settings.  This model's comprehensive range of incline and resistance level options support customized cardio sessions and targeting of all of the body's major muscle groups.
Overall, the positives of this very functional elliptical provide great value and the means of changing your health, fitness level, and shape, for the better.
Click here to read more elliptical trainer reviews