This post may contain affiliate links. If you click a link and buy something, I may receive a small commission at no extra cost to you.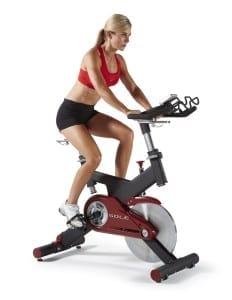 The Sole SB700 is a mid-priced spin bike which is also known as the Sole Fitness SB700 Exercise Bike.  Designed for the home exerciser, it is sleek, compact, and functional.  Categorized as a light commercial grade model, it has the feel of spin bikes you may have used at your local gym or an upmarket hotel's gymnasium.
Very solidly built, your sessions will be smooth, quiet and comfortable.  Coming with all of the features most people look for in a spin bike, it provides an excellent cardio workout that is gentle and therefore safe for individuals who have joint issues and those who are recovering from an injury.
In this Sole SB700 bike review, we will look at its specs, key features, pros, cons, and what purchasers have to say about it.
Sole SB700 Specs 
Dimensions – The Sole Fitness SB700 Exercise Bike measures 40″ x 21″ x 42″.
Weight – It weighs 140 lbs.
User weight – The bike's user weight limit is 300 pounds.
Sole SB700 Key Features
The seat can be raised or lowered to suit the user's height.  Its handlebars are adjustable fore and aft.  Combined, these features provide a comfortable workout for users of any height.
The Sole SB700 Indoor Cycle has a 3″ x 4″ LCD panel which has blue backlighting.  Stats shown include Time, Resistance, RPM, Speed, Trip Distance, Kcal and Heart Rate (when used with a Polar compatible chest rate strap).
The resistance level of workouts can be altered by turning a knob.  This feature makes it suitable for use by beginner, intermediate level or advanced level exercisers while providing room for growing your fitness further.
A 48 lb chrome-plated flywheel provides a smooth workout that is vibration-free, no matter how hard or how fast you pedal.
A Kevlar braking system adds to the smoothness and quietness of the machine.
The handlebars of the Sole Fitness SB700 Exercise Bike are textured and padded.  This provides a secure grip, even for people whose hands perspire a lot, and comfort.
Oversized pedals can accommodate feet of any size.  Toe straps will keep your feet securely in position as you pedal.
A wireless heart rate chest strap can be used with this model.
Transport wheels enable the bike to be moved easily if required.
Next, in this Sole SB700 Bike review, we will look at its pros, then its cons.


Pros
Constructed of 2 ml thick steel tubing with an aluminum shroud, the bike is very solid and extremely durable.
The Sole SB700 Spin Bike has a thickly padded gel seat that provides plenty of cushioning, so you will be able to work out for longer without feeling discomfort.
Extremely quiet to use, you will be able to work out without fear of disturbing your housemates.
This model has two built-in water bottle holders and a reading rack/cell phone shelf.
The Sole SB700 Exercise Bike comes partially assembled.  Completing the job takes most people about 30 minutes or less.  The instructions are easy to understand, and the required tools are included.
The Sole Fitness SB700 Exercise Bike comes with a lifetime warranty on its frame, 3 years on electronics and parts and 1 year on labor.
Cons
Heart Rate Monitor costs extra
If you want to track your heart rate, you will need to purchase a heart rate chest strap.
A small minority of purchasers received damaged bikes caused by flimsy packaging.
Sole SB700 Spin Bike Video Overview
What Purchasers are Saying about the Sole SB700
In the main, purchasers who have left feedback for the Sole Fitness SB700 Exercise Bike have been very happy with it.  Most consider the bike to be great value for money.  Some reviewers have stated that it is as good as the stationary bikes they've used at the gym.
The majority of reviewers said they find the bike to be comfortable, with some using it for 90 minutes at a time.  Numerous purchasers commented on the bike's sturdiness.  Likewise, the smooth, quiet workout the bike delivers.  Some reviewers said they have been using their bike for several years, without a problem.
While most purchasers have only praise for the Sole SB700, it has received some negative feedback.  Most of this has been due to inadequate packaging that resulted in some people receiving dented or scratched bike parts.  The affected customers were, nevertheless, pleased with how quickly Sole dispatched replacements.
Final Thoughts on the Sole SB700 Indoor Spin Bike
The Sole SB700 Exercise Bike is a gym-quality spin bike that is available for a surprisingly affordable price, considering its quality and features.
It delivers a smooth, quiet and comfortable ride.  Some exercise bikes fall short in one or more of these areas.  When this is the case, we tend to look for excuses to skip workouts.  With this model, there are no excuses, so sticking to an exercise regimen will be easier.
While the bike has a little negative feedback, most issues have been quite minor.  Sole is renowned for their excellent customer service, so if you do receive a bike that is not up to standard, it will quickly be replaced.
Something to be aware of is that the Sole Fitness SB700 Exercise Bike is heavy.  Transport wheels make moving it easy, but it would be best to find a dedicated space for it.
If you're seeking a quality stationary bike that will enable you to experience the benefits of spinning workouts, look no further!