This post may contain affiliate links. If you click a link and buy something, I may receive a small commission at no extra cost to you.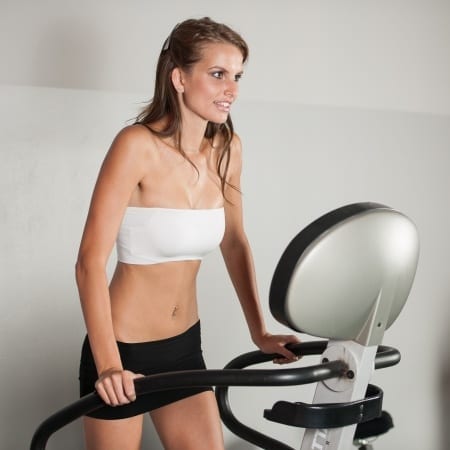 In this article, we will look at the stair climber benefits to help you decide if stair climber workouts are for you.
Stair climbers workouts are excellent for promoting weight loss, muscular strengthening and toning, and cardiovascular conditioning.
Women, in particular, appreciate how quickly this form of training can shape and trim their lower body and lift their butt with consistent use of the machine.
Regular workouts also build and strengthen the bones, making it an ideal option for anyone who wants to prevent bone breaks and osteoporosis in their later years.
In this article on the stair climber benefits, we will look at an overview, as well as 10 of the main advantages that this type of machine offers.
Stair Climber Overview
The original stair climber was the StairMaster, which first made an appearance in gyms in 1983.  It quickly became one of the most popular fitness aids available.  Four years later, StairMasters became available for home use.  While quite expensive and very rudimentary compared to today's models, people snapped them up.
The StairMaster is still around, and it is as popular as ever.  I've used the StairMaster Gauntlet StepMill, and I can't fault it.  The one downside is its price.  If it's outside of your budget, there are alternatives that will also give you an excellent workout.
One I love is the Maxi Climber.  It doesn't provide the variety of a step mill so it won't be as effective for weight loss.  However, I can vouch that it does a great job of toning the thighs and butt, and it is quite affordable.
Another option worth considering is the Xiser Commercial Portable Stepper.  A gym-quality mini StairMaster, it is incredibly robust with a user weight limit of 400 pounds, and it will give you as good a workout as a regular sized machine.  It can also be used to do HIIT training.
How to use a stair climber
What are the Two Types of Stair Climber?
There are two types of stair climber machine.  This includes the ones with pedals which are often known as steppers.  Then there's the StairMaster or step mill, which has a rolling set of stairs.  Both can provide a very effective workout, but steppers are usually a lot cheaper to buy.
Next, we will look at the top 10 Stair Climber benefits.
Top 10 Stair Climber Benefits
One of the most significant benefits of stair climber workouts is that they are low-impact.  They provide
an excellent cardiovascular and toning workout without your feet ever coming into contact with the floor.  This means you will be able to do them without worrying about placing undue pressure on your ankle, knee, and hip joints.
NB Stair climber workouts are very safe for most people to undertake.  However, if you have pre-existing knee or hip problems, check with your doctor before undertaking them.
Stair climber workouts tone and strengthen the entire lower body, including the glutes, hips, thighs, abs, and calves.  This is because they involve working against resistance.  By varying your pace and the resistance level you work at, you will lower your body fat, build lean muscle, and burn more calories than you will when doing steady-state cardio.
When doing your stair climber workout, stand upright, look straight ahead with your shoulders down, and contract your ab muscles.  In doing so, your every step will engage your abs, lower back muscles, obliques, and intercostals, for a total core workout.  If you slump forward onto the handlebars, you won't get anywhere near as effective a workout, and you won't work your core muscles.
When doing stair climber workouts, you will be working against gravity.  As you do, your bone strength will increase and your bone density will improve.  This extra strength and density will protect against bone fractures that are more prevalent in people with thin bones.  That makes this type of workout an excellent option for seniors who want to guard against osteoporosis.
Stair climbers offer variety, enabling you to alleviate boredom, stay challenged, and continuously improve your fitness.  Vary the pace and the length of your sessions.  Try walking backward to target your calves and hamstrings.  If you're using a step mill, climb two steps at a time.  The stair climber is also ideal for incorporating in circuit training.
It's more beneficial than climbing a set of stairs 
Stair climber workouts deliver superior benefits to climbing a set of stairs, with less risk.  When descending stairs, pressure is placed on the knees.  With a stair climber, you will climb upwards only, so less stress is exerted on the joints.  You can also vary the resistance when using a stair climber, and therefore achieve your fitness goals faster.
Stair climber workouts burn a lot of calories, helping you to lose weight quickly.  Taking 10 steps on a stair climber is equivalent to walking 38 steps on flat ground or a flat treadmill deck.  This means that you will burn approximately four times the number of calories using a stair climber as you will walking outdoors or on a treadmill with a flat deck.
VO2 Max is the maximum amount of oxygen the body can utilize during aerobic activity.  The exertion of aerobic exercise makes the heart and lungs work hard to supply the oxygen needed to work out.  The more oxygen you can take in, the longer you will be able to exercise.  Regular workouts improve VO2 max and cardiovascular endurance.
Promotes production of "feel-good" hormones
Stair climbing workouts are challenging, but you will be rewarded at the end of your sessions when your body releases endorphins, natural peptide chemicals that produce a feeling of calm energy and euphoria.  So while your body may feel spent, your focus will be sharp, and your brain relaxed and invigorated.
Regular cardio activity, including stair climbing workouts, enable the heart and lungs to work more efficiently.  As a result, your resting heart rate will be lower, and your blood pressure will normalize.  You will also have a lower LDL cholesterol level.  This combination of benefits can help you to live a healthier and longer life.
Stair Climber Benefits Summary
The above list covers just some of the myriad of stair climber benefits.  Whether you want to lose weight, strengthen and tone your muscles, improve your heart health, or just feel better in yourself, stair climber workouts can provide these benefits and more.
Click this link to find out more about the Stairmaster Benefits