This post may contain affiliate links. If you click a link and buy something, I may receive a small commission at no extra cost to you.
The Stamina 4825 Magnetic Recumbent Exercise Bike is a sturdy, well-made piece of exercise equipment that will provide you with a low-impact cardio workout in the comfort of your home.
A semi-reclined seat enables you to target the major muscle groups of your hips, buttocks, and thighs, with less strain placed on your arms, shoulders, and neck.  This equates to safer and more effective workouts, which are more comfortable than that some types of exercise bike deliver.
In this Stamina exercise bike review, we will look at its specs and key features, pros, cons, and what purchasers have to say about it.
Click here to check out the latest version of this bike, the Stamina 4831, on Amazon.
Stamina 4825 Specs 
Dimensions – The Stamina 4825 Magnetic Recumbent Exercise Bike measures 56″ x 26″ x 33 /12″.
The bike's seat is located 16″ above floor height, and its monitor is 23″ above floor height.
Weight – It weighs 71 lbs.
User weight – The maximum user weight for this model is 300 pounds.
Batteries – 2 x AA batteries are included for the monitor.
Color choices – This model comes in a choice of either dark gray and silver or silver and pewter.
Stamina 4825 Key Features
6 pre-set programs enable varied workouts and challenges.  The programs include Fat Burn, Maximum Fat Burn, Aerobic,
Hill Climbing, Interval Training, and Mountain Climbing.
Exclusive to Stamina, Interactive Target Zone alerts you if you are going too slowly or too quickly.  You can then pick up the pace or slow down, to get back in your target training zone.
The Stamina 4825 has 8 levels of magnetic resistance.  These are accessible at the turn of a dial, before or during workouts.
A large and easy-to-read LCD Touch Screen displays workout stats including Elapsed Time, Speed, Distance, Pulse Rate and the number of Calories Burned.  Positioned low, it won't block your line of vision if you want to watch the TV as you work out.
Pulse sensors set into the handrails enable monitoring of current and target heart rate zones.
Large weighted footrests provide a comfortable and secure platform for feet large or small.
Transport wheels in bike's front base facilitate moving it.

Pros
The Stamina 4825 Recumbent Bike is exceptionally quiet to use.  Its movement is very smooth, making for more

enjoyable and comfortable exercise sessions.
Stabilizer caps ensure that the unit is steady and that it won't rock or shift, even during hard and fast workouts.
Comfortable, easy to access seat 
A contoured, padded seat enhances user comfort.  It can be adjusted higher or lower, to suit the height of the exerciser.  It can also be positioned further forward or back.  This feature adds to the comfort and effectiveness of workouts.
The seat is quite low to the ground, making it easy to get on and off.
The Stamina 4825 Magnetic Recumbent Exercise Bike comes partially assembled.  Completing the job is easy, and it should only take 30 minutes or less.  The tools for this are included.
This model comes with a 3-year warranty on its frame and 90 days on parts.
Stamina 4825 Cons
The highest level of resistance may not be sufficiently challenging for those who are very fit.
The angle of the backrest is not adjustable.
The gap between the seat and backrest is wider than is usual.  Shorter individuals, in particular, may need to place a cushion against the seatback to enhance comfort.
What I like and Don't Like about the Stamina 4825
While I don't own a Stamina 4825, having given one a test run I have no hesitation in recommending it to anyone who wants to experience the many benefits of exercising on a stationary bike.
The bike has enough features and programs to provide a good workout, but not so many that you will be paying for extras you don't need and won't use.
The Stamina 4825 Magnetic Recumbent Exercise Bike feels solid.  It doesn't wobble, even when pedaling flat out.  Virtually silent during use, the motion feels very smooth.
I sometimes zone out when cycling, so I found the Interactive Zone useful for keeping me on track.
To increase comfort, I put a cushion behind my back and a pillow on the seat.  Even without these, the seat is more comfortable than that of some exercise bikes I've used that cost three times the price.
I'd have appreciated a water bottle holder, but the lack of one would not stop me buying the bike.
What Others are Saying about the Stamina 4825
With hundreds of reviews of the Stamina 4825 Recumbent Bike published online, feedback is, in the main, very positive.
Purchasers from under 5 feet tall to over 6 feet 4 inches report being very happy with the bike.  Many have commented favorably on its quality, the workout it delivers, and its real-bike feel.
The bike's solidity and fluid motion have received praise.  Many people who have used it for an extended period have commented on its durability.
The seat of the Stamina 4825 is widely considered to be quite comfortable.  Purchasers have said its position is easy to adjust and it is convenient to access and exit.
Selecting a workout program is a straightforward process as is adjusting the workout tension.  Numerous purchasers have stated that they are pleased that the display monitor is low enough for them to be able to watch their television as they work out.
On a less positive note, while most people said the seat of the Stamina 4825 is comfortable, a small number stated that they find it too hard.  Some have also complained that there is too much distance between the seat and the seatback, so they have to slump forward as they work out.  Resting a cushion against the seatback will avert this potential problem.
Most purchasers find the resistance levels sufficiently challenging, but some who are very fit said the workouts aren't tough enough for them.
In the past, a few people received units with missing or damaged parts and packaging.  This no longer appears to be a significant issue.
Final Thoughts on the Stamina 4825
If you're on a budget and you're looking for a recumbent exercise bike with pre-set programs and adjustable resistance, the Stamina 4825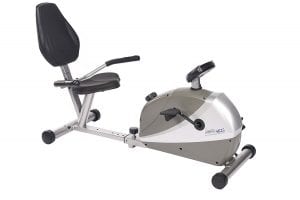 Magnetic Recumbent Exercise Bike would be a great option.  Excellent value, it has enough features to satisfy all but the very experienced athlete who may require more programs and resistance levels.
The bike is compact, sturdy and durable, and easy to assemble.  It provides smooth, quiet workouts that most people will find comfortable.
If you're looking for an exercise machine that will give you a low-impact workout and improve your fitness and cardio health as it tones your lower body and helps you burn fat and lose weight, the Stamina 4825 Magnetic Recumbent Exercise Bike will do all of this and more.
Click this link to read reviews of other recumbent exercise bikes