This post may contain affiliate links. If you click a link and buy something, I may receive a small commission at no extra cost to you.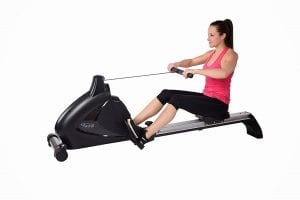 The Stamina Avari Programmable Magnetic Exercise Rower is a compact indoor rowing machine that provides excellent value for money.
This model is high in quality, robust, and durable.  Smooth and almost soundless to operate, it is suitable for use by people short, tall and in between.
Its range of programs and resistance levels will enable all but the most advanced athlete to improve their cardiovascular health, tone up and lose weight.
In this Stamina Avari Programmable Magnetic Exercise Rower review, we will look at its specs and key features.  We will also discuss its pros, cons, and purchaser opinions to help you decide if it's right for you.
Stamina Avari Programmable Magnetic Exerciser Rower Specs
Assembled dimensions – Assembled, the Stamina Avari Magnetic Rower measures 81″ (L) x 20″ (W) x 24 1/2″ (H).
Folded dimensions – Folded, the machine measures 36″ x 20″ x 53 1/2″
Weight – It weighs 66lbs
User weight limit – The maximum user weight limit for this model is 275 pounds
Color – It comes in either black and silver or white and silver

Key Features & Pros
The Avari Programmable Magnetic Rower has 12 built-in programs.  These include 1 Manual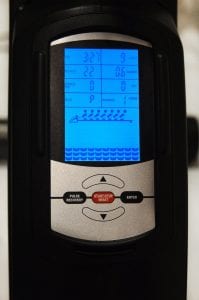 program and 1 Target Heart Rate Program.  There are 6 cardio Profiles – Rolling, Valley, Fat Burn, Ramp, Mountain and Intervals – and 3 User Profile options.
The Cardio and Heart Rate Programs automatically adjust the magnetic tension for you.  When accessing the other programs, you can manually select your desired resistance level.  This can be done during workouts, without you having to stop.
The rower's magnetic resistance can easily be adjusted manually during workouts.  Simply press the up arrow on the monitor to increase resistance, or the down arrow to decrease it.
An easy-to-read blue backlit LCD lets you view your workout stats.  The screen is easy to read, even if you are exercising in a dimly lit room.
Readouts include time, total strokes, strokes per minute, distance covered, calories burned, pulse rate and watts.
Included is a wireless chest strap for heart rate monitoring, which can be used to track your pulse during workouts.
The padded seat of the Stamina Avari Programmable Magnetic Exercise Rower is molded to provide back support.  It glides smoothly and very quietly on the machine's monorail.
Large, pivoting foot plates provide comfortable pedaling that feels natural, while foot straps hold feet securely in place.
Padded handles make for a more comfortable workout.  They also help to prevent callouses and blisters that can occur when using inferior quality exercise equipment.
When folded, the Avari Programmable Magnetic Rower is compact enough to fit into most closets.
A super strong and resilient nylon pull cord facilitates smooth, quiet workouts.
Transport wheels enable the rower to be easily relocated when required.
The Stamina Avari Programmable Magnetic Exercise Rower has a 3-year warranty for its frame and 90 days for parts.
Cons
Some people find the seat of the Avari Programmable Magnetic Rower to be very uncomfortable.  A cushion or folded towel placed on top of it will help counteract this.
Experienced exercisers may not find the workouts challenging enough, even with the highest level of resistance selected.
Stamina Avari Magnetic Rower Infomercial
Stamina Avari Magnetic Rower Buyer Feedback
Feedback for the Stamina Avari Magnetic Rower is overwhelmingly positive.
Purchasers love how compact the rower is.  Its stability, smooth rowing action, and solid feel have received praise.  Its display monitor is widely considered to be easy to read and simple to navigate.
The vast majority of reviewers said that the rower is easy to assemble.  However, a few people found the process difficult.  If you dislike setting up machinery, you can pay extra to have the rower assembled for you.
The comfort level of the seat has received numerous comments.  Some reviewers consider it to be comfortable to very comfortable.  Others are of the opinion it is uncomfortable, or even very uncomfortable.
Several people commented on the strength and durability of the pull cord, which can withstand long-term repeated use without fraying.
Stamina Avari Programmable Magnetic Exercise Rower Summary
For those unfamiliar with magnetic rowers, they are a step-up in quality from hydraulic rowers,
but not quite up to the standard of top-end air rowers like the Concept 2 Rowing Machine.  This makes them a popular choice for home exercisers.  And with the Stamina Avari Programmable Magnetic Exercise Rower, you will be getting one of the best available for the price.
The diverse range of programs and resistance levels the Avari Programmable Magnetic Rower provides makes it suitable for everyone from the beginner to the more experienced indoor cyclist who is looking to tone up, lose weight and improve their cardiovascular fitness.
Along with being good value, this sturdy machine delivers a smooth and quiet ride that most people agree is more comfortable than most rowers.  If you are one of the minority who finds the seat uncomfortable, a gel bike seat cover or a cushion placed on the seat will solve the problem.
Not what you're looking for?  Click here to read more rowing machine reviews.