This post may contain affiliate links. If you click a link and buy something, I may receive a small commission at no extra cost to you.
The Stamina Body Trac Glider 1050 Rowing Machine is a value-for-money rowing machine which delivers low-impact workouts for the home exerciser.
The glider is manufactured by reputable fitness company Stamina, who has been providing top-quality exercise equipment and accessories since 1987.
Included among these are products from Body by Jake, Tony Little, and Suzanne Somers, amongst others.
Used regularly, the Body Trac Glider will tone and sculpt your thighs, butt, calves, ab, entire arms, and back.
It will also increase your stamina and cardiovascular fitness and help you lose weight by burning anywhere from between 500 to 800 calories an hour, depending on your height and weight and how much effort you put in.
In this Stamina Body Trac Glider 1050 Rowing Machine review, we will look at its specs, key features, pros, cons, and what purchasers have to say about it.
Stamina Body Trac Glider Specs
Assembled dimensions – Assembled, the Stamina Body Trac Glider 1050 measures 46″ (L) x 21″ (W) x 23 1/2″ (H)
Folded dimensions – Folded, it measures 46″ x 26″ x 19″
Space requirement – To use the machine safely and comfortably you will need a space of approximately 72″ x 48″ to house it in
Weight – It weighs 37lbs
User weight limit – This model has an upper user weight limit of 250 pounds
Who will the Stamina Body Trac Glider Suit?
Compact and solidly built, the Body Trac Glider would be an excellent choice for anyone with limited space who is looking for exercise equipment that will give them a good workout without setting them back a lot of money. 
While robust, this model will be best suited to new to intermediate level exercisers who want to do light to medium intensity workouts.
Key Features
A full range of motion simulates the feeling of rowing on water for more organic workouts
12 levels of hydraulic resistance are accessible by turning a dial, allowing you to decrease or intensify your workouts as required and keep you challenged as your fitness improves.
A display screen shows your Time, Distance, Stroke Count, Speed and the number of Calories Burned during workouts, enabling you to work towards your fitness goals and keep track of your progress along the way.
The seat is molded, making for more comfortable workouts, even during extended sessions
The handgrips of the Body Trac Glider are padded, making them comfortable to hold and sweat-resistant
Secure, pivoting footplates
A textured finish and safety straps increase comfort and hold feet securely in place during even the most intense sessions.  
Video overview of the Stamina Body Trac Glider 1050
Pros
Being light in weight, moving the Body Trac Glider will be easy, should this be required.  A sturdy steel frame and an aluminum center beam make it robust and durable.
The Stamina Body Trac Glider 1050 Rowing Machine has adjustable gas shock resistance, a ball-bearing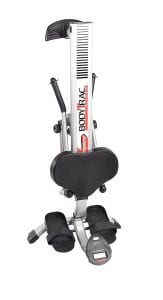 roller system, and separate arms as opposed to a center bar.  This combination of features ensures smooth, quiet movement and a feeling of rowing on water.
Almost silent, you will be able to use your Stamina Body Trac Gilder without fear of disturbing your housemates.
The instructions for assembling the machine are very easy to understand, with most purchasers completing the task in around 30 minutes or less.  The required assembly tools are included.
The arms fold back, decreasing the amount of room it needs for storage.
The Body Trac Glider comes with a 1-year warranty on the frame and a 90-day parts warranty.
Cons
Being a hydraulic rowing machine, the resistance can drop about 15 minutes into workouts.  For this reason, people who want to do long, hard sessions may not find the machine to be enough of a challenge.
This model doesn't fold flat enough to be stored beneath a bed.
At 90 days, the parts warranty is short.
What Purchasers are Saying about the Body Trac Glider – the Good & the Bad 
Stamina makes a very bold claim in saying that the performance of the Body Trac Glider is equal to that of many rowing machines that are twice as big and cost twice the price.  With thousands of online reviews for the rower published, the vast majority of people agree with them.  Some reviewers have used the machine consistently for an extended period, without any problems.
People from very short to very tall comfortably use the Stamina Body Trac Glider 1050 Rowing Machine.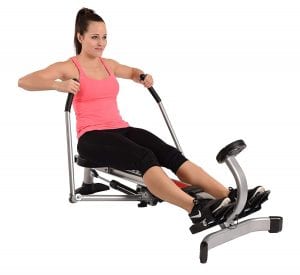 Many have reported losing weight and improving their muscle tone with regular use.
The Body Trac Glider's quiet operation has received considerable praise.  Likewise the machine's natural feel and smooth rowing motion.
Many buyers have said that they consider the machine to be excellent value for money.
Some customers are less enthusiastic about the footrests.  A number of them have stated that they are too large for their liking.
Others said that the foot straps don't hold their feet securely in place during workouts.  A few people made adjustments to the straps to overcome the problem.  Others found that wearing shoes during workouts solves the issue.
A few reviewers noted that the resistance can drop about 15 minutes into the workouts.  When this happens, less effort is required to use the machine.
Some reviewers stated that they would like the seat to contain more padding.  However, the vast majority of purchasers find it comfortable, so personal preference seems to be at play.
A handful of buyers said they find it inconvenient that a couple of screws need to be loosened before the unit can be folded, then retightened before they can use it again.
Another thing to be aware of is that the glider doesn't fold flat enough to store beneath a bed.
Final Words on the Stamina Body Trac Glider 1050 Rowing Machine
Apart from some minor, fixable issues with the footrests and foot straps, this is a top-notch glider for the price. 
It's not fancy, and it won't' suit experienced athletes, but anyone else who wants to experience the benefits of rowing machine workouts should be satisfied with this model. 
It's very budget-friendly, compact, and easy to assemble.  It is quiet and smooth to use, and it comes with variable resistance and a monitor for tracking your fitness progress and setting new goals.
If this model isn't what you're looking for, click here to read reviews of other popular rowing machines