This post may contain affiliate links. If you click a link and buy something, I may receive a small commission at no extra cost to you.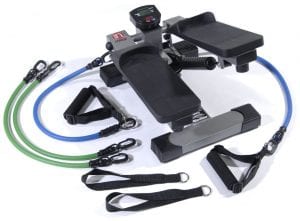 The Stamina InStride Pro Electronic Stepper is a compact and lightweight, budget-priced electronic step machine.
If money is tight, this introductory level stepper is worth a look.  While its features are quite basic, it is very solid, and it has pretty much everything you will need to get a great workout, including basic tracking.  Though not equipped with adjustable resistance, most people should find the machine's set resistance to be enough of a challenge.
The machine's hydraulic cylinders enable smooth and comfortable stepping, while its large, textured foot pedals provide stability and grip.  The included resistance bands shorten your workout time by enabling you to work your upper body at the same time as your lower body.
Another great feature not always seen on a stepper in this price range is its skid-resistant rubber floor protectors.  These add extra stability as they protect your floors from scuff marks and scratches.
In this Stamina InStride Pro Electronic Stepper review, we will look at a general overview of the machine.  We will also cover its specs, pros, and cons, to help you decide if it will suit your needs.
Click here to find out about the benefits and limitations of mini step machines.
Stamina InStride Pro Electronic Stepper Overview
We all love a bargain, but it's not enough that something is cheap if it doesn't have substance.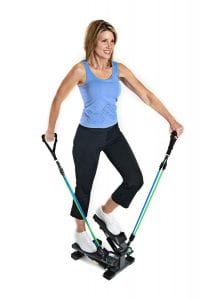 Though there's no denying the Stamina InStride Pro Electronic Stepper does have some drawbacks, it is solid, durable and comfortable to use.  This makes it a viable alternative to steppers that cost a lot more and won't necessarily give you better performance.
This Stamina stepper is the perfect size for people with limited space.  It's small enough to keep in your office so you can get in some exercise in your lunch break.  And, when you've finished, it's light enough for you to be able to push under your desk.
If you're busy, as most of us are these days, a feature of this model I'm sure you'll appreciate is that it comes with two sets of resistance bands.  When attached to the lower front of the machine, the bands enable you to exercise your upper body as you step.
Stamina InStride Pro Electronic Stepper Specs
Dimensions & Weight – The Stamina InStride Pro Electronic Stepper measures 16 1/4″ x 12 1/4″ x 12 1/4."
Weight – It weighs 19.2lbs.
User weight – The upper user-weight limit for this model is 250 pounds.

Mini Stepper Workout Demo
Key Features & Pros
Low price 
Budget-friendly, The Stamina Pro Electronic Stepper will provide you with as good a workout as many far more expensive models.
The Stamina InStride Pro Electronic Stepper is among the smallest steppers on the market.  After you use it, it can be pushed underneath a bed, or stored in a closet.  When you're ready to use it again, you can simply take it out of storage, carry it to where you want to exercise, jump on and start stepping.
There's nothing flimsy about this model.  Its sturdiness and durability, belie its very modest price tag, and it should see you through many a workout.
An electronic monitor displays the number of steps taken overall, and every 60 seconds it shows the length of your workout and the number of calories you've burned.
Most low-priced steppers offer very little resistance, so to get a good workout the user has no choice but to step very quickly.  The Stamina InStride Pro Electronic Stepper is different in that it comes standard with a high level of resistance.  This results in a very challenging workout which tones and shapes the legs more effectively than most other low-cost steppers, and it also means you will burn calories faster.
Included with your purchase are two light and two medium weight resistance bands with comfortable to hold, detachable foam-filled handles, and a workout DVD that is fun and quite challenging.
You may have bought a piece of exercise equipment in the past and had trouble setting it up.  With the Stamina InStride Electronic Stepper, this won't be an issue.  Set up takes less than 5 minutes, with no tools needed, so you can be stepping in less time than it takes to drink a latte.
This model comes with a 1-year warranty on the frame and 90 days on parts.
Cons
A potential drawback of this model is that it may squeak quite loudly the first few times it is used.  Should this occur, the noise will lessen the more the stepper is used.  Anyone who is overly sensitive to noise can get around the problem by popping on a set of headphones and listening to music the first few times they use the stepper.
Resistance isn't adjustable
Unlike many expensive steppers, the resistance on this model is set.  This should not prove to be a problem for anyone wanting a challenging workout, as this stepper provides that.  However, anyone wanting a low-resistance workout will not find this model suitable for their requirements.
Stamina InStride Pro Electronic Stepper Summary
If you don't have a lot of spare space or a lot of money to spend on exercise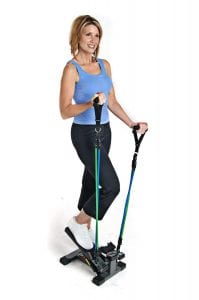 equipment, the Stamina InStride Pro Electronic Stepper is worth checking out.  Very reasonably priced, it is easy to assemble, and it delivers an effective workout.
Budget-priced, this model lacks certain features of more expensive steppers and there's no getting around that it tends to squeak the first few times it is used.  This will ease off, though, quietening down to an acceptable level.
Published feedback for the Stamina InStride Pro Electronic Stepper is, in the main, positive.  However, a few people had a problem with the chain or the bands snapping.  Overall, though, purchasers are satisfied with the machine's performance and pleased with their improved fitness since using it.
If you'll be happy with a 'no frills' stepper that gives a workout that is as effective as some of the far more expensive models, the Stamina InStride Pro Electronic Stepper would be an excellent choice.
If you would like a mini stepper with a few more features that is still very affordable, take a look at the Stamina Spacemate Folding Stepper.