This post may contain affiliate links. If you click a link and buy something, I may receive a small commission at no extra cost to you.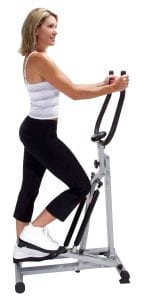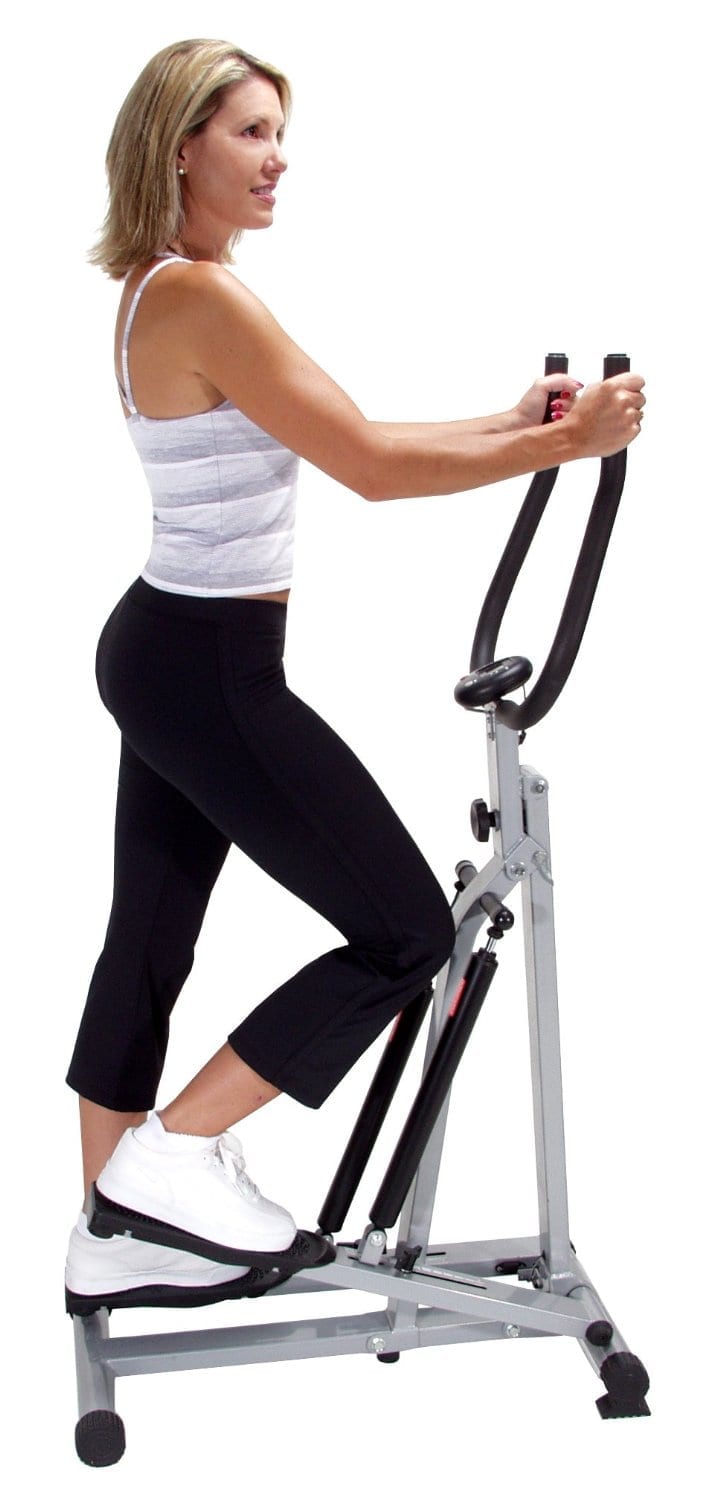 The Stamina SpaceMate Folding Stepper is a simple and affordable mini stepper.  Assembled, this compact fitness aid takes up very little room.  And if space is really tight, you can fold it to store in a closet or under a bed.
While it's not the only compact mini stepper on the market and there are some that cost even less, this model has some advantages over many others in its price bracket.  These include handlebars that provide support and aid balance, adjustable resistance, and a screen that displays your workout stats.
Lacking the high-tech extras very advanced level exercisers may require, the Stamina SpaceMate will give new and intermediate level exercisers an effective workout.  It is simple to operate – hop on and start pedaling or press any button to get started – and very robust for folding exercise equipment, which sometimes has stability issues.
Assembling the machine is super-fast, too!
In this Stamina SpaceMate Folding Stepper review, we will look at its specs, key features, pros, and cons, along with what purchasers are saying about it.
To find out about the benefits and limitations of mini stepper machines, click here.
Stamina SpaceMate Folding Stepper Specs
Assembled dimensions – The Stamina SpaceMate Folding Stepper measures 30 1/4″(L) x 16 1/4″(W) x 54 1/2″ (H).
Folded dimensions – Folded, the machine measures 38 1/2″ x 16 1/4″ x 9 1/2″.
Weight –  It weighs 41lbs.
User weight capacity – The upper user weight limit for this model is 250 pounds.
Color choices – This model comes in either bright blue, or pewter with black highlights
Battery requirement – 1 x AA battery is needed for the monitor
Stamina SpaceMate Folding Stepper Infomercial
Stamina SpaceMate Folding Stepper Features
The Stamina Folding Stepper has a sturdy steel frame.   This makes for a durable machine that will hold up to repeated use.
Two adjustable resistance cylinders provide a smooth stepping action.  These also enable the user to increase the resistance as their fitness improves.  The adjustments are made by repositioning the shocks.
The base of the handlebars houses a battery-operated control panel.  Stats displayed include the
length of workout, the step rate per minute, the number of steps and the number of calories burned.  Engaging scan mode will rotate the stats, displaying each for six seconds.
Automatic Switch-off
The machine powers down after 4 minutes of inactivity.
Foam covered handlebars are comfortable to grip, and they provide security, even if your hands sweat.
Large, textured slide-resistant pedals provide stability and make workouts more comfortable.
Plastic floor protectors guard against scuffing your floor,
The Stamina SpaceMate is easy to fold, simply by removing a pin and unscrewing a knob.  You will then be able to roll it away to store.

Pros
Quiet to use, you will be able to watch television, listen to music or engage in conversation while
using your Stamina Stepper.
With its small footprint, this model doesn't require a lot of space.
The Stamina SpaceMate provides a good cardio and lower body workout that burns calories.
Arriving partially assembled, completing the task is quick and easy, taking approximately 10 to 15 minutes.
The Stamina SpaceMate Folding Stepper comes with a one-year warranty on its frame and a 90-day warranty on defective parts.
Cons
Attaching the handlebar's foam covers can be a bit fiddly and time-consuming
The machine's hydraulic legs can become very hot during extended workouts
Stamina SpaceMate Folding Stepper Purchaser Feedback
The Stamina Folding Stepper has a lot of positive feedback from purchasers.
Many appreciative comments have been made regarding how effective it is for toning the legs and lower body muscles.  Numerous purchasers claim to have lost weight since using it regularly.
A number of buyers claim that this model has more in its favor than far more expensive exercise equipment they've used.  Some stated that using the machine is more challenging than they'd expected, even when they work with low resistance.
Most purchasers agree that the Stamina SpaceMate Folding Stepper is very easy to assemble.  The machine's small footprint gets the thumbs up from people with limited space.  Its light weight and folding ability are also appreciated.
On a less positive note, a small handful of people said that their machine squeaks during use.  Most purchasers, however, class it as very quiet, with some saying they have no problem hearing their television while using it.
A few people said that the workout statistics displayed on the monitor are not always accurate.  This issue appears to have been resolved in a recent upgrade.
A number of people said they had difficulty getting the foam rubber covers onto the handlebars.  Fortunately, this is a one-time task, so once they are in place, you won't have to worry about doing it again.  The instructions recommend using a little dishwashing soap to help ease the padding on.  Alternatively, you can spray on some WD40.
Stamina SpaceMate Folding Stepper Summary
The Stamina SpaceMate Folding Stepper won't win any awards for innovative design or cutting-
edge features.  It does, however, top many other steppers when it comes to value-for-money.  In fact, you'd be hard-pressed to find as good a mini stepper for the price.
It is solid and stable, easy to assemble, and it folds for storage.  Check it out if you're looking for a small and inexpensive machine that will give you an effective cardio and body toning workout and help you lose weight.
If you're looking for a mini stepper that costs even less, check out the Stamina InStride Pro Electronic Stepper.  It doesn't have quite as many features but, as with the Stamina SpaceMate, it has a lot of positive purchaser feedback, and it gets the job done.