This post may contain affiliate links. If you click a link and buy something, I may receive a small commission at no extra cost to you.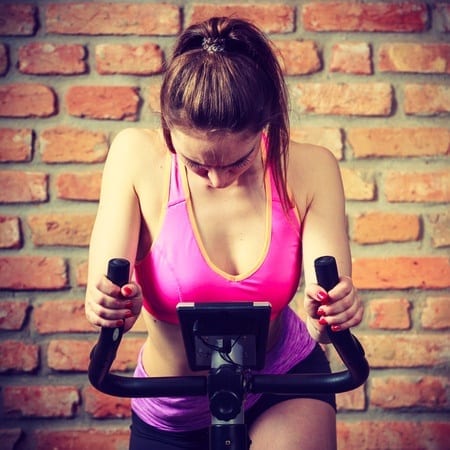 In this article, we discuss the benefits of stationary bike exercise for weight loss, muscle toning, health, and fitness.
We will also look at the number of calories burned on a stationary bike, and a sample stationary bike interval training workout.
If you are planning to start a fitness regimen, you may be in the process of researching exercise equipment.  If so, you could be wondering about stationary bike benefits for weight loss and toning.
I was in the same boat when I first started exercising.  With so many fitness aids available, it was difficult to decide which would best suit my needs.  And, just as importantly, which I would enjoy using.
If you only have the room or budget for one piece of exercise equipment, a good way of working out what to buy is to try the machines at your local gym.  Many gyms offer free or very inexpensive trial periods or pay as you go membership, with no long-term commitment required.
Keep reading to discover whether or not stationary bike workouts will be right for you.
Stationary Bike Benefits Overview
Stationary bike benefits are numerous.  On a purely practical level, this form of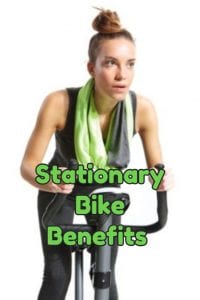 exercise can be done at home while reading, watching the television, or listening to music.
With indoor cycling workouts being low-impact, the stationary bike benefits people of all ages and fitness levels.  The range of bikes on offer cater to everyone from the new exerciser with a modest budget to the experienced athlete who is looking for a top-of-the-line model and everyone in between.
As with most things, if you pay a bit more, you will usually get a higher quality product.  Generally, higher priced exercise bikes come with more features.  These may include variable resistance, customizable workout programs, and accessories such as cooling fans, magazine racks, and water bottle holders.  Nevertheless, some budget-priced exercise bikes will give you just as good a workout as many of the expensive models.
Video Outlining 10 Benefits of Stationary Bike Exercise
Stationary Bike Benefits For Weight Loss
You may be surprised to learn the number of calories burned on a stationary bike during workouts.  The exact amount will vary, depending upon a range of factors.  These include your weight, the speed and resistance level you work at, and the duration of your workout.
As a rough guide, the number of calories burned on a stationary bike for someone weighing 180 pounds who cycles at a moderate speed for just 15 minutes, will be in the vicinity of 150.  When cycling at the same pace, heavier people will burn more calories over the same period, and lighter people will burn fewer calories.
Stationary Bike Interval Training
To increase stationary bike benefits for weight loss, do interval training.  By alternating between low,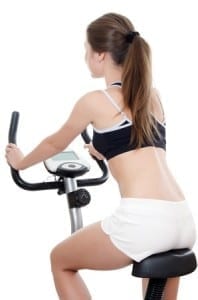 medium, and high intensity pedaling, you will burn more calories than when working at a steady pace.
An example of stationary bike interval is to pedal at almost 100% effort for 90 seconds, drop back to around 40% effort for 90 seconds, go flat out for a further 60 seconds, then lower your pace for the next 30 seconds.  Repeat this, alternating between high and low intensity for the duration of your session.
Do this for 20 minutes, making sure to include a 5 to 10-minute Warm-Up before you start and a Cool-Down at the end of your session.  Your Warm-Up can comprise of slow pedaling that steadily increases.  With your Cool-Down, you will be decreasing your workout speed until you stop.
When your fitness improves, add extra time to your interval sessions, or include a second set.
Toning Benefits of the Stationary Bike
Stationary bike benefits for toning the muscles, especially those of the legs, are indisputable.  The primary muscles targeted during workouts will be your quads, glutes, hamstrings, and calves.  Your abdominal muscles will also be worked.
Additional Benefits
Excellent for weight loss and toning, your entire body will benefit from regularly using a stationary bike.  Even if your primary motivation is weight loss and better muscle tone, this form of exercise offers other valuable benefits, including the following:
One of the most appreciated stationary bike benefits for many is that cycling is low-impact.
Most aerobic activity has the potential to harm our joints, especially our knees and ankles.  For example, running, jogging, and even walking puts a lot of downward pressure on your knees every time your feet hit the ground.  While the movement is also downward when using a stationary bike, the amount of stress placed on the joints is far less.  For the least impact, use a recumbent stationary bike.
Targets various muscle groups 
Stationary bikes can play a role in strengthening your muscles, especially in the areas that you use the most while cycling.  These include the entire thigh, the calves, and the buttocks.
Most individuals who are overweight have issues with their legs.  Cycling is a great choice for such people, as it can strengthen and improve leg function and mobility.  The back also comes into play when cycling.  Cycle regularly and, over time, your back will become stronger, and your posture will improve.
Your abs will also be targeted, though to a lesser extent.
Improves cardiovascular health and respiratory function  
Another of the stationary bike benefits is that it improves cardio health and strengthens respiratory function.
Regular stationary bike workouts will, over time, result in your heart functioning better, which can help prevent a heart attack.  Other benefits include blood sugar regulation, and blood pressure reduction.
When using a stationary bike, you will breathe faster and more deeply.  This will maximize oxygen levels in your bloodstream and elevate your heart rate, resulting in increased blood flow to your muscles and lungs.  During this process, your capillaries will widen, enabling more oxygen to reach your muscles.  Waste products including carbon dioxide and lactic acid will be transported away and excreted from your body.
Suitable for heavy-set people
If you're overweight, you likely know all of the issues that can affect your back, knees, and ankles.
It's not uncommon for overweight people to sustain injuries while they are exercising.  This is often because carrying excess weight puts a lot of pressure on the joints.  One of the significant benefits of stationary bike exercise is that it is gentle enough that overweight people can undertake it, and in doing so be able to lose weight over time.
Another potential problem area that can make exercising difficult for some is the spine.  People who have trouble with their spine will often be able to exercise and ultimately lose weight using a stationary bike, without risking further injury.
So if you struggle with your weight and/or you have problems with your back, knees, or ankles, generally you will have a far easier time exercising on a stationary bike than attempting most other forms of aerobic activity.
Final Thoughts on the Benefits of the Stationary Bike
If you are looking for a simple workout that can help you to lose weight and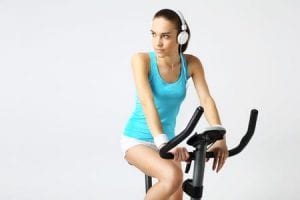 improve your health, the stationary bike is an ideal option.  Along with burning calories, regular sessions will strengthen and tone your body, and do it gently.
Stationary bikes don't take up a lot of room.  They are convenient to use, and there are some fantastic models available that are quite inexpensive.
Excellent as a stand-alone exercise, if you get bored easily, try combining stationary bike workouts with one or more other types of aerobic exercise.  Working out this way will target different muscle groups and keep you keen.  In the long run, mixing things up will usually burn more calories too.
As you can see, the stationary bike benefits a wide range of people in various age groups.  This makes it worth considering if you are looking at buying some new exercise equipment.
If you're unsure about which make and model of stationary bike to buy, click this link to read reviews of some of my favorites.