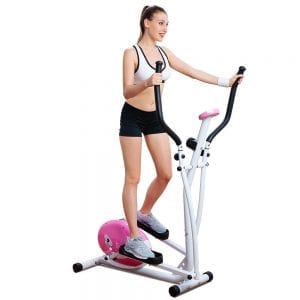 The Sunny Health and Fitness Pink Magnetic Elliptical Trainer is an affordable elliptical machine designed for home use.
Fairly basic, this model's features and functions will appeal most to new and slower-paced exercisers who want an inexpensive and reliable elliptical that gives them scope to grow their fitness.
Best suited to short to average height exercisers, taller people may find the machine's stride limiting.  Advanced-level exercisers who want to work at high speed will do better with a heavier model.ted of steel, the elliptical is sturdy and durable.
Being compact and lightweight, it doesn't require a lot of room, and it is easy to relocate.  And when it comes to comfort and performance, it is a cut above many elliptical trainers in its price range.
In this Sunny Health and Fitness Pink Magnetic Elliptical Trainer review, we will look at the machine's specs and key features, pros, cons, and buyer feedback.
Sunny Health and Fitness Pink Magnetic Elliptical Trainer Specs
Dimensions – The Sunny Health and Fitness Pink Magnetic Elliptical Trainer measures approximately 45″ x 23″ x 59″.
Weight – It weighs 55lbs.
User weight – This model has a recommended upper user weight limit of 220 pounds.
Stride length – A 26″ stride caters to people of most heights from short to tall, though very tall individuals may want to consider an elliptical with a longer stride.
6 Month Update of the Sunny Health and Fitness Pink Magnetic Elliptical Trainer
Sunny Magnetic Elliptical Trainer Key Features
Monitor 
A screen displays Time, Speed, Calories, Distance and Total Distance, making it easy to track your workouts.  A scan function enables you to automatically cycle through the stats.
With 8 magnetic resistance levels to choose from, you will be able to increase the challenge of your workouts as your fitness improves.
With the resistance levels rising in small increments, those new to exercise can gradually increase the intensity of their workout, while the more experienced may like to jump a couple of levels at a time.
Reverse pedaling capability
Two-way striding capability enables the user to vary their workout further, targeting different leg and buttocks muscles.
The Sunny Magnetic Elliptical Trainer has movable arms.  This feature will enable you to strengthen and tone your upper body as you work your lower body.  The extra effort expended when using the arms burns additional calories.
Large anti-slip pedals 
The elliptical's large pedals are big enough for comfortable workouts, no matter your shoe size.  The pedals' anti-slip surface provides secure footing, therefore a safer workout.
Textured hand grips are comfortable to hold, and they allow a firm grip, even if your hands perspire as you exercise.
Sunny Magnetic Elliptical Trainer Pros
Considering its dimensions and weight, the Sunny Magnetic Elliptical Trainer is reasonably sturdy and balanced.
There is some movement when it is used at high speed, but it feels relatively smooth when used at a walking or jogging pace.
Great for apartment dwellers and people who don't have a lot of room to spare, the machine is sleek and compact.
Being quite light in weight, moving it when required is not a major hassle.
Setting up the Sunny Magnetic Elliptical Trainer is quite straightforward, generally taking one person between one and two hours.  Having a second person help will shorten the assembly time.  Tools for assembling the machine are included.
Sunny Magnetic Elliptical Trainer Cons
Very tall people may find that the stride restricts their movement and the comfort of workouts.
Being light, the Sunny Magnetic Elliptical Trainer will rock a bit if you exercise at high speed.
Some purchasers have found that the bolts loosen a bit with use.  It's a good idea to check them from time to time and tighten them if need be.
This model does not fold for storage.
What Purchasers are Saying about the Sunny Magnetic Elliptical Trainer
Buyer feedback for the Sunny Health and Fitness Pink Magnetic Elliptical Trainer has, in the main, been very positive.
Reviewers almost universally agree it is great value for money.  Many have said they appreciate its small footprint.  Numerous women have stated that they love the appearance of the machine and its color.
Several shorter women have said the machine is the perfect size for them, but they don't think it would suit anyone who is a lot taller.  Conversely, one reviewer stated that her husband, who is 5′ 11″, finds it comfortable to use.  Due to the machine's relatively short stride, I wouldn't recommend it to anyone who is very tall as not being able to exercise at full stride would be uncomfortable and limit any potential benefits gained.
While most people consider the Sunny Magnetic Elliptical Trainer to be extremely quiet, a few said the machine they received developed a click or a squeak after using it for a while.  Tightening the bolts will usually counteract this.
Though most reviewers said the machine is easy to assemble, a small percentage had trouble with this.
A couple of people stated that they would have been even happier with the elliptical if it folded for storage.  A few said they would have appreciated a drink bottle holder.
Final Thoughts on the Sunny Health and Fitness Pink Magnetic Elliptical Trainer
These days, more and more people are looking to save time and money by utilizing fitness tools in the comfort of their home.  This means there is a definite market for affordable home-use exercise equipment, such as the Sunny Health and Fitness Pink Magnetic Elliptical Trainer.
While there are other elliptical trainers of similar price, most can't match this model when it comes to comfort and reliability.  Not the best choice for heavy daily use, it will be perfect if you are new to exercise, so why spend hundreds of dollars early on in your fitness journey if you don't have to!?  Eventually, you will probably outgrow the Sunny Magnetic Elliptical Trainer.  In the meantime, you can use it to gain elliptical benefits, moving on to a more challenging machine later, if necessary.
Most suited to short and average height exercisers looking to do light to mid-intensity workouts, this solid introductory level elliptical from Sunny Health Fitness is a great buy.  Compact, reasonably easy to assemble and light enough to move around, be sure to check it out if you are looking for a reliable elliptical and you are on a tight budget.
Not sure this is the right elliptical for you?  Click this link to read reviews of other popular elliptical trainers
Click here to buy the Sunny Health and Fitness Pink Magnetic Elliptical Trainer on Amazon