This post may contain affiliate links. If you click a link and buy something, I may receive a small commission at no extra cost to you.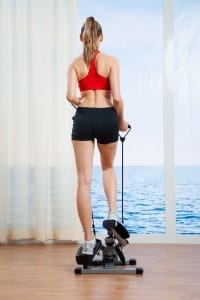 In this Sunny Health & Fitness Twister Stepper review, we will be looking at everything you may want to know about the No. 045 model.  A budget-priced piece of exercise equipment, it provides an efficient and low-impact cardio and muscle toning workout.
Steppers typically target the lower body and, to a lesser extent, the abs and obliques.  This particular model comes with resistance bands that enable you to exercise your arms, upper back, and shoulders, as you step.
Other notable features include variable resistance and a monitor that displays basic workout stats.  The resistance options enable you to increase the intensity of your workouts as you become fitter, while the display monitor makes for easy progress tracking and goal setting.
Being lightweight and compact, the stepper can easily be moved if required.  But don't let its lack of bulk or weight fool you into thinking it is flimsy.  It is, in fact, surprisingly solid considering its size and price.
Keep reading to find out the machine's specs, pros, and cons.
* Please note that in the sales copy it states that to prevent it overheating, Sunny Health & Fitness Twister No. 045 sessions should be no longer than 15 minutes.
The manufacturer has, however, said that it can be used for up to 60 minutes at a time.  Many purchasers have confirmed this to be the case.
Sunny Health & Fitness Twister Stepper Specs
Dimensions – The Sunny Health & Fitness Twister Stepper measures 18 1/2″ x 16″ x 8″.
Weight – It weighs 20lbs.
User weight – The upper user weight limit for this model is 250 pounds.
Sunny Health & Fitness Twister Stepper Overview
The Sunny Health & Fitness Twister Stepper is efficient, giving the user a cardio and total-body toning workout at the same time.  Its twisting action ensures your thighs, buttocks, and obliques are worked, while its up and down movement will target and firm muscles you may never even have known existed.
The resistance level of this model is adjustable, so you can start easy and increase the intensity of your workouts at the turn of a dial, as your fitness improves.  Coming with adjustable exercise bands, these can be used to work your arms, back, and shoulders.  This is a time-efficient way to exercise that will burn more calories.
An LCD console shows useful workout stats, helping you stay on track and progress to the next level as you achieve your fitness goals.
If you would prefer a stepper with a handlebar, check out the Sunny Health and Fitness Stepper with Handlebar.  (Click the previous link to visit Amazon and find out more.)
In the next section of this Sunny Health & Fitness Twister Stepper review, we will look at its key features, then its pros and cons.
Sunny Twister Stepper Video Review
Sunny Twister Stepper Key Features
Adjustable resistance capability enables you to make your workouts more challenging as your fitness
improves.
Most steppers only go up and down.  This limits the area targeted to the fronts and backs of the thighs, with minimal impact on the outer and inner thighs.  The twisting motion of the Sunny Twister Stepper ensures your entire thigh will benefit from your workouts.
The Twister Stepper has a handily positioned LCD monitor that shows your time, step count, total count, and the number of calories you burn during workouts.
The Sunny Health & Fitness Twister Stepper has oversized, slip-resistant footrests that make it very safe to use.
Pros
The Sunny Health & Fitness No. 045 Twister Stepper is among the most inexpensive fitness aids of its type.
If you don't have a lot of spare space for exercise equipment, the Sunny Twister  Stepper will be perfect for you.  Compact during use, it folds small enough to store in a closet.
A solid steel construction results in a sturdy machine that will withstand frequent, long-term use.
Setting up your Sunny Twister Stepper will take about two minutes, with no special tools or skills required.  Simply hook the cable over the wheel, attach the resistance bands and you'll be ready to start exercising.
This model comes with a 90-day warranty.

Cons
One downside of the Sunny Health & Fitness Twister Stepper is that its step range is somewhat limited.  It will still give you a good workout, but the more expensive models provide a deeper stepping motion with more intensity and a higher calorie burn.
While useful, the workout statistics the Sunny Twister Stepper provides are quite basic (see above).  If you are looking for a computer with pre-set programs and a wide range of tracking options, this is not the model for you.
Most purchasers have said the stepper operates quietly.  Some, however, complained that their stepper squeaked during use after a while.  This can be remedied with regular applications of WD40.
At just 90 days, the warranty is very short, however, looking at the extensive number of positive reviews, this should not prove to be an issue.
Sunny Twister Stepper Summary
The Sunny Health & Fitness No. 045 Twister Stepper is incredible value-for-money.  Compact and durable, it offers an effective cardio workout as it targets the muscles of the upper and lower body.
Both the stepper and the resistance bands can be adjusted to suit your level of fitness.  While its onboard computer is basic and its step range isn't as deep as some, the Twister Stepper delivers what it promises, and it should be all the novice or intermediate level exerciser will require to improve their shape and fitness and drop some pounds.
With many hundreds of positive purchaser reviews published online, the Sunny Health & Fitness Twister Stepper is worth checking out if you're in the market for a piece of reasonably priced exercise equipment that can be depended upon to bring results.