This post may contain affiliate links. If you click a link and buy something, I may receive a small commission at no extra cost to you.
The Sunny SF-B1001 Indoor Cycling Bike fills a gap in the home fitness market, providing as it does quality, durability and the means of getting an effective spin workout at a lower price than is typical for most spin bikes.
Committed to excellence, Californian-based distributors of the Sunny SF-B1001, Sunny Health & Fitness, have made quite a name for themselves in the decade-plus that they've been operating.
One of the fastest-growing fitness companies in the world, to keep their prices competitive, they import top-quality health and fitness products directly from China and Taiwan, this particular model being a prime example.
While it lacks some of the features of higher-priced models, this bike has more going for it than some similar offerings that cost considerably more.  This makes it worth considering if you are looking for a reliable spin bike suitable for light to moderately intense workouts.
In this Sunny SF-B1001 Indoor Cycling Bike review, we will discuss the bike's key features, pros, and cons.  We will also look at what purchasers are saying about it.
Sunny SF-B1001 Indoor Cycling Bike Specs 
Dimensions – The Sunny SF-B1001 Indoor Cycling Bike measures approximately 20″ (W) x 43″ (H) x 46″ (D).
Weight – It weighs 78lbs.
Highest Seat Settings – The bike's seat can be adjusted to between 29″ and 40″, from the seat to the pedal.
User Weight – The upper user weight limit for this model is 220 pounds.
Color options – The Sunny Health Fitness SF-B1001 comes in a choice of red or silver.
Sunny SF-B1001 Indoor Cycling Bike Key Features
Steel Frame & Heavy-Duty Crank 
With its steel frame and heavy-duty crank, the Sunny SF-B1001 is robust and durable, so it is easily able to cope with regular, extended use.
An easy to adjust seat and handlebars allow for a customized, and therefore more comfortable ride.
A 30-pound flywheel is heavy enough to provide a smooth ride and light enough that the bike isn't cumbersome.
A chain drive delivers workouts that are quiet and smooth.
The resistance of the Sunny Health Fitness SF-B1001 can be changed by turning a knob.
Along with forward pedaling, the bike can be pedaled backward to target different muscles.
The bike can easily be moved using the transport wheels located on the front.

In the next section of this Sunny SF-B1001 review, we will look at its pros, then its cons.
Sunny SF-B1001 Indoor Cycling Bike Overview
Pros
Built to withstand frequent, long cycling sessions, the Sunny SF-B1001 Indoor Cycling Bike is very durable.
With the position of the bike's seat and handlebars being adjustable, it is suitable for use by people from under 5 feet tall to over 6 feet tall.  The seat can be adjusted up or down, backward or forward.
The Sunny SF-B1001 delivers a smooth, quiet ride that belies its modest price.
The bike is compact, so it can be stored in a small space, which is a bonus for people who don't have a lot of room to spare.
While there's no iPad holder as such, a U-shaped section near the handlebars is the perfect size and angle for placing an electronic device.
A handily positioned water bottle holder provides easy access to a hydrating drink during workouts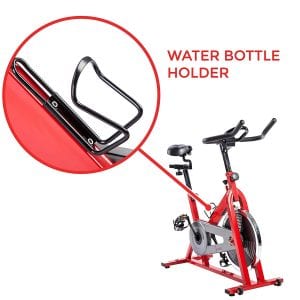 Arriving partially pre-assembled, completing the set-up takes most people about 15 or 20 minutes.  All you will need to do is attach the legs, the handlebars, and the seat.  Tools for the job are included.
The Sunny SF-B1001 Indoor Cycling Bike comes with a 1-year warranty on its frame and 90 days on parts.
Cons 
The seat of the Sunny Health Fitness SF-B1001 is quite wide, and it has more padding than some exercise bikes.  However, some purchasers
consider it to be uncomfortable.  The is a very common complaint, even with high-end exercise bikes.  Buying a bike seat cover will make the seat more comfortable.
Numerous bike seat covers are suitable to use with this model.  One with a lot of very positive purchaser feedback that works particularly well with the Sunny SF-B1001 is the Sunlite Cloud-9 Bicycle Suspension Cruiser Saddle, which is available in black or tri-color/black.
If you decide to buy the bike, you can always purchase the seat cover later if need be, but by ordering both at the same time, you will save on postage.  If you don't want to buy a bicycle seat cover, try placing a cushion or a folded towel on the seat.
The Sunny SF-B1001 doesn't have a built-in computer, so if you wish to keep track of your stats, you will have to do so manually.
This model lacks a fan and a USB port.
Some people said that bike is noisier to use than they were expecting.  Most still consider the noise level to be acceptable.
Confusing assembly instructions 
Though easy to set up, some people found the assembly instructions difficult to understand.  When this was the case, the assembly time was far longer.  If you don't want to assemble the bike, you can pay extra to have it done for you.
A small percentage of people received defective parts and had to ask for replacements.
The warranty for the Sunny SF-B1001 is quite short.
Final Thoughts on the Sunny SF-B1001 Indoor Cycling Bike
If you're looking for a reasonably priced, robust stationary bike that will enable you to work out at home, the Sunny
SF-B1001 fits the bill.
While it lacks accessories that are standard with some other exercise bikes, it gives a good workout, which is all that many people who want to get fit will require.
With hundreds of reviews of the Sunny SF-B1001 posted online, the vast majority of purchasers have rated it very highly.  While it falls short in some areas, it is one of the most popular and well-reviewed exercise bikes in its price range, and it is more than capable of enabling you to experience the benefits that regular spinning delivers.
Click here to read more spin and upright bike reviews