This post may contain affiliate links. If you click a link and buy something, I may receive a small commission at no extra cost to you.
In this review, we look at the Supreme Toning Tower, a home workout system that offers the benefits of Pilates and Barre in one convenient fitness aid.
If you want to get a toned body, increase your strength, flexibility, and endurance, and do this quickly, you may have considered signing up for Pilates or Barre classes to help you achieve this goal.
While worth doing, classes can be expensive.  And if you're busy and you don't live close to a Pilates studio, you probably don't want to have to fit another commute into your day.  Instead, you may be considering using a home exercise system.  But which one should you get?
If money and space are tight, choosing a multi-purpose machine is the way to go, and the Supreme Toning Tower is one of the best of its type that you will find.  Keep reading to find out everything you need to know about it to help you decide if it will suit your needs.
I will also give you a brief overview of the two other machines in the range; the Supreme Toning Tower Deluxe, and the Supreme Pilates Pro.
Supreme Toning Tower Overview
The Supreme Toning Tower by Beverly Hills Fitness is a Pilates Cadillac Trap Table, a Barre, and a total body toning and strengthening fitness aid in one relatively compact unit.  While light in weight, it is very durable.  It is easy to use, and it will give you visible results quickly.  And, it comes in at a lower price than most comparable machines on the market.
Arriving almost fully assembled, completing the job takes just a couple of minutes, so you will be able to start working out soon after unboxing the device.  Just watch the included instructional DVD which explains how to use it, then move onto the exercise DVD.
When you've finished your workout, the Tower can be folded to store in a closet.  It will even fit under a bed providing it has more than a four-inch clearance from the floor.  To fold the tower, simply loosen the screws on either side of the bars, then fold the bars down toward the mat.
When you buy this item you will get a 30-day money-back guarantee, and a 1-year warranty, so you can buy with confidence knowing that if you change your mind or there is a problem, you can get a refund.
There is also the option of buying the Supreme Toning Tower Deluxe, or the Supreme Pilates Pro.  Both come with some additional accessories and features, as outlined below.
Supreme Toning Tower Specs
Assembled dimensions – 48″ (L) x 25″ (W) x 41″ (H)
Folded dimensions – 48″ (L)  x 25″ (W) x 4″ (H)
Weight – It weighs 35 lb
Maximum load – The device can support up to 250 pounds
Who will it best suit?
The Supreme Toning Tower suits individuals of any age or fitness level who are no taller than 6′ and weigh no more than 250 pounds.  If you are over 6′ tall, or if you weigh up to 300 pounds, go with the Supreme Pilates Pro.
Some of the workouts are done on bended knees, so they could be too stressful for anyone with joint problems.
Supreme Toning Tower Accessories
Following is a list of the Supreme Toning Tower Accessories.
1 high-density moisture-resistant yoga pad
How do the different models vary?
If you opt for the Supreme Toning Tower Deluxe, you will receive the accessories listed above plus three additional workout DVDs, a Barre Positioning Ball, and a Cardio Twist Disk.  DVD 1 will familiarize you with the equipment and show you the 8 basic moves.  The other DVDs contain moves for the abs, thighs, and buns, plus Barre and Speed Sculpt segments.
If you require a more solid machine, check out the Supreme Pilates Pro.  Measuring 60″ x 48″ x 24″, it folds down to 36″ x 29″, and it weighs 50 lbs.
Coming with everything that the Deluxe version does, the Pro version's maximum weight limit is 300 pounds and people over 6′ tall can use it.  Also included with this model is an extra set of 13″ resistance coils that will enable you to increase the intensity of your workouts.
Benefits of Doing Supreme Toning Tower Workouts
Supreme Toning Tower Workouts provide a variety of benefits.
Using the provided instructional DVDs, you can learn how to take full advantage of the device to target all areas of your body.  In fact, doing just ten of the one hundred and twenty plus exercises demonstrated on the workout DVD will provide similar benefits to those of a studio-style Barre and Pilates workout.  And you can experience these benefits in the comfort and convenience of your home without having to spend a lot of money!
The Tower's Barre is set at the same height as those in professional studios.  Its heavy-gauge steel is durable, and its uni-tower construction provides easy maneuverability.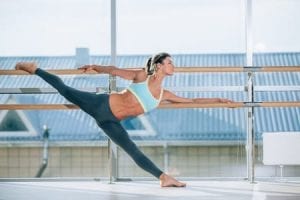 Every exercise you do will target your core and abs.  By using the Pilates-style swing-thru bar as outlined, regular workouts will enable you to tone your abs in just a few weeks.
Included are 15″ resistance coils that can be attached to the Barre to give you a great leg toning workout and improve your cardiovascular health, muscular strength, and endurance.
The coils' resistance will vary depending on where you position yourself.  They do not come into contact with your skin, so there is no fear of them pinching you.
As well as your legs and abs, you can use the device to target the muscles of your upper body.  The included Sculpting Bar gives access to a variety of upper-body workouts.  Combine it with the resistance coils, and you will be well on your way to a stronger body.
Regular workouts will also help you to train your body to maintain proper posture.  This will improve your muscular and skeletal health, your appearance, and therefore your confidence.
Video Demo of Supreme Toning Tower Exercises
Supreme Toning Tower Key Features
Key features include:
Has over 120 different exercise options
Durable steel frame & sculpting bar
Minimal assembly required
Comes with a 30-day money-back guarantee, and a 1-year warranty against defects 
Pros
– Saves you money on expensive Pilates and Barre classes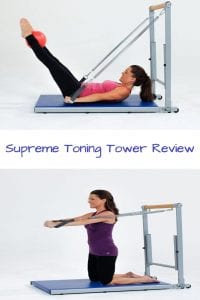 – Allows you to exercise at any time of the day or night in the comfort of your own home
– Super-fast and easy to assemble
– Can be used to target specific areas of your body
– Includes instructional DVDs to help you get the best workout experience
– Dozens more workout DVDs are available online at www.supremetoningtower.com
– Comes in at a lower price than most comparable machines on the market
– Extremely portable due to its lightweight construction and ability to fold
– The workouts are effective and easy-to-learn
– Akin to studio sessions in both methods and results
– An excellent option for women with hip injuries (or other injuries) who cannot do a traditional workout
– Folds to store or transport
– A manufacturer's warranty guarantees product integrity
Cons
– Not suitable for anyone with knee problems, as many of the exercises require kneeling
– The included yoga pad is rather short, so taller individuals should consider buying a replacement pad
Should I Buy a Supreme Toning Tower?
If you are looking for a machine that enables you to do Pilates or Barre-style workouts at home, this fitness aid would be a solid choice.
Supreme Toning Tower reviews are hugely positive in the main.  Buyers have commented favorably on the quality of the equipment and the Supreme Toning Tower accessories.  They also love the variety of exercises it offers and the studio results they can receive without paying studio prices.
The workouts are easy to learn and achievable by people of almost any age and fitness level.  However, if you have bad knees, you should not use this system because many of the exercises require kneeling.  Additional problems with the machine, including the occasional issue with DVD playback and shipping damage, are readily mitigated by the manufacturer, Beverly Hills Fitness.
All in all, the Supreme Toning Tower is an excellent substitute for studio Pilates and Barre sessions.  If you want to become more toned and fit, and you want to do so for a very reasonable price without leaving home, it would be hard to go wrong with this device.
You may also like to read this article outlining the Benefits of Barre Workouts