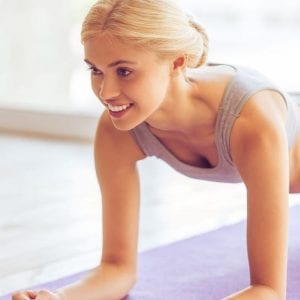 In this article, we will look at the benefits of Plank exercise, and the muscles worked when doing Planks. I will also include instructions for the proper way to do the Plank exercise and some Plank variations.
Planks are renowned for being one of the most effective ab exercises you can do.
What you may not know, is that along with being excellent for toning and strengthening the entire midsection, Planks work the glutes and hamstrings, improve posture and balance, and more.
When performed correctly, this simple but surprisingly challenging bodyweight exercise creates tension throughout the entire body while engaging the core. With all of the major core muscle groups activated, improved athletic performance is another plus. And, to get the benefits of Plank exercise, you will only need to undertake it for 5 to 10 minutes, several times a week.
Keep reading to find out which muscles are worked when doing Planks.
Which Muscles are Worked When Doing Planks?
The major muscle groups worked when doing planks are as follows:
The deepest of the four abdominal muscles, the transverse abdominis is located at the front and sides of the abs.
. The obliques are two sets of muscles on the sides of the abdomen
The rectus abdominis comprises a vertical muscle on either side of the abdomen. This is the muscle that when exercised can give the appearance of a six-pack.
The glutes are three muscles located in the buttocks.
Next, we will look at the main benefits of Plank exercise.
Benefits of Plank Exercise
There are many benefits of Plank exercise, including the following: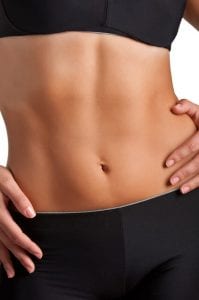 Strengthens and tones the core –
Planks offer one of the most reliable ways to tone and strengthen the core muscles, which include the abs, back, hips, and buttocks. Done regularly in combination with other body strength exercises, cardio, and the right diet, and you will be on your way to getting a six-pack.
Another of the benefits of Plank exercises is that they will make you more flexible. This is because they stretch all of the body's posterior muscles, from the hamstrings down to the arches of the feet and even the toes.
Because they work the entire core, when done consistently, Planks will develop not just your abs, but also your trunk from its pelvic girdle to shoulder girdle. When these muscles are strong, you will naturally sit and stand more upright, with a straighter back.
With good posture, you will look slimmer, taller, and younger. Your respiratory and nervous systems will function more efficiently, as will your digestive system.
Helps to builds stronger bones –
Planks are a weight-bearing exercise, and weight-bearing exercise is one of the best means of building stronger bones, which in turn helps to prevent osteoporosis.
Reduces the risk of back pain and injury –
Planks can lower the likelihood of experiencing back pain and injury. This is because they build and strengthen the muscles in this area without overly stressing the spine and hips. When these muscles are strong, they will help you stay upright, so that your back doesn't have to do all of the work.
An article published by the American Council on Exercise backs these claims.
Planks stretch out muscle groups that contribute to body tension. As a result, done regularly, they promote a feeling of relaxation, which in turn, helps to improve overall mood.
The intense nature of Plank exercise assists weight loss because it burns more calories both during and after your workout compared to many other ab exercises such as Crunches and Sit-Ups.
Next, we will look at the proper way to do the Plank exercise.
Proper Way to do the Plank Exercise
No equipment is required to do Planks. All you need is a free area of floor space where you can lay down flat. But to get the most benefit, it's essential to learn the proper way to do the Plank exercise. I will outline the steps below.
1. Lie face facing down on the floor with your upper body resting on your forearms, your shoulders positioned above your elbows, and your palms flat on the floor. If it feels more comfortable, you can rotate your elbows to a 45-degree angle and clasp your palms together. Your legs should be together, straight out behind you.
2. Assume a Push-Up position, lifting your body upwards so that your forearms and toes support your weight. Keep your back flat, and your head, neck, and spine in a straight line.
3. Contract your abdominal muscles, making sure to not lower your stomach, or raise your hips. The easiest way to ensure the latter is to tilt your pelvis towards the floor. To begin, hold this position for 20 seconds, and start with 3 to 5 planks.
As you become fitter and stronger, hold the Plank position for longer until you reach 60 seconds. You can also do more Planks if desired.
NB: Don't hold your breath. Breathe slowly and steadily throughout the exercise.
Next, we will look at some Plank Variations for people who are new to them, and those who are advanced level.
Plank Variations
If you find regular Planks too hard, start with modified Planks. Modified Planks involve keeping your knees on the floor rather than balancing on your toes.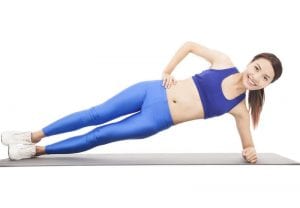 After doing Planks for a while, you may want to increase the challenge and further strengthen your core. While in a Plank position, lift one leg so that you are balancing on your forearms and the toes of one foot.
Side Planks are another option. To do a Side Plank, lie on your right side, then lift your body upwards so that you are supporting your upper body on your right forearm, with your feet, knees, and thighs stacked on top of each other.
You can keep your left arm by your side, or place your hand on your hip. Along with engaging more core muscles, this move will target your obliques. Turn over and repeat the movement to work your left side.
Final Thoughts on the Benefits of Plank Exercises
As you can see, the benefits of Plank exercise are numerous. This being so, it is easy to see why it is so popular with fitness fans.
If you are new to exercise, take it slow, and do modified Planks until your strength and fitness improve enough for you to move on to regular ones. If you have been doing Planks for a while, try the advanced versions above, which will enable you to gain even more benefit. Just remember to maintain the correct form, so you can get the most from the exercise. If you feel your form faltering, stop, rest, then try again.
You may also like to read this article containing instructions for 10 Bosu Ball ab exercises that will transform your core.