This post may contain affiliate links. If you click a link and buy something, I may receive a small commission at no extra cost to you.
Before trying Tabata for the first time, I searched online for a list of Tabata exercises for beginners and couldn't find one.  There were plenty of Tabata exercises, but most were advanced level, so way beyond what I could realistically manage without injuring myself.
That was several years ago, and there's still not all that much information available on Tabata workouts for novices.  So I decided to make this top 10 Tabata exercises for beginners list.
If you're new to Tabata, they're a good starting point.  If you already include Tabata exercises in your workout routine, do advanced versions of the moves or put in extra effort.
I will also include a Tabata workout for beginners that I recently came across on YouTube.  Give that a try too!
Tabata Exercises Overview
Most of us lead busy lives, so we're looking for a quick fix.  An area that has been difficult to cut corners with is physical fitness.
This was because it was believed that for exercise to be effective, it had to be undertaken for a minimum of 20 minutes, at least three times a week.  Longer, more frequent workouts were considered to be even better.  Then along came Tabata training, the 4-minute workout, which flipped that notion on its head.
If this article is your introduction to Tabata exercises, you may be skeptical that a 4-minute workout could be of any benefit.  With so many whacky exercise programs out there that don't work, I wouldn't blame you.  The thing is, Tabata does work, and it works very well.  Each session takes just four minutes to complete, making it a boon for busy people who aren't able to spend hours exercising each week.
Keep in mind though that you will also need to take the time to warm up before and cool down after doing Tabata exercises.  I typically do an 8 to 10-minute Warm-Up that often consists of walking, progressing to jogging, plus some gentle stretches.  At the conclusion of my workout, I do 5 to 10 minutes of light jogging, slowing to a walk.  I then finish off with more stretches.
What Does a Typical Tabata Workout Consist Of?
Comprising High Intensity Interval Training (HIIT), Tabata is the creation of Dr. Izumi Tabata, a former hockey coach,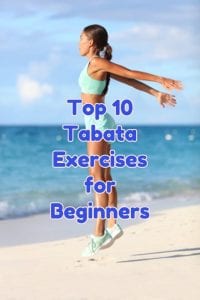 who helped to develop and refine the system in the 1990s.
Workouts are broken down into 20 seconds of HIIT during which the exerciser goes as hard and fast as they can, followed by a 10 second rest period.
This is repeated for the duration of the workout, which lasts for 4 minutes.  The same exercise can be done throughout; you can choose to do 2 or more different exercises and rotate them, or do up to 8 different exercises.
Seeing it on paper Tabata training sounds very easy, but if you do it as it's meant to be done, believe me, it is anything but.  You will sweat and be out of breath, and a couple of minutes into the workout lactic acid will begin building up in your muscles.  This is due to the speed at which you are working out and the short time you have to rest between sets.
By now, you are probably wondering why anyone would put themselves through that, and it's a fair question.  For me, initially, it was the challenge of sticking with something that I thought was going to kill me the first few times I did it.  I kept reminding myself that it was only for four minutes.  It did get easier, and while I haven't gone on to do longer sets as some people do, these days I look forward to my thrice weekly Tabata workouts.
The average person will burn around 67 calories every 4 minutes they do Tabata.  That equates to a whopping 1,000 calories per hour!  Following each session, your metabolic rate will be higher, and you will continue to burn additional calories for hours after you finish exercising.
If you'd like to find out more about Tabata training, click the following link: Tabata Training, the 4 Minute Workout that Works.
Tabata Exercises for Beginners
An almost limitless range of exercises can be incorporated into Tabata workouts.  You could literally work out for years and not do the exact same workout twice.  This makes it a great form of exercise for anyone who is easily bored.
When you are starting out, don't choose exercises that are beyond your capability.  Do so, and an injury is almost inevitable.
Following are some of my favorite beginner Tabata exercises.  If you find them too difficult, modify them.  For example, do Bent-Knee Push-Ups rather than regular ones.  Lift your opposite arm and leg (one at a time) when doing Superman, rather than lifting all four limbs at the same time.
N.B.: While the exercises listed below can be modified for beginners if you haven't exercised at all before I recommend you put Tabata on hold until you have attained a certain degree of muscular strength and cardiovascular fitness. 
1. Burpees
Burpees are exceptionally effective.  They are also one of the toughest Tabata exercises for beginners, so be forewarned.  Benefits from regularly including Burpees in your exercise routine include improved agility, strength, endurance, and power.
To perform Burpees, follow the instructions below:
Standing with your feet approximately hip-width apart, perform a low squat, aiming for a position that brings your knees close to your chest.  Place your hands securely on the floor in front of you, then quickly kick back with your feet.  This movement will put you in a Push-Up position.
Quickly push back up off the ground, bringing your feet and legs forward to take yourself back into a squat position.  Immediately jump up into the air as high as you can, with your arms extended upwards and slightly outwards.  Your feet will then land on the ground, bringing you back to your starting position.
Repeat the exercise as many times as you can for 20 seconds.
Click here for a video demonstration of Burpees
---
2. Jumping Lunges
The Jumping Lunge is another one of the toughest beginner Tabata exercises.  It is harder to do than a traditional lunge, and it requires additional strength and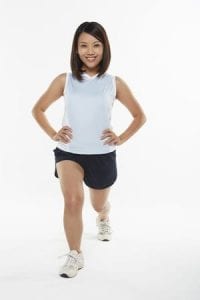 power.  Targeting the hamstrings, quads, and glutes, it also improves cardiovascular fitness.
To perform Jumping Lunges, follow the instructions below:
Start by standing upright with your feet together.  Engage your core, then lunge forward with your right foot, your right knee bent at an angle of 90 degrees.  At this point, your torso should be vertical to the floor.
Next, jump up high, with your hands resting on your hips.  While your feet are off the ground, switch the position of your legs, so your left foot is at the front, before landing softly on your leading heel and back toes to absorb the impact.
Repeat the sequence, alternating legs and doing as many reps as you can in 20 seconds.
Click here for a video demonstration of Jumping Lunges
---
3. Jump Rope
A jump rope is portable and inexpensive, and it can deliver a great leg and cardio workout as it sculpts your shoulders, chest, and arms.
Follow the directions below to get the most from jumping rope:
Before you start, find a free space that measures 4′ by 6′ or greater, with an overhead clearance of at least 10″.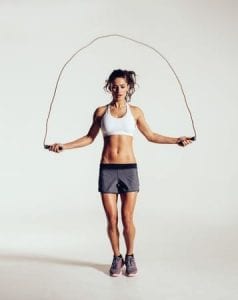 If possible, exercise on a wooden floor or a piece of plywood.  If you have no choice but to jump rope on grass, carpet or asphalt, an exercise mat will help you avoid injury by absorbing the impact as you land.
While carpet does provide a cushioning effect, it is still important to use a mat when exercising on it.  This is because your shoes could catch on it and you could twist your knee or ankle.  It's also important that you wear a supportive pair of sports shoes when jumping rope.
Place one end of the rope in either hand and stand on the rope.  Shorten it if necessary, so that the handles are about in line with your armpits.
As you turn the rope, keep your elbows close to your sides and make sure the movement comes from your wrists and forearms.  Jump 1 to 2 inches off the floor, landing on the balls of your feet.
Do this continuously for 20 seconds.
Click here for a Jump Rope video demonstration
---
4. Mountain Climbers
Mountain Climbers increase the heart rate and improve leg strength and endurance.  Done slowly, it is an extremely effective Tabata exercise for beginners.  Increasing the speed of the movements will make it suitable for advanced level exercisers.
To perform Mountain Climbers, follow the instructions below:
Starting in an elevated Push-Up position, jump, drawing your right knee up towards your chest, pushing your left leg back, so it is extended behind you with your foot resting on the floor.  Throughout this movement, your hips should remain level, not elevated.
Alternate the movement so that one foot is always coming towards your chest as the other is going back behind you to land on the floor.
Do as many reps as you can in 20 seconds.
Click here for a video demonstration of Mountain Climbers
---
5. Plank Jacks
Plank Jacks are simple to do and effective for toning the core, while also providing a good cardiovascular workout.
To perform Plank Jacks, follow the instructions below:
Assume a Plank position, with your weight supported on your forearms and toes, your hands in loose fists.  Brace your core muscles, keep your back straight and your feet together.
Jump your feet out to either side, so your legs make the letter Y shape, before jumping your feet back to their starting position.
Repeat these movements as many times as you can in 20 seconds.
Click here for a video demonstration of Plank Jacks
---
6. Push-Ups
Another simple exercise and one most people are very familiar with is the Push-Up, which gives an excellent upper body workout.
To perform Push-Ups, follow the instructions below:
Get into a Plank position, your hands slightly wider than shoulder-width apart, your feet close together.  Straighten your back and brace your core muscles.
Bend your arms, lowering your body towards the floor in a straight horizontal line, stopping when your nose touches the floor.  Straighten your arms, lifting your body back to your starting position.
Do as many repetitions as you can in 20 seconds.
Click here for a video demonstration of Push-Ups
---
7. Superman
Superman does a great job of strengthening the back and working the core, glutes, and hamstrings.
To perform Superman, follow the instructions below:
Lie face down on the ground, keeping your spine in a neutral position.  Reach your arms forward, your legs straight out behind you and your core muscles held tight.
Keeping your chest glued to the floor, lift your hands and feet upwards, squeezing your glutes and shoulders before lowering your hands and feet to their starting position.
Do as many reps as you can in 20 seconds.
Click here for a video demonstration of Superman
---
8. Squat Jacks
Squat Jacks are a combination of two of the most popular bodyweight exercises, these being the Squat and the Jumping Jack.  Providing a great workout for the legs and cardiovascular system, Squat Jacks are well worth including in your arsenal of Tabata exercises.
To perform Squat Jacks, follow the instructions below:
Squat with your feet positioned at least shoulder-width apart, your hands together in front of you.
Keeping your butt lined up with your knees throughout, jump your feet inwards, allowing them to meet in the middle, then jump outwards bringing your feet back to their starting position.
Repeat as many times as you can in 20 seconds.
Click here for a video demonstration of Squat Jacks
---
9. Tabata Sprints 
Another one of the most challenging Tabata exercises for beginners is the Tabata Sprint.  This can be done on a treadmill, or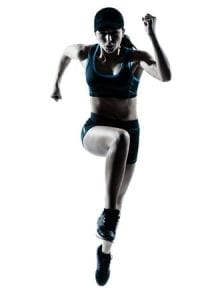 outdoors.  Starting with a 20-second sprint, this is followed by 10 seconds of jogging, walking or rest.
To perform Tabata Sprints, follow the instructions below:
Stand with your legs slightly bent, your chest held high, back straight, shoulders relaxed and your eyes looking straight ahead.
Sprint forward, swinging your arms to increase your speed and keeping your elbows held at a 45-degree angle.  Go as far and as fast as you can for 20 seconds.
Click here for a video demonstration of Tabata Sprints
---
10. Windshield Wipers
Windshield Wipers is a great core and oblique exercise that is quite easy to do.  For added stability, hold a cushion or folded towel between your knees throughout.
To perform Windshield Wipers, follow the instructions below:
Lie on your back on the floor with your knees bent and lifted up above your hips.  Position your arms so that they are flat and straight out to either side, so your upper body forms a T-shape.
Rotating your hips, lean your knees to the right.  Twist as far as you can, without allowing your left shoulder to come off the ground.  Stop just before your legs touch the ground.  Rotate your hips and twist your knees back to their starting position.  Repeat, working the other side.
Do as many repetitions as you can in 20 seconds.
Click here for a video demonstration of Windshield Wipers
---
Tabata Workout for Beginners
Final Thoughts on Tabata Exercises for Beginners
The Tabata exercises for beginners outlined above are just 10 of many that can be undertaken during this versatile, efficient and extremely effective form of exercise.  Whether you're a beginner, intermediate level or experienced, the exercises can be customized to suit your fitness level, but brand new exercisers should not attempt Tabata.
While the 4 Minute workout may sound like a walk in the park and many of the moves you incorporate into your sessions may seem easy, when done according to Tabata Protocol, they will be extremely challenging.  If you don't feel totally spent at the end of the 4-minute workout, you didn't go hard or fast enough.