This post may contain affiliate links. If you click a link and buy something, I may receive a small commission at no extra cost to you.
If you're looking for top-rated Fitbit comparison reviews, you've come to the right page.
The activity tracker provides an easy means of monitoring your fitness progress.
One of the most popular brands in this very competitive field is Fitbit, who offer a range of models with various useful features.
High in quality and reliable, Fitbits cater to users of all fitness levels.
The most basic models track how many steps you take, how many miles you travel and the number of calories you burn.
Some give a heart rate reading and provide sleep pattern data.
With several top-rated Fitbit tracking devices to choose from, knowing which one to buy can be confusing.  If you're a runner, for example, you may not need a waterproof model.  You may, however, want a tracker with an altimeter.
In this top-rated Fitbit comparison reviews article, we will look at the current best selling Fitbit Activity Trackers to help you decide which will be right for you.
Models we will cover include the Fitbit Charge 2 Activity Tracker, the Fitbit Alta Fitness Tracker, the newly released Fitbit Alta HR, the Fitbit Flex 2, the Fitbit Blaze Fitness Tracker, the Fitbit Zip Activity Tracker, and the Fitbit One Tracker.
All but the Zip and the One are worn on the wrist, with these designed to be clipped onto clothing or slipped into a pocket or bra.  These are good
options for people who would rather have their wrist free, but keep in mind that clip-on devices can be lost more easily.
The Fitbit One and the Fitbit Flex 2 can be attached to an ankle band if desired.  The Fitbit Flex 2 can be worn as a neck pendant.
The free Fitbit app is compatible with iOS, Android, and Windows applications.
Most models have customizable dials and bands that can be changed to suit your outfit.  New band styles and colors are added regularly, so be sure to use the link at the bottom of this page to visit Amazon where you can check out the current range on offer.
If you're not sure about which features you will need, read How to Buy a Fitness Tracker to Suit Your Needs.
Keep reading for 7 top-rated Fitbit comparison reviews.
7 Top Rated Fitbit Comparison Reviews
FITBIT CHARGE 2 ACTIVITY TRACKER 
Fitbit Charge 2 Overview, Features & Pros
The Fitbit Charge 2 is a heart rate monitor and activity tracker.  Suitable for serious walkers, runners, hikers, and
bikers, it can also be used to track elliptical and weight training workouts.
Additionally, this particular model has Interval Mode, which is useful for HIIT training and the like.
The band of the Fitbit Charge 2 is slimmer than that of its predecessor, the Fitbit Charge HR.  Its scratch-resistant OLED display is four times larger.
The larger display will enable you to view a more comprehensive range of workout stats simultaneously, as well as the time and the date.
Handy features include MultiSports Mode, Presets for selected activities, and Cardio Fitness Score Tracking.  The latter assigns you a heart health score based on the information you provide, including your age, gender, weight, resting heart rate, and heart rate during exercise.
An accelerometer counts steps taken, while and altimeter tracks floors climbed.  Other available stats include distance covered and sleep quality.  Two to five minute "guided breathing sessions" can be used to help you relax.
This model has a stopwatch, a silent alarm, and a GPS tracking function.  The latter can be synced with a smartphone to enable you to view your workouts stats via the Fitbit app.  It also relays Call, Text and Calendar Notifications from your smartphone.
The tracker vibrates to remind you to move if you are falling short of the recommended 250 steps an hour.  While resistant to rain, water splashes, and perspiration, the Fitbit Charge 2 is not waterproof.
Fitbit Charge 2 Cons
The Fitbit Charge 2 falls short in a few areas.  Firstly, it does not have built-in GPS, and it is not waterproof.
Also, a small number of purchasers have stated that the heart rate reading can be inaccurate and that occasionally the touch screen doesn't respond.
Fitbit Charge 2 Bands
Similar in appearance to the Fitbit Blaze, the Fitbit Charge 2 has a black stainless steel face and a choice of stainless steel, blue, plum or teal silicone band.
Other Fitbit Charge 2 bands include leather options in black, braided black, chocolate brown, suede brown, braided gray, suede gray, silver, and gold.  Stainless steel color options include black, gold, rose gold, and silver.
Silicone Fitbit Charge 2 bands come in black, white, gray, blue, coffee, tangerine, fuchsia, plum, teal and peachy.  There are also two Special Edition models.  One of these is 22-karat rose gold plated with a lavender band.  The other is black with a gunmetal stainless steel band.
Fitbit Charge 2 Battery Life
The Fitbit Charge 2 Battery life is approximately 5 days.
---
FITBIT ALTA FITNESS TRACKER 
Fitbit Alta Overview, Features & Pros
If you're looking for something a little less utilitarian and you're on a tight budget, you should be happy with the
Fitbit Alta Activity Tracker.  Sleeker in appearance than the Fitbit Charge, it resembles the Fitbit Charge 2.
Its standard elastomer band can be swapped out for a soft leather one or a woven metal one.  Its 1 1/4″ wide OLED display is easy-to-read.
While its features are more basic than the Fitbit Charge 2, it is also less expensive.  User-friendly, with this model you will be able to track your Steps, Active Minutes, Distance Traveled and Calories Burned.
Other features include Smart Notifications and Reminders to Move, a feature lacking in the more expensive Fitbit Blaze.
Like the Fitbit Charge HR and the Fitbit Surge, the Alta comes with "Smart Tracking."  This feature enables the device to automatically detect when you undertake certain high-intensity activities, such as running or brisk walking.
It will not, however, detect light activity such as a Pilates session.  Nor will it pick up indoor cycling, unless you use a machine with movable arms.
The Fitbit Alta Fitness Tracker automatically tracks your sleep quality.  Something to be aware of though is that the display can sometimes light up when changing positions during the night.  To prevent this, before retiring for the night use the Fitbit app on your phone to turn off "Quick View."
The tracker's screen is customizable.  Tapping it twice activates it, with each subsequent tap enabling you to cycle through your activity stats.  The display lights up when you rotate your wrist upwards.
On the downside, the Fitbit Alta doesn't have GPS, Heart Rate Sensors, or some other features that are standard with more advanced Fitbit activity trackers.
Fitbit Alta Cons
On the downside, the Fitbit Alta lacks a heart-rate monitor.  A small percentage of purchasers have claimed that the step count reading can be inaccurate when undertaking certain activities, and the tap screen occasionally the tap screen fails to respond.
Fitbit Alta Bands
The standard bands that come with the Alta are elastomer in a choice of either black, white, blue, hot pink, blush pink, green, orange, purple, slate, teal, and yellow.
Genuine leather Fitbit Alta bands come in black, matte brown, bamboo textured brown, glossy brown, matte gray, weave gray, coffee, camo, silver, gold, rose gold, pink and red.
Woven metal band options come in black, blue, coffee, silver, rose gold, and so-called multi-colored colorful.  Special Edition Fitbit Alta bands come in black with 22-karat gold plating and pink with 22-karat gold plating.
Fitbit Alta Battery life
The battery life for the Fitbit Alta Activity Tracker is approximately 5 days.
---
FITBIT ALTA HR FITNESS TRACKER
Fitbit Alta HR Overview, Features & Pros
No top rated Fitbit comparison reviews article would be complete without the newest Fitbit Activity Tracker, the Fitbit Alta HR.  An upgraded version of the Fitbit Alta, the HR is 25% smaller than its predecessor, and it has a slimmer band.
The biggest improvement for some will be that the Fitbit Alta HR Fitness Tracker has a Heart Rate Monitor which gives you access to your heart rate in real-time, whether you are at rest or exercising, with Peak, Cardio and Fat Burn options.
Two new features you will have to wait for is Sleep Stages and Sleep Insights, which you will also be able to access with a Fitbit Blaze or Charge 2.
Sleep Stages enables you to continuously track your Light, Deep, and REM sleep, as well as how often you wake up.
Sleep Insights provides personalized advice for improving your sleep quality and it shows you the sleep patterns of other people of your age and gender.
This model enables you to receive email, text, and calendar notifications.
Fitbit Alta HR Cons
The Fitbit Alta HR doesn't have an altimeter or GPS, and its tap screen is unresponsive on occasion.
Fitbit Alta HR Bands
The Fitbit Alta HR Bands come in the same colors as the Alta, but the hues of the standard bands differ slightly.
Fitbit Alta HR Battery Life
At 7 days, the Fitbit Alta HR battery life is considerably longer than that of the original Fitbit Alta.
---
FITBIT FLEX 2 FITNESS TRACKER 
Fitbit Flex 2 Overview, Features & Pros
The band of the Fitbit Flex 2 Fitness Tracker is slimmer than that of the original Fitbit Flex, and the device has extra features and functions.
An everyday
activity tracker, it can monitor walking, running, biking, cardio, weights, treadmill, and tennis workouts.  Stats displayed include your Steps taken, Distance Traveled, Calories burned, and sleep quality.
Unlike The Fitbit Flex, the Fitbit Charge 2 and the Fitbit Alta, this model is waterproof up to 50 meters, making it an excellent choice for swimmers who want to track their performance in the pool.
Able to monitor up to four different swimming strokes, it also counts how many laps you do.  Its Smart Track feature automatically detects when you commence doing certain activities, including swimming, and starts tracking your progress.
The Fitbit Flex 2 doesn't have a display as such.  Instead, five tiny LED lights indicate your progress towards meeting your daily step count.  The lights flicker and send out a vibration when you reach an activity goal.  They also alert you when you receive a Smartphone Notification, and the device vibrates Reminder Alerts to encourage you to stay active.
This model can forward Text and Call Notifications, but lacks the ability to display Calendar Alerts from your Smartphone.  It doesn't have Optical Heart Rate Sensors or GPS.  There's no Altimeter for tracking stair climbing, and it is missing the Custom Clock Faces feature.
Fitbit Flex 2 Cons
Not having a screen, you will need to use your computer or smartphone to view your workout stats.  The lack of a display also means you will have to wear a watch or depend on another method of telling the time of day.
Lacking GPS and heart rate functions, some activity readings will not be as accurate as when wearing a Fitbit with these features.  The lack of a Heart Rate Monitor also means that the Sleep Quality feature reading will be less accurate.
Fitbit Flex 2 Bands
Fitbit Flex 2 bands come in black, white, light gray, navy blue, teal, khaki, light purple, purple, red, rose red, lavender, magenta, and yellow.
Other choices include stainless steel, 22-karat gold plated, or 22-karat rose gold bracelets.  It is also available as a stainless steel, gold plated, or rose gold plated pendant with a 17″ long chain.
Fitbit Flex 2 Battery Life
The Fitbit Flex 2 Battery Life is up to five days.
---
FITBIT BLAZE FITNESS TRACKER 
Fitbit Blaze Overview, Features & Pros
If you're looking for an advanced smartwatch/fitness tracker, the Fitbit Blaze is worth considering.  Its
oversized octagonal face is easy to read and the appearance of its hi-resolution color touchscreen can be changed, as can its band and frame.  Band options include leather, black, and rose gold.
The Fitbit Blaze Fitness Tracker can display on-screen workouts, and it can accurately track over a dozen activities.
Included among these are your Steps taken, the number of Floors you've climbed, your Mileage, your Active Minutes, and the number of Calories you've burned.
It also provides information on Sleep Quality.  It also automatically tracks 15 different types of aerobic exercise, including walking, running, tennis, soccer, basketball, and elliptical trainer workouts.
The Fitbit Blaze Fitness Tracker has a music control feature that enables you to manage a music playlist from your smartphone or another compatible device.  Other notable features include MultiSports Mode, Pulse-Based Heart Rate Monitoring, and Smart Notifications such as Calls, Texts, and Calendar Notification.  There's also a Call Reject option and the FitStar app which provides guided workouts.
On the downside, this model lacks Guided Breathing and Cardio Fitness-Level Score Tracking features.  Its Quick View feature which activates the display when you lift your wrist to view the screen is occasionally unresponsive.
It isn't waterproof, and while it doesn't have GPS, it will pull GPS data from your phone if you carry it when exercising.
Fitbit Blaze Cons
It is not waterproof, and it doesn't have an inbuilt GPS.
Fitbit Blaze Bands
Standard Fitbit Blaze bands come in black and silver, blue and silver, and plum and silver.  There's also a Special Edition model in black with a gunmetal band.
Other Fitbit Blaze band options include all silver, and stainless steel with a choice of black, mist gray or camel leather.  Slim band models come in black or pink with 22-karat gold plating.
Fitbit Blaze Battery Life
The Fitbit Blaze battery life is up to five days.
---
FITBIT ZIP ACTIVITY TRACKER 
Fitbit Zip Overview, Features & Pros
The smallest and most basic Fitbit Activity Tracker is the Fitbit Zip.  Affordable and functional, it is similar in
appearance to a pedometer and it is worn like one, either clipped to the user's belt or pocket to count Steps, Distance Traveled, Calories burned, and Active Minutes.  It also displays the time.
Workout stats on the Fitbit Zip Tracker are viewable by tapping anywhere on the tracker's interface.  At midnight each night, the stats reset to zero.
The device syncs wirelessly with Fitbit's website and smartphone apps.  Providing you are within range of your phone, computer or the included Pc and Mac compatible dongle, the Zip will upload your data to fitbit.com automatically every 15 minutes.
If you don't need a Sleep Tracker, an alarm, or an altimeter, the Zip is a great option that costs less than the Fitbit One.
Fitbit Zip Cons
The screen of the Fitbit Zip isn't backlit, so it's not suitable for night time viewing.  It lacks an altimeter and a sleep monitoring feature.
Appearance
Weighing just 0.3oz, the Fitbit Zip Tracker measures 0.2″ x 1.2″ x 1.8″.  Available colors include black, white, blue, lime, and magenta.
Fitbit Zip Battery Life
Operating by way of a non-rechargeable battery, the Fitbit Zip Activity Tracker battery life ranges from four to six months.  You will then need to buy a replacement battery.
---
FITBIT ONE ACTIVITY TRACKER
Fitbit One Overview, Features & Pros
The Fitbit One is a small, lightweight activity tracker that can be slipped into your pocket or worn clipped onto your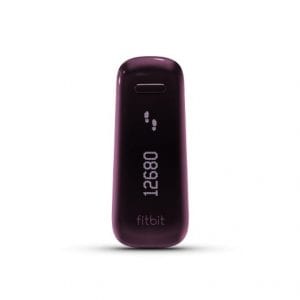 belt or waistband to monitor basic metrics.  Included among these are how many Steps you take, your Distance covered, Floors climbed, and Calories burned.
It also displays the time and tracks your sleep.  A Food Log estimates how many calories you burn and you can also log your workouts.
Very easy to operate, cycling through your workout stats is as simple as pushing a button.  A flower on the dial becomes larger the more active you are, enabling you to view your progress at a glance.
The tracker syncs wirelessly with your mobile phone through Bluetooth.
If you don't have a smartphone, the device can be synced with your computer through the provided wireless dongle.  Accessing either of these will give you a more detailed overview of your activities.
Fitbit provides the provision to connect with your friends who have Fitbit accounts and compare your progress to theirs.  It also has some motivational features that can encourage you to more active.  For example, from time-to-time messages such as "I'm Ready!", and "You Rock!", flash onto the screen.  And "badges" are awarded upon reaching fitness milestones, or for walking more steps than you have previously.
To track your sleep, place the tracker into the sleep wristband before you go to bed.  Made of soft cloth, the wristband fastens with Velcro.  An alarm can be set to make the device vibrate gently to wake you up.
Fitbit One Cons
The Fitbit One can't be worn on the wrist as a daily activity tracker.  Its stair climbing readout is sometimes inaccurate, and a number of purchasers have questioned the accuracy of the step count reading.
Fitbit One Appearance
Weighing 0.3 ounces, the Fitbit One measures 0.2 x 0.8 x 2.2 inches.  It comes in black, and burgundy.
Fitbit One Battery Life
The Fitbit One battery life is five days.
---
Top Rated Fitbit Comparison Reviews Summary
I hope this Fitbit Comparison reviews article will help you to decide which Fitbit Activity Tracker will be right for you.
Extra features and functions are regularly added to the trackers, and new band colors and models are introduced from time-to-time.  So if you're thinking of buying a Fitbit, use the link below to visit Amazon and see what's new.