This post may contain affiliate links. If you click a link and buy something, I may receive a small commission at no extra cost to you.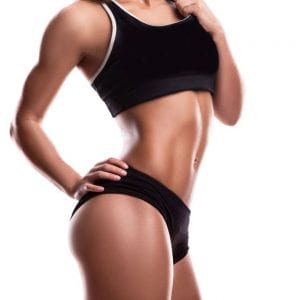 Today, we will look at the Total Gym 1100 Home Gym, the entry-level model in the popular Home Gym range which you have probably seen advertised by Chuck Norris.
If you're looking to buy one piece of fitness equipment that will work your entire body, a home gym would be an excellent choice.  But while versatile and efficient, home gyms have a couple of drawbacks.
Firstly, they can be expensive to buy. They can also take up a lot of room. Fortunately, there are some excellent budget-friendly models available that don't take up too much space.
The Total Gym 1100 Home Gym is one of these.  It is, in fact, among the most affordable fitness aids of its type.  And, along with being relatively compact, it folds to store.
In this Total Gym 1100 review, we will look at its specs, an overview, its pros, cons, and more to help you decide if it will be right for you.
Who will the Total Gym 1100 Suit?
The Chuck Norris Total Gym 1100 best suits new to intermediate level exercisers, and anyone weighing under 275 pounds who wants to improve their muscle tone and fitness.  Workouts are short, so it would be great for people who don't much time to exercise.
It will also suit anyone who doesn't have a lot of space for bulky fitness equipment.  It will not, however, be the right model for people who want to get really buff.
Total Gym 1100 Home Gym Specs
Assembled dimensions – The Total Gym 1100 measures 99 1/2″ (W) x 43 3/4″ (H) x 16″ (D)
Glide board dimensions – Its glide board measures approximately 44″ (L) x 14″ (W)
Folded dimensions – The gym folds down to approximately 4′ x 2′
Weight – It weighs 54 lbs
Weight load – This model can support up to 275 pounds
User height – Purchasers from 5′ to 6′ 4″ tall have left positive feedback for the gym
Total Gym 1100 Home Gym Overview
With a Total Gym 1100, you will be able to improve your strength, endurance, flexibility, and cardio fitness as you tone your muscles.  Workouts are gentle on the joints, making the machine suitable for almost anyone.
The unit is robust and durable with a steel frame that will endure years of use.  It provides smooth, quiet, and stable low-impact workouts.
Three ten to twenty-minute sessions a week will be enough for you to start seeing results.  Utilizing your body weight and gravity, you will be able to do over 60 different exercises.  These are shown on the included easy-to-follow exercise chart.
Using the ergonomic glide board with handles, you can target your entire upper and lower body and your abs.  There are six different levels of resistance to choose from ranging from 6% to 48% of your body weight.
Start with one of the lower levels then, as you become stronger and fitter, adjust the angle of
the glide board to increase the challenge.  The leg and wing attachments provide access to arm and leg exercises.
Your gym will arrive almost completely assembled, so you can be using it within minutes of unboxing it.  And when you've finished workout out, if desired, you can quickly fold it to store in a closet or beneath a bed.
The Total Gym 1100 comes with a 1-year warranty, so you can buy with confidence knowing you will be covered in the unlikely event that there's a problem.
On a less positive note, this machine does have one obvious limitation.  With regular use, you may eventually outgrow the resistance it offers.  For the average user who does not aspire to build a lot of muscle but just wants to improve their shape and fitness, this will not be an issue.  One way to increase the resistance would be to wear wrist and ankle weights during your sessions.  As long as the combined weight is under 275 pounds, you will be good to go.
If you need a model with a higher weight limit, click this link to read a review of the Total Gym XLS Trainer which has a weight limit of 400 pounds.  Along with being able to support a greater weight, it is exceptionally robust, it comes with more accessories than the 1100, and it offers access to a greater range of exercises.
The next of this Total Gym 1100 review will cover its pros, followed by its cons.

Total Gym hip & thigh workout demo
Pros
Sturdy & durable  
Smooth, quiet, and stable to use
Suitable for all ages and fitness levels
Offers 6 resistance levels
Gives access to over 60 different exercises
Tones and strengthens multiple muscle groups simultaneously
Improves flexibility, endurance, and cardiovascular fitness
Comes with a nutrition guide and an exercise chart
Arrives almost totally pre-assembled
Cons
The Chuck Norris Total Gym 1100 will not provide enough resistance for anyone who is already very fit
Some customers have stated that the gym takes up more room than they'd anticipated, so be sure to check the measurements before you order
Total Gym 1100 Home Gym Summary
The Total Gym 1100 would be an excellent option if you're looking for a versatile and affordable home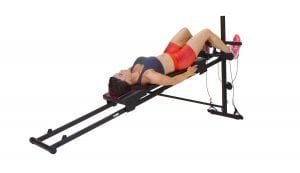 gym that doesn't take up a lot of space.  Coming with adjustable resistance, it offers access to over 60 different exercises, providing full-body workouts.
The gym is durable, smooth and quiet to use, and it folds for storage.  It is also stable, making for more comfortable and secure workouts.
If this isn't the right model for you, click this link to read reviews of other popular home gyms.