This post may contain affiliate links. If you click a link and buy something, I may receive a small commission at no extra cost to you.
The Total Gym XLS Trainer is the most popular model in the Total Gym range.  Relatively compact considering all it offers, it provides access to over 80 different low-impact exercises that target the core, legs, arms, chest, back, and more.
Along with toning your muscles, regular sessions will increase your strength and endurance, improve your coordination and balance, and enhance functional performance of day-to-day activities.
Workouts will also improve your cardio fitness and burn calories, which over time will result in weight and inches lost.
And, with a number of resistance levels to choose from, you will be able to grow your fitness as you become stronger.
Total Gym workouts are short, and if you undertake them regularly, you will quickly notice visible results.
In this Total Gym XLS review, we will look at its specs, key features, pros, cons, and more.
Who will this model best suit?
People of any fitness level can use this home gym; however, if you're a seasoned athlete or you want to develop a lot of muscle, it probably won't suit you.
This model's high user weight limit makes it a viable option for almost anyone.
Total Gym XLS Specs
Assembled dimensions – Assembled, the Total Gym XLS Trainer measures 19″ (W) x 90″ (L) x 43″ (H)
Clearance – For unrestricted workouts, allow a space of between 24″ and 36″ on all sides of the gym
Folded dimensions – Folded, the machine measure 19″ (W) x 51″ (L) x  9″ (H)
Glideboard – The glide board measures 16" x 47", and it is 1 1/2″ thick
Weight – It weighs 82 lbs
Load capacity (total body weight and plate weights combined) – This model can support up to 400 pounds
Maximum user height – The recommended maximum user height is 6'2″
Total Gym XLS Overview
The Total Gym initially made its mark in rehabilitation centers, helping patients to recover from physical injury.  Customizable to all fitness levels, its padded glide board and head support provide excellent support, and its smooth gliding motion is gentle on the joints.
Total Gym XLS workouts are done sitting or lying down on a non-tear vinyl foam padded board that glides up and down on tracks that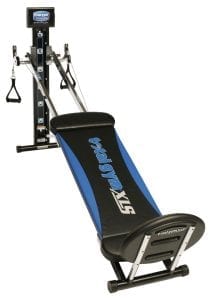 are attached to pulleys.  The movement is controlled by pushing or pulling on two nylon strap handles, with your body weight and that of the board providing resistance.
The resistance can be increased by adjusting the tracks' incline to a higher position or reduced by setting them lower.  The resistance settings range between 6 and 26 degrees, and 6 to 54 percent of the user's body weight.
This one machine can take care of all of your fitness needs, along with those of your entire family.
Accessories
Accessories that come with the gym include a Wing Attachment, a Leg Pull Machine, and a Ribbed Squat Stand.
The Wing Attachment is used for upper body Push and Pull exercises, and Crunches.  The Leg Pull Accessory stretches and strengthens the major lower body muscle groups, including the Hamstrings and Quads.  The Squat Stand is used to do Squat routines, targeting the entire lower body.
You will also receive 5 Workout DVDs and a "Training Deck" of exercise cards containing around 90 exercises.  There's an instructional wall chart containing 35 exercises, a Nutritional/Meal Planning Guide from Hollywood fitness expert Dan Isaacson, and a Beginner, Intermediate, and 5-Day Advanced Program designed by Todd Durkin.
There's also the option of buying an Ab Crunch attachment.  This will give you access to 10 additional ab and core strengthening moves that target the entire midsection.  If you buy this version, you will also receive the Total Gym AbCrunch Workout DVD.
The workouts on the DVD are as follows:
Start It Up! – An introductory workout
6-8 Minute Workout – 12 quick and efficient follow-along workouts
Smart Training Workout – An effective workout targeting the muscles through slow and precise movements
Body Makeover – A fast-paced, high-powered workout
While 80 different exercises can be done on the Total Gym, many of these are slight variations of other exercises, so the real number is around 30.
Workouts alone will bring great results, but better and faster results will be achieved by also improving your diet as outlined in the nutritional guide.

Click on the image above to check out the gym on Amazon.
Or click on the banner directly below to save and get free shipping.
The next section of this Total Gym XLS review will look at its pros, followed by its cons.
Total Gym XLS Video Overview
Pros
The Total Gym XLS Home Gym is compact for a fitness aid of its type, and it folds up for easy storage.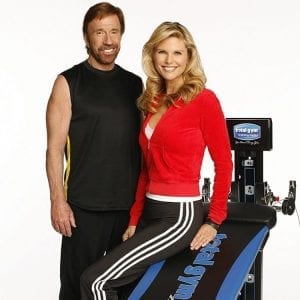 Comfortable and supportive
Comfortable to use, the bench contains 1.5″ of foam padding which provides ample support and comfort.  It also has a headrest.
6 resistance level options enable users to increase the difficulty of workouts as their fitness improves.  This feature also enables every family member to use the gym.
Providing access to over 80 exercises, this model will take care of all of your fitness needs from muscle toning, to stretching, strength and endurance, cardio, and circuit training.  The variety of exercise options will allow you to work your muscle groups in different ways, optimizing your results and helping to prevent boredom which can derail even the best intentions.
The Total Gym XLS Trainer will give you a full-body workout in around 30 minutes.  Your workouts will be shorter if you alternate the muscle groups you target.
A generous 400-pound load capacity caters to most potential users.
The Total Gym XLS comes with an updated and improved Squat Stand, a new Pulley & Cable System, and additional padding on the glide board.
The gym comes assembled.  Just unfold it and you will be ready to go.  A DVD showing how to attach the various accessories is included.
The gym comes with a lifetime warranty on its frame.
Cons
If your aim is to build a lot of bulk, this model will not be for you.
Not suitable for very tall individuals
People over 6′ 2″ may find that they can't achieve full extension when doing some of the exercises.
The warranty covering parts is only 6 months.
Buyer Feedback
The Total Gym XLS Home Gym has overwhelmingly positive buyer feedback from purchasers of various age groups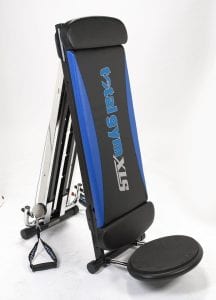 and fitness levels, with the vast majority having nothing but praise for it.
The machine's solidity and durability have received favorable comments, as has the range of exercise options and the workout cards which explain these.  Many users have said that they enjoy the workouts and that since undertaking them regularly they have lost weight and shed inches.
On a less positive note, a few purchasers received gyms with damaged parts.  Rest assured that if your gym sustains damage in transit, the manufacturer will replace it or the part impacted.
One purchaser under 5 feet tall said she wasn't able to maintain the correct form when doing some of the exercises.
Total Gym Trainer XLS Trainer Summary
The Total Gym XLS would be a worthwhile investment for beginner to intermediate level exercisers seeking a compact home gym.  While it has a few negatives, these are in the minority.  Its small footprint, folding ability, and higher than average user weight limit are major positives of this model.  However, if you are under 5 feet tall or over 6 feet 2″, this will not be the best home gym for you.
Unlike some fitness aids that provide barely adequate instructions, the Total Gym XLS Trainer cards, DVDs, and exercise chart explain everything in a very simple fashion, from how to open the box to details of the exercise options.
If you want to save a bit of money and you don't all of the accessories the XLS offers, check out the Total Gym 1100.  Coming with 6 resistance levels, it can support a weight of up to 275 pounds, and it offers access to 60 different exercises.
If you want a gym with a higher weight limit and more resistance levels, take a look at the Total Gym FIT.  The gym offers access to 85 different exercises, it has 12 resistance levels, and it has a weight limit of 450 pounds.
Still not sure which one to get?  Click here to read reviews of popular models from other manufacturers.
Or click on the banner directly below to buy directly from the manufacturer and save and get free shipping!