This post may contain affiliate links. If you click a link and buy something, I may receive a small commission at no extra cost to you.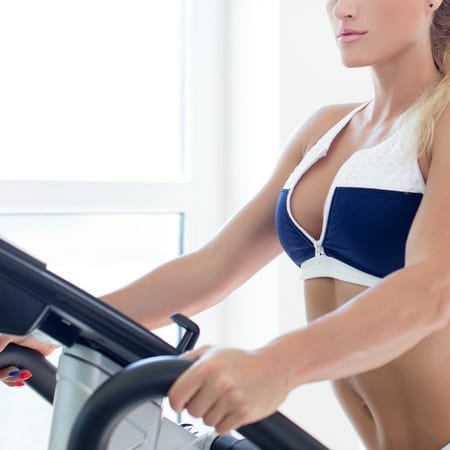 The aim of this treadmill buying guide is to help you simplify the selection process by narrowing down your options so you can choose a treadmill that will suit your needs.  In fact, it came about when I was looking at buying a treadmill myself.  I quickly found that with so many brands and models to choose from, it was difficult to settle on one.
While most of us would love to be able to buy a treadmill that has all the bells and whistles, a small budget can preclude this.  Such a treadmill won't necessarily give you a better workout, either.  Some models that have relatively basic features are affordable, and they will give you a very effective workout.
Finding the right balance between quality, function, and price will ensure that you end up with a reliable treadmill that will give you years of trouble-free use.
In this treadmill buying guide, we will discuss the main things to look for when buying a treadmill.
Treadmill Buying Guide – Tips on Buying a Treadmill
Treadmill Buying Guide Tips
The home treadmill offers a convenient means of exercising, without having to step outside your

front door.  Whether you want to get fit, lose weight or tone up, a treadmill can help you to achieve your goal.
Settling on a model can be confusing with so many options on offer, so I recommend that you read this treadmill buying guide in its entirety before you start to look.
Following are 14 of the most important things to consider when buying a treadmill for home use.
Before you buy a treadmill, think about where you will locate it.  If you have a large area of free space, you will be able to buy a bigger treadmill than someone with limited space.  If the space you have in mind is not in a convenient location, look for a treadmill that folds.  It will also be more practical if it has transport wheels.  You will then be able to fold it and wheel it away to store, between workouts.
Some treadmills fold flat enough to be stored inside a closet or rolled under a bed.  The deck of others fold up, enabling the treadmill to be left in a corner, or another out-of-the-way spot.  You will still need quite a bit of storage space, though.
Before buying a treadmill, measure the space you plan to house it in and find out the unfolded and folded dimensions of the model you are thinking of getting.  Doing this will ensure the treadmill you buy will fit the available space.
The next thing to decide upon when buying a treadmill is how much you want to spend.  The adage "you get what you pay for" is true to a certain extent.  Still, there are some very reasonably priced, high-quality treadmills available that should give you years of trouble-free service.
A budget-priced treadmill might not have an incline function or as many workout programs as an expensive model.  It may also lack extras such as a fan, a book rack, and an MP3/iPod port.  There are, however, some inexpensive models that do come with these.  Remember, the most important thing is that your treadmill gives you an effective workout that allows you to achieve your fitness goals.
By setting a budget and sticking to it, you will not overspend.  You won't waste time looking at treadmills you can't afford, either.
This treadmill buying guide would be incomplete if I didn't reference the most important consideration of all, that being safety.
A solid, sturdy treadmill will be safer than a flimsy one.  It will also provide a smoother, more pleasant workout experience and it will be more durable.  A treadmill with side railings will give added security, especially for anyone who is unsteady on their feet or recovering from an injury.
Ideally, your new treadmill will have a safety key.  A safety key acts as a circuit breaker.  If the key is not in place, the circuit will not be complete.  With no power to the treadmill, it won't start.  This is an especially important consideration if there are young children or pets in your household.
The safety key is usually attached to a cord, the free end of which can be clipped to your clothing during workouts.  Should you slip or fall, the power to the treadmill will be cut, and it will immediately stop moving.  You can also stop the treadmill quickly, by disengaging the key.
*It's a good idea to locate your treadmill in an area that pets and young children can't access.  It's also wise to cover any moving parts to ensure they can't be accessed by tiny fingers, hands or paws.
**Store the safety key in a safe place after your workouts, away from young children.
Before buying a treadmill, think about what it will be used for and by whom.  If you buy a treadmill based on looks alone, you could end up with one that doesn't suit your requirements.  This will inevitably lead to disappointment and could ultimately result in you abandoning working out.
If you are of a heavy build and/or you plan to run on the treadmill for an hour or more every day, you will need a more powerful model than someone of slight build who plans on walking on the treadmill for twenty or thirty minutes, a few times a week.
Some cheaper treadmills have a 1HP or 1.5 HP motor.  These models are only adequate for short walking sessions.  For heavier use, it's best to pay extra for a treadmill with a more powerful motor.  If more than one person will use the treadmill, purchase one that can accommodate everyone.
Choosing a model with more horsepower also means you won't be as likely to outgrow it as your fitness level increases and you wish to do longer and faster workouts.
The minimum horsepower I'd recommend if you are on the heavy side or if you plan on using the treadmill for very long sessions on a daily basis, is 2.0 Continuous Duty HP for walking, 2.5 HP for jogging and 3.0 HP for running.  People who are of average weight or lighter will do fine with a machine that has less horsepower.
While the noise factor might not bother some people, if you have a baby or share your house with someone who works nights and will be trying to sleep while you work out, a noisy treadmill can be a problem.  It could even prevent you from working out.
Another reason for choosing a treadmill that runs quietly is that it will enable you to easily watch TV, listen to music or carry on a conversation with your housemates as you work out.
Some treadmills have inbuilt workout programs.  Some have a lot, others a few.  The price differential between these can vary greatly.
Usually, the more programs a treadmill has, the higher its price will be.  There are, however, some high-quality treadmills with multiple workout programs that don't cost a fortune.  There are also treadmills that don't have any programs which will give you a very good workout.
The advantage of buying a treadmill with preset workout programs is that such a treadmill can make it easier for you to achieve your fitness goals.  Simply press the button for the workout you want to do and the treadmill will control the speed and incline level (when applicable).  All you will have to do is walk or run.
Preset programs can include Weight Loss, Intervals, Calories, Cardio, Performance, and more.  Some treadmills provide several levels of each program, along with the option of customizing your workouts.
Some treadmills can be inclined, while others do not have this function.  Buying a treadmill with incline capability will enable you to get more from your workouts.  If you're new to exercising, you can work out on the flat, gradually increasing the incline as your fitness improves.  Doing this, you will continue to grow your cardio fitness with more challenging workouts, and you will burn extra calories.  Exercising on an incline will also help you tone up faster.  By varying the incline and speed of your workouts, you can do interval training.
Treadmills come with a few incline levels, or over 20.  Some also decline.  Most treadmills with incline offer a range of between 10% and 15%, and if they decline this will usually be to between -1% and -3%.  The advantage of exercising on a decline is that doing so works different muscles than when working flat or on an incline.  An additional benefit of a treadmill which declines is that it will more accurately simulate hiking or running in hilly terrain.
A display screen showing workout stats is useful for monitoring your progress and setting new fitness goals.  Stats displayed may include time, speed, distance, incline, and calories burned.  If your treadmill has a heart rate monitor, the screen will display your current heart rate, enabling you to exercise in your optimal fat-burning zone to get the best cardio workout.
Before buying a treadmill, make sure its monitor is reasonably large.  Also, check that screen is bright enough for you to read at a glance.  If it is backlit, you will be able to read your stats more easily, even in dim lighting.
Shorter people who will only be using their treadmill for walking will not require as long a belt as taller people, and those who will be running on their treadmill at full stride.  The width of the belt is important, too.  A belt that is too narrow will restrict your movement.  It could also be dangerous as your feet could fall off the sides.
As a rough guide, a tread belt that is 18 inches wide should be fine for walking.  A width of at least 20 inches is preferable for running.  As for length, I'd recommend at least 48 inches if you plan on using the treadmill for walking and 54 inches or longer if you will be running on it.
Belt length preference is a personal thing. though.  For walking, someone who is short might be quite comfortable with a belt that is 16 inches wide and less than 48 inches long.  A very tall person will probably be happier with a belt that is at least 22 inches wide and 60 inches long.
When buying a treadmill, don't overlook the importance of its deck.  The construction of the deck determines how smooth and comfortable your treadmill feels during workouts and how well it absorbs pressure and shock.
These days, treadmill decks are often made of powder coated steel or laminated wood that has been coated with lubricant.  This surface minimizes friction between the deck and the belt, which reduces strain on the treadmill's motor.
Suspension is provided by the shock absorbing pads the deck sits on.  A treadmill with a thick deck and soft shock absorbers will put less pressure on your joints and be more comfortable to use.
Many newer treadmills come with a lot of extra features and accessories.  While not essential for an effective workout, they can make for a more enjoyable one.
Features and accessories can include iPod docks, USB ports, and wireless Internet capability.  Also drink bottle holders, magazine/tablet racks, and cooling fans.  Some treadmills have iFit Live technology.  This increasingly popular feature accesses Google Maps, allowing you to "virtually" run the terrain of your chosen course, worldwide.
With iFit Live, you can track workouts on your iPhone and monitor how many calories you burn doing sports such as basketball, running, and weightlifting, among others.  You can also store meal plans and access numerous workouts led by well-known celebrity fitness trainer Jillian Michaels.  Some treadmills even come with built-in television.
If you think buying a treadmill with lots of extras will help you stick with your workouts and you don't mind paying more for one, then, by all means, go for it.  Remember though, if you want good results, you will need to put in the effort and work out regularly.
Treadmills don't usually come assembled.  Most people won't have a problem with the assembly process, but if you don't want to do the job yourself, you can get someone to do it for you.  While some manufacturers include assembly as part of the deal, usually you will have to pay extra for this service.  Count on one or two hours labor and keep in mind that some steps in the assembly process may require two people.
Most treadmills come with clear assembly instructions.  Many manufacturers also provide online support, and there will usually be a helpline you can call should you have a problem.  Any necessary tools for assembling the machine should be included in your treadmill package.
The longer the warranty the manufacturer gives, the better.
The best treadmills come with at least a 10-year warranty on the motor.  Some have a lifetime warranty.  They also cover 2 or 3 years or more for parts and 1 year or more for labor and electronic components.  Any problems will usually be obvious within 90 days of regular treadmill use.  Most will be minor.
Start using your treadmill right away.  This way, you will be aware of any issues while the treadmill is still under warranty.
This treadmill buying guide should help you to find the right model for your needs.  Still, before buying a treadmill, it's a good idea to read purchaser reviews of the models you are considering.  This can help you to avoid a costly mistake.  Just because a treadmill costs more, doesn't necessarily mean it is better.
When researching reviews, check all of the online sources you can.  This will give you a good overview and make you aware of the key features, pros, and cons of the various brands and models.
One of my favorite sources for checking out reviews is Amazon.  If the treadmill you are thinking of buying has a lot of positive feedback and a 4 star or higher rating, you can pretty much be assured it will be a good buy.  It's also worth considering treadmills with a 3 1/2 star rating.  The lower rating could be due to something unrelated to quality or performance.
The feedback could even be for an old version of the product, so check the date it was published.  If most recent reviews are positive and there's a new model, any problems will likely have been resolved in the upgrade.  A quick read of the reviews will usually confirm this.
Buying a Treadmill Summary
Around for a long time now, thanks to advances in technology, treadmills are more popular today than ever before.
Some people decide to buy a treadmill because it's more comfortable and convenient to exercise indoors rather than pay gym fees or battle the weather extremes, traffic and poor air quality that can be part and parcel of exercising outdoors.  Others may want to buy a treadmill to have access to programs which simulate a specific race they are training for.  Whatever the reason, if you buy a treadmill that suits your purpose and you use it regularly, it will be an investment in your future health and fitness.
If you want to use your treadmill for running, it will be less stressful on your knees, ankles, and back than running on concrete or asphalt.  However you use it, you will be able to work out any time of the day or night that suits you, even late at night, without having to risk taking to the streets.  (Click this link to read about more benefits of treadmill exercise Vs walking, jogging or running on a hard surface.)
Selecting a treadmill with built-in workout programs, will enable you to monitor your sessions and progress accurately and know exactly how many calories you are burning.
Follow the tips in this treadmill buying guide and you should end up with a treadmill that both helps you to achieve your fitness goals and you enjoy using.