This post may contain affiliate links. If you click a link and buy something, I may receive a small commission at no extra cost to you.
If a lack of space and a tight budget have prevented you from getting a home gym, you need to check out the  Weider Ultimate Body Works exercise machine.
Manufactured by ICON Health & Fitness who have been creating award-winning fitness products for over 25 years, this home gym has everything new exercisers need for total body strengthening and muscle toning workouts.
Utilizing body weight, the gym incorporates a sliding adjustable incline bench with pulley and bar attachments.  A squat stand expands your workout options further.
Providing access to over 50 different exercises, whether you want to work your back, arms, shoulders, lats, abs, legs, glutes, or all of these, this machine can accommodate you.
If you're looking to build a lot of muscle, this model won't be for you as it will sculpt your muscles, but it won't add much bulk.  It doesn't have a lot of bells and whistles, but not everyone needs these, and it gets the job done.
In this Weider Ultimate Body Works review, we look at the machine's specs, an overview, its pros, and its cons.
NB: This home gym is no longer available on Amazon.  Click here to read reviews of popular alternatives.
Weider Ultimate Body Works Specs
Dimensions – The Weider Ultimate Body Works exercise machine measures 71″ (L) x 25 1/2″ (W) x 49 1/2″ (H)
Weight – It weighs 72lbs
User weight limit – This model has a user weight capacity of 250 pounds
Warranty – The gym comes with a 3 months parts and labor warranty
Weider Ultimate Body Works Overview
The Weider Ultimate Body Works Home Gym is among the most budget-friendly fitness aids of its type.  Its steel tubing construction and durable accessories also make it among the most robust and resilient in its price range.
The gym's padded bench is comfortable, and it glides smoothly during use.  I can vouch for this, having given my friend Jesse's Weider Gym a test-run.
The resistance of your workouts can be easily adjusted by changing the angle of the bench to suit your strength.  There are seven different options available.  The steeper the incline, the tougher the workout, so if you're new to exercise you will probably want to start with the bench flat.
A cable and pulley system allows unrestricted movement and a broad range of exercises that along with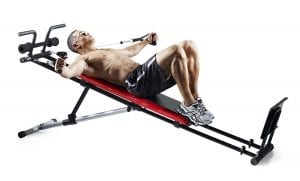 toning your muscles will increase your flexibility.
The four resistance bands that come with the machine can be incorporated into workouts to provide an extra 50lbs of resistance.
An advantage of using bands and not weight plates is that they are more gentle.  They also enable you to work out without a spotter.
The gym will help you to burn fat and calories as it tones your muscles and improves your strength, stamina, and flexibility.  Twelve of the exercises the machine can be used for are depicted on the packaging box.
You will find many more exercises online.  The site fitnessbliss.com is an excellent resource for this.  Alternatively, you can buy a Total Gym Exercise Chart.
When you've finished your workout, if desired you can fold the gym to store it.
The next section of this Weider Ultimate Body Works review discusses its pros, followed by its cons.
Pros
It is one of the best value-for-money home gyms on the market
Sturdy and durable, it should withstand regular use for many years without a problem
The gym provides smooth movement and excellent stability
The bench has 7 different incline position options
Adjustable resistance enables you to increase the intensity of your workouts as you become stronger
The unit folds to store, making it ideal if you don't have a lot of free space
The machine's unique cable and pulley system expand your exercise options
Coming partially assembled, completing the job less than a half an hour, with all that's required being to screw in three bolts
Unlike gyms that use weight plates, you won't need to use a spotter with this one.
Cons
The gym's glide space is a bit short
Once assembled, you will need a second person to help if you want to move it
While the device folds, you will need to detach a few parts if you want to store it beneath a bed
This model doesn't come with an exercise chart, so you will have to buy one or look online if you want to do more than the twelve exercises on the box
The warranty is short; however, you can extend it with a protection plan that is available for minimal cost
Weider Ultimate Body Works Summary
If you're looking for an affordable and durable home gym that will enable you to tone your entire body,
build lean muscle, and lower your body fat, Weider Ultimate Body Works is worth considering.
It is one of the best value home gyms available.  It doesn't require a lot of space, it folds for storage, and it provides access to a broad range of exercises.
To read reviews of other popular home gyms, click this link