This post may contain affiliate links. If you click a link and buy something, I may receive a small commission at no extra cost to you.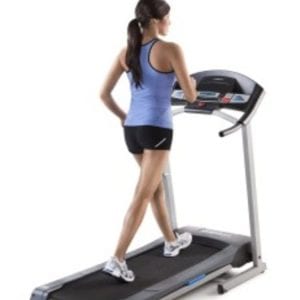 The Weslo Cadence R 5.2 Treadmill is a popular compact treadmill from Weslo, who are known for their value-for-money exercise equipment.
Though very basic, it comes with sufficient speed and programming options to satisfy new and intermediate exercisers.  It also has dual incline capability which will enable you to increase the challenge of your workouts as your fitness improves.
In this Weslo Cadence R 5.2 Treadmill review, we will look at an overview, its specs, key features and what purchasers have to say about it.
Weslo Cadence R 5.2 Treadmill Overview
The Weslo Cadence Treadmill R 5.2 doesn't require a lot of room.  While rather narrow, its running deck is reasonably roomy, making for safer and more comfortable workouts.  Adding further to its comfort is the treadmill's deck which is made from a state-of-the-art fabric that absorbs impact.
Suitable for walking and jogging, the Weslo Cadence R 5.2 has six pre-set programs that cater to the most popular workouts.  You can change programs by pressing a button, without interrupting your session.
The treadmill's deck can be manually inclined, enabling you to increase the challenge of your workouts, target different muscles and burn additional calories.
Workout stats are viewable on the LCD monitor, so you will know exactly where you stand when it comes to meeting your goals.  A heart rate monitor set into the handlebars enables you to track your pulse rate and adjust your pace if required, to stay in your best training zone.
The treadmill is quick and easy to assemble, and it folds for storage.
Weslo Cadence Treadmill R 5.2 Video Overview
Weslo Cadence R 5.2 Treadmill Specs 
Assembled dimensions – The Weslo Cadence R 5.2 measures 64 1/2″ x 55 1/2″ x 29″.

Folded dimensions – Folded, the treadmill measures 29″ (W) x 23 1/2″ (D).
Running surface – Its tread belt measures 16″ x 50″.
Weight – It weighs 118lbs.
User weight limit – The recommended upper user weight limit for this model is 250 pounds.
Weslo Cadence R 5.2 Treadmill Key Features
This Weslo Cadence Treadmill R 5.2 has a 2.25 HP Impulse Max Motor with 1.5 CHP.  The treadmill's internal components stay cool during use, enabling it to cope with regular, long workouts, without a hitch.
The Weslo Cadence R 5.2 has 6 built-in fitness programs.  These were chosen in collaboration with a certified personal
trainer, you will be able to exercise with confidence knowing you will get the best results in the shortest time possible.
The programs include 3 for cardio/weight loss and 3 for endurance.  By varying the programs, you will be able to gain more from your workouts.  Mixing things will also help to prevent a plateau and lower the likelihood of you becoming bored, as could happen if you were always to do the same workout.
To use the heart rate monitor, hold your thumb against the heart monitor icon located on the console.
Dual incline capability enables the treadmill's deck to placed at a 1.5% or 6% slope.  To implement this feature, pull down the legs at the back of the deck.  To reset the deck to level, push the legs back up again.
While some treadmills come with a greater range of incline options that can be chosen automatically by pressing a button, these are usually considerably more expensive than this model.
A small blue backlit LCD Multi-Window Matrix shows useful data metrics.  Included among these are your current resistance level, distance, speed, the time elapsed, calories burned and your heart/pulse rate.  A graph of your workouts is also available.
Built-in transport wheels make it easy to move the treadmill if required.
The next section of this Weslo Cadence R 5.2 Treadmill review looks at its pros, then its cons.
Weslo Cadence R 5.2 Pros
The Weslo Cadence R 5.2 is quite compact.  When folded, the treadmill will fit into most closets and under most beds.  
To fold it, lift up the base then use the bolt located on the left-hand side of the unit to secure it into position.
The Weslo Cadence R 5.2 is one of the quietest treadmills in its price bracket.  It delivers a smoother ride than some treadmills that cost a lot more.
The treadmill's running deck comprises Comfort Cell Cushioning, a state-of-the-art fabric that helps absorb impact with every step, to enhance comfort.  This feature makes exercising a possibility for people who have been sidelined by joint pain.
The frame of the Weslo Cadence Treadmill R 5.2 is solid steel.  The treadmill will remain stable, even when you are using it at top speed.
This model has two built-in water bottle holders.
Assembling the treadmill is simple, with most people able to complete the task in around 30 minutes or so.  The instructions are easy to understand, and you will find a Hex wrench in the box to assist you.  The only other tool you will need is a Philips Head screwdriver.
The Weslo Cadence Treadmill R 5.2 comes with a 90-day warranty on its motor, parts, and labor.
Weslo Cadence R 5.2 Cons
You will have to stop exercising to use the heart rate monitor.  A chest strap monitor can be employed instead, but you will need to purchase one separately.
If you are very tall, you might find the stride length limiting.  You may also have to bend forward to grip the handlebars properly.
While not a complicated process, if you want to incline the deck, you will need to do this manually.
This Weslo Cadence treadmill lacks audio options.  It doesn't have a fan, a reading rack, or a storage tray.
What Customers are Saying about the Weslo Cadence R 5.2 Treadmill
With hundreds of Weslo Cadence R 5.2 Treadmill reviews published online to date, most are very positive.
Many have praised its performance and said they consider it to be excellent value for money.  Numerous long-term users have commented favorably on the machine's durability.
Some very tall users have said they find the tread belt to be a little short.  They've also found the handlebars to be positioned a bit low, so they have to bend forward to grasp them properly.
A number of purchasers questioned the accuracy of the reading for calories burned.  Treadmills usually estimate the number of calories burned during workouts based on average weight, so this feature is only useful as a guideline.
The accuracy of the heart rate monitor is also in question.  If you want to track your heart rate closely during workouts, it is worth buying a chest strap as these give a more accurate reading.
Some people said that the treadmill's motor is quite loud when they are exercising at high speed.  They also said the treadmill sometimes shakes a bit, but this is not a major issue.
Weslo Cadence R 5.2 Summary
Whether you are new to exercising or a little more advanced, if you are in the market for a compact, high-quality treadmill that is comfortable to use and won't set you back too much money, the Weslo Cadence R 5.2 Treadmill is well worth considering.
While it doesn't have all of the bells and whistles of some costlier treadmills, it is solid, reliable and durable.  The R 5.2 has enough programs and functions for you to vary your exercise sessions, making them more interesting and more effective.  With dual incline ability and a top speed of 10 mph, it is best suited to walking or jogging.
Equipped with an easy-to-read LCD screen for monitoring your workout stats, the Weslo Cadence R 5.2 has everything most people will need to tone up, slim down, improve their fitness level and experience the numerous other benefits of treadmill exercise.
To read reviews of other popular treadmills, click this link