This post may contain affiliate links. If you click a link and buy something, I may receive a small commission at no extra cost to you.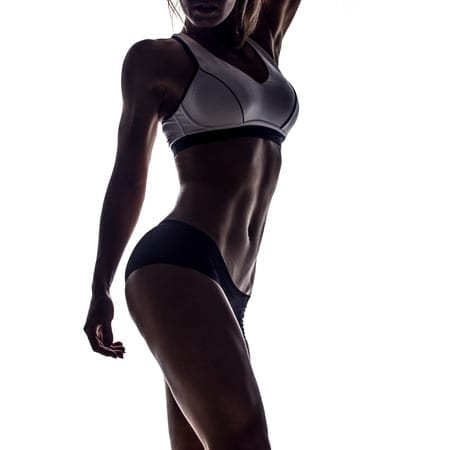 It's no secret that by following a low-calorie diet and increasing your level of aerobic activity, you will lose weight, but as I was, you may be wondering about the best workout to lose weight.
I own several pieces of exercise equipment that I alternate so as not to become bored.  All are helpful for losing weight or maintaining weight loss.
But for this article, I wanted to compile a list of weight loss exercises  accessible to everyone.  So the activities listed below don't require expensive or bulky equipment that takes up a lot of space.
Most will require some equipment or at least appropriate workout gear.  However, all are practical, and if done regularly, they will help you to lose weight.
Tips and Advice on the Best Workout to Lose Weight
When it comes to choosing exercises to lose weight, there are many options.  This being the case, the best advice I can give you is to find a physical activity you enjoy and commit to doing it for 30 to 60 minutes, four to six days a week.  If you are really determined, you can work out every day.  However, most people find a fitness regimen easier to stick to if they have one or two exercise-free days a week.
If you get bored easily, vary your workouts.  Doing so can even help you burn additional calories as it will keep your muscles challenged.
Another thing you can do is to split your exercise sessions, doing two, or even three, on the one day.  Not everyone has a free 60-minute block of time to exercise, but most of us can find 20 or 30 minutes, even if it means having to get up earlier.  Splitting sessions will also work well if you are not yet fit enough to work out for an extended period.
Exercising during your lunch break is another option.  Keep a pair of walking shoes at work, and, weather permitting, you may be able to fit in a brisk walk that will burn calories and help to clear and refresh your mind for the afternoon ahead.
Following are seven worthy contenders for the best workout to lose weight.  Some won't even feel like a workout, but don't let that fool you into thinking they aren't great calorie burners.
The Workouts
1) Jogging
Working the entire body jogging burns a lot of calorie so it's one of the best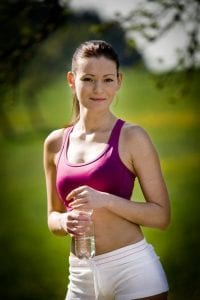 exercises to lose weight.  A convenient form of exercise, it can be done almost anywhere.  The only "equipment" you will need to jog is comfortable clothing and a pair of running shoes.
Jogging for even a few kilometers a day will boost your fitness level and increase your metabolic rate.  It will also burn more calories than a lot of other aerobic activities.
Start slowly, building up your speed and the distance you cover over time.  There is no need to run flat out.  Jogging a longer distance at a slower pace is more beneficial than jogging a shorter distance quickly.
Something to take into consideration before taking up jogging is that it places stress on the hip, knee, and ankle joints, and it might not be suitable for you if you have a heart condition.
2) Walking
Older folk, people who suffer a medical condition that precludes them from running and those for whom running just does not appeal, will be pleased to know that walking delivers almost the same benefits as running, with fewer risks.  In fact, numerous studies have found that walking is superior to jogging for weight loss, making it arguably not just one of the best exercises to lose weight but the best.
The faster you walk, the more calories you will burn.  Aim for a brisk pace, but one at which you can still take part in a conversation without running out of breath.
Click here to find out how many steps you need to take each day to lose weight
3) Aerobics
Aerobics has a lot going for it and, according to many fans of this fun fitness activity, it is the best workout to lose weight.  With so many aerobics DVDs to choose from, you can work out at home at your own pace, making it ideal for people who haven't exercised before.
With your own supply of fitness DVDs, you can vary your workouts as often as you please.  Doing so will keep you challenged and stop you from becoming bored.
Workout DVDs are also a great option for individuals who are very out of shape and reluctant to join a gym and those who don't want the ongoing expense of gym fees.
Click here to read reviews of some popular home workout DVDs
4) Cycling
Another very effective workout to lose weight is cycling, which is excellent
cardio exercise and a terrific calorie burner.  You can cycle indoors on a stationary exercise bike.  Or, if the weather is nice, you can relive your childhood and have fun cycling outdoors with the sun on your face and the wind in your hair.
A convenient form of exercise, by cycling to and from work or down to your local coffee shop, you will be able to save on gas and not have to worry about finding a parking spot.
You may also be able to take a more scenic route to your destination, increasing the enjoyment factor.  All this while you're toning your muscles and burning calories!  In my book, this makes cycling a serious contender for the best workout to lose weight.
5) Lifting Weights
Lifting weights is another way to expend a lot of calories both during and after your sessions.  The latter is due to weight lifting's so-called "afterburn effect."
Afterburn is not exclusive to weight lifting.  However, when combined with the high number of calories it burns, it's easy to see why weight lifting is regarded as one of the best exercises for weight loss.
You've probably heard that muscle weighs more than fat.  If so, you may be worried that you will gain pounds if you lift weights.  But this will not be the case.  The fat-burning benefits of weight lifting far surpass any weight gained through increased muscle mass.  And, with greater muscle mass, you will continue to burn additional calories for up to two days after each workout.
With regular weight lifting sessions, you may end up weighing slightly more if you don't have any excess body fat to lose.  However, muscle is more compact than fat, so you will look slimmer and fit into smaller-sized clothing.
For more information on weight lifting for women, read Weight Lifting for Women – Facts and Myths
6) Swimming
Swimming is a great exercise for weight loss.  If you know how to swim, to start burning calories, and get a total body workout, all you will need is a swimming suit and access to a beach, bay, or swimming pool.  For a change of pace, try aqua aerobics or pool noodle exercises.
When exercising in water, the water supports our body, slowing movement, so very little stress is placed on the joints.  This makes it ideal for anyone with back or knee problems as well as the unfit, overweight, and senior exerciser.
NB: For the sake of safety alone, everyone should learn how to swim.  If you don't know how to, sign up for lessons at your local public pool or health club.
7) Dancing
While an enjoyable pastime and a fun social activity, dancing is also great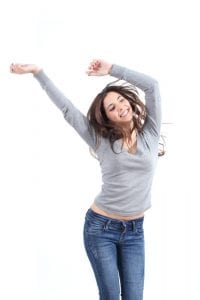 for weight loss.  Depending on the style you choose, you can dance alone, with a partner, or with a group of people.
Regardless of your age, weight, or fitness level, dancing has health, fitness, and weight loss benefits.  This is the case even when done at a slow pace, but you will burn more calories dancing at a fast pace.  So pump up the volume, shake your groove thing and watch those excess pounds and inches melt away!
Click this link to read an article on how to lose weight by dancing
Final Words on the Best Workout to Lose Weight
Any or all of the above workouts would be a worthwhile addition to your weight loss exercise plan.
The key to losing weight through exercise is consistency.  Just 3 x 20-minute workouts a week will make a big difference to the way you look and feel.  With more and longer sessions, you will get results faster.
Exercise promotes weight loss, but if you have a lot of weight to lose it would take you a long time to do so through physical training alone.  To speed things up and ensure your success, along with partaking in aerobic activity regularly, you will also need to modify your diet.  You can do this by following a diet plan or by cutting your portion size.
So what is the best workout to lose weight?  To me, the best workout to lose weight is the one you have no trouble sticking to because you look forward to doing it.  When you find the exercise that's right for you – and I genuinely believe we all have at least one – make it the mainstay of your weight loss workout plan.
By keeping a logical and practical approach to weight loss, you will achieve your goal.