This post may contain affiliate links. If you click a link and buy something, I may receive a small commission at no extra cost to you.
A yoga towel is a multi-purpose towel designed for use during yoga sessions.
It's often the last thing we think of when buying yoga accessories, but once you use one, you will wonder how you ever did without it.
To experience the full benefits of yoga, practitioners must hold the poses during workouts without slipping.
A yoga towel can help, enabling you to dry your hands, feet, and other body parts that become moist and sweaty during workouts.
You can place a y yoga towel over a yoga mat to prevent perspiration stains.  In a pinch, it can be a substitute yoga mat.
While useful for all types of yoga, a yoga towel is essential for those who do Bikram or hot yoga.
You may be wondering if it's really necessary to buy a yoga mat towel and if you couldn't just use a bath or beach towel.
Sure, you could do that, but I can tell you from experience that neither will be anywhere near as practical or comfortable to use as a yoga towel.
Bath and beach towels are not made for exercise, so they aren't as absorbent as yoga towels.  If you've ever wiped down with a heavy and soppy regular towel during and after a hot yoga session, you will know how unpleasant that is.
Then there's the size.
A yoga towel should completely cover your yoga mat without extending beyond the edges.  A standard yoga mat measures 24″ x 68″.
The standard measurement for a bath towel is 27″ x 52″.  Most beach towels measure 30″ x 70″.  And, in case you are wondering, a standard bath sheet measures 35″ x 60″.
Another problem often encountered when using a regular towel is that it will bunch up during an intense yoga session.  This will hinder your workout and cause discomfort.
A good yoga mat towel has slip-resistant nubs on its underside that hold it in place securely during workouts.  One such towel is the Yogitoes Skidless Towel, which I will review below.
Yogitoes Skidless Yoga Towel Review
You'd have to search long and hard to find a better yoga mat towel than the Yogitoes Skidless Towel.  Measuring 24″ x 68″, it will be a perfect fit for your yoga mat.
And, being super absorbent, it will do a great job drying you off during and after even the most intense hot yoga session.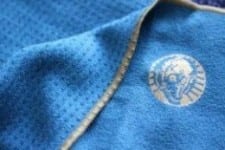 When used as a cover for your mat, it will stay in place for the duration of a 90-minute hot yoga class.
Along with keeping you more comfortable, it will protect your mat from dirt and sweat.  It will also extend its life.
The towel is lightweight, very soft to the touch, and gentle against the skin.
Made from an 80/20 polyester/nylon blend.  This is backed with 100% Silicon Eco Nubs that enhance grip.  The towel is machine washable, dryer safe, and it will hold up well through many washes.
The patterns and color choices in the range are fantastic.  They include several stylish collections and the following 38 stunning colors: Bay, Black, Blue, Copper, Green, Earth, Fire, Flamingo Pink, Frog Green, Guava, Kiwi, Lapis, Lavender, Loam, Lotus, Mango, Metal, Moss, Orange, Pink, Poppy, Purple, Red, Red Tie Dye, Sage, Sand, Seaburst, Springburst, Stone, Sunburst, Teal, Tropical Guava, Tropical Kiwi, Tropical Mango, Water, White, Wood, and Yellow.
Yogitoes Towel Infomercial
Pros & Cons
Below are the main pros and cons of the Yogitoes Towel, followed by a closer look at each.
Pros:-
• Enhanced grip
• Hygienic
• Soft & Durable
• Environmentally-friendly
• Extensive color range
Cons:-
• Color-bleed
A closer look at the pros & cons
No matter how good a yoga mat is, perspiration will cause it to lose some grip.
The Yogitoes Skidless Towel counteracts this by absorbing sweat on the top side while firmly gripping the yoga mat on the underside.  This creates the ultimate non-slip solution.
Another plus of using this particular towel on top of your yoga mat is that it stops sweat from soaking into the mat.  Along with helping to keep it cleaner and odor-free, it will extend the life of your mat.
Soft to the touch, the towel is also highly durable, so it will withstand repeated washing.
The towels' manufacturer uses packaging made from recycled materials and dyes made from soy, vegetable, and organic sources.
With 38 beautiful color options on offer, your problem will not be finding the right color to coordinate with your yoga workout gear but deciding on a favorite.
Something to be aware of is that there may be some color-bleed during the first few washes, depending on the towel's color.  For this reason, it's best not to wash the towel with items that could be damaged by dye runoff.
Adding vinegar to the wash, using a color catcher, or simply washing the towel with similar colors or on its own the first few times will prevent the problem.
Yogitoes Skidless Yoga Towel Summary
If you're looking for a yoga towel that will absorb sweat and maximize your grip during yoga sessions, look no further than the Yogitoes Skidless Towel.
The color range on offer in this range far exceeds that of any other brand I've come across.  I ended up buying three, as I couldn't choose.  I could easily buy several more.  They're that beautiful, and they do such a great job.
No matter how much I sweat during a yoga session, the towel provides a stable workout surface.
With many hundreds of highly positive customer reviews published online to date, it's clear that I'm not the only one who loves it.
While the towel will likely release dye the first few times it is washed, knowing this beforehand will prevent any laundering disasters.
The Yogitoes Skidless Towel is up there with the best yoga towels on the market today.  If you're serious about yoga, it's a purchase I think you'll be pleased you made.
Click here to read reviews of more yoga accessories
NB: This yoga towel has been replaced with the Yogitoes YTRSkidless 2.0 Mat Towel.  It comes in a range of fabulous solid colors and prints, and it has all of the great features of the original.  Click this link to check it out on Amazon.