This post may contain affiliate links. If you click a link and buy something, I may receive a small commission at no extra cost to you.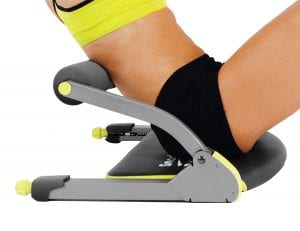 If you've seen the ads, you may be wondering if the Wonder Core Smart works.  I was wondering the same thing.
I'm somewhat skeptical when I hear the word "breakthrough" used to describe a product.  However, after seeing the ad on the television every night for weeks, curiosity got the better of me, and I logged onto my laptop and Googled Wonder Core Smart reviews.
Most that I read – and I read a lot of them – were positive.  The device is quite affordable too, so I went ahead and placed an order.  It arrived three days ago, and I've used it twice, which is too soon to comment on its effectiveness.  What I can say though is that I like using it and I can feel it working my muscles.
In this Wonder Core Smart review, I will list its specs, a general overview, and customer feedback.  I will also tell you what I like and don't like about it.
Wonder Core Smart as Seen on TV Specs
Dimensions – The Wonder Core Smart exerciser measures 20.5″ x 21.6″ x 15″
Weight – It weighs 15 lbs
User weight limit – The maximum recommended user weight limit for this product is 250 pounds
Wonder Core Smart Overview
The Wonder Core Smart exerciser is a compact fitness aid that allows you to target your upper, middle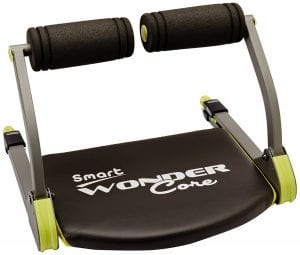 and lower abs and your obliques without putting stress on your neck or back.  It can also be used to work other muscle groups, including the triceps, biceps, forearms, thighs, glutes, and calves.
According to the manufacturer, university tests proved that Wonder Core Smart system workouts are 100 percent more effective compared to doing the same exercises on the floor.
The only assembly required is to attach the resistance knobs to the springs.  You will then be able to select a resistance level of between 24 lb and 48 lb, then start exercising right away.
Being small and light, the unit doesn't take up a lot of room, and it is portable.  Loosening the springs will enable you to lay it flat to store.
Included with your Wonder Core Smart system purchase are a user's guide, a fitness DVD, a workout poster, and an anti-slip mat.
The user's guide covers safety precautions, how to assemble the device, and how to use it.  It also contains storage and maintenance tips.
The exercise DVD contains 8 different moves that focus on a variety of muscle groups and provide strengthening and cardio benefits.  The exercises include Sit-ups/Crunches, Push-Ups, Bridges, Scissor Kicks, Forearm/Biceps, and Triceps exercises, all of which are floor-based.
If you have mobility issues, you will be happy to know that you can still get a great workout doing Ab Tucks and Bicycling, both of which are done seated.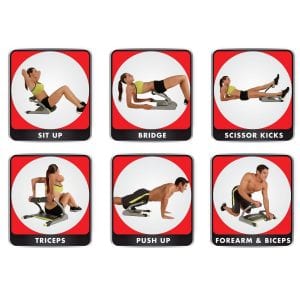 All of the exercises come with a beginner and an advanced version.  The latter involves holding the moves for longer and working at the highest level of resistance.
The workout poster provides a visual reference to the exercises that can be done on the Wonder Core Smart.  (The box it comes in also shows the exercises.)  The meal plan comprises a single page containing 7 days of meal suggestions.
The anti-slip mat consists of a narrow textured strip of rubber-like material.  It can be placed beneath the machine to keep it in place during the cycling exercise if your floor is slippery.
If your aim is to get rid of a muffin top, the Wonder Core Smart Twist Board model will be your best bet.  The Twist Board is basically a disc that swivels to allow a range of exercises that target the obliques.  The board sits on top of the seat, with no assembly required to use it.

Wonder Core Smart Video
Buyer Feedback for Wonder Core Smart Fitness Equipment
Wonder Core Smart Fitness Equipment has very positive buyer feedback overall.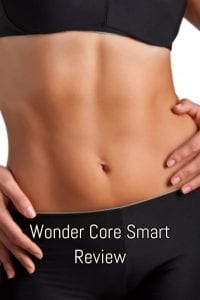 People appreciate that this one compact device can give them a total body workout.  Purchasers in a variety of age groups, including the elderly, have commented on its ease of use.  People with back, neck, and knee problems have also left favorable feedback.
A number of reviewers claim to have lost weight and inches by using the device regularly.  Customers love being able to easily move the unit so that they can use it while watching the television.  A few people said that they take it on vacation or when they are traveling for work so they can maintain their exercise program.
Purchasers appreciate that they don't have to assemble the device and that it folds flat to store.
Not all reviews are positive though.  A small number of customers claim that their machine broke after a few months of use.  Some were unhappy about not receiving a fitness DVD.
A few don't like having to get on the floor to exercise, and some have stated that the resistance isn't great enough.  While most who left feedback find the device supportive and comfortable to use, a small minority said that their backs hurt when using it.
What I Like and Don't Like About the Wonder Core Smart
I've done the ab and arm exercises twice, and all of the other exercises once.  While none are difficult, I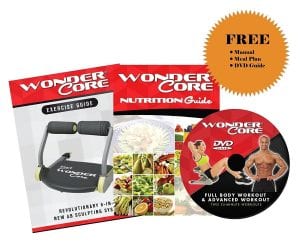 could feel my muscles working.
I usually find Sit-Ups boring and they hurt my neck and back, so I steer clear of them.  Done on the Wonder Core Smart exerciser, they're fun, and that's not a word I would normally use to describe ab exercises.  They're also pain-free.
Workouts are quiet, and attaching the knobs was straightforward and quick.  I can pick up the device in one hand, which is a bonus.
I think the cycling exercise – the movement is up and down, not circular – would be good to do while watching the television or working on the computer.  However, I already do cardio, so I doubt I will use the machine for this purpose.
One shortcoming I see is that the seat is on the small side.  This could make it unusable if you carry a lot of weight on your hips.  Also, I don't think the workouts will be effective if you already have good muscle definition.
The cardio component will not challenge you if you are already fit.  However, the device will enable you to burn some extra calories and add variety to an existing workout.
Wonder Core Smart Summary
If you are a new exerciser with a smallish budget who doesn't have room for bulky exercise equipment, the Wonder Core Smart as seen on TV can help you to get your fitness journey underway.
If you are overweight, using the device alone won't enable you to look like the people in the ad who would be doing a broad range of exercises and eating carefully.  However, regular workouts will enable you to improve your overall shape and fitness at home without you having to sweat a lot or get too puffed out.
If you are an intermediate level exerciser, you may find the Wonder Core Smart handy for getting in a bit of light exercise on days that you are too busy to do your regular workout.
If you're looking for something more challenging, click here to read reviews of alternative ab equipment