This post may contain affiliate links. If you click a link and buy something, I may receive a small commission at no extra cost to you.
The XTERRA Fitness FB150 Folding Exercise Bike Silver is a budget-priced fitness aid that will enable you to burn calories and improve your health and fitness.
An upright folding model, it doesn't take up a lot of space, and after using it, you can wheel it away to store in a closet.  While its features are basic, the bike is robust, reliable, and stylish, and it is comfortable and smooth to use.
Noteworthy features include variable resistance and two LCD screens that display workout stats to help you monitor your progress and set new fitness goals.
Keep reading this XTERRA FB150 review to find out its specs, and for an overview outlining its key features, plus its pros, and its cons.
We will also look at how it compares to another model in the range, the XTERRA FB350, which, other than a few small differences, is identical to the FB150.
XTERRA Fitness FB150 Folding Exercise Bike Specs
Assembled dimensions – Assembled, the XTERRA Fitness Folding Exercise Bike measures 31.5″ (L) x 18.1″ (W) x 43.3″ (H)
Folded dimensions – Folded, it measures approximately 16.75″ (L) x 18″ (W) x 50.5″ (H)
Clearance requirement – For unrestricted workouts allow a free space of 24″ or more on either side and 12″ to the front and the rear
Seat – The seat measures approximately 9″ (L) x 12-14″ (W) x 2 1/2″ (H)
Weight – It weighs 32 lbs
Flywheel weight – The flywheel weighs 3.3 lbs
User weight – The maximum user weight for this model is 225 pounds
Color – This model comes in silver with bright blue highlights
Batteries – Two x AA batteries are included for the fitness meter
Who will this model suit?
The XTERRA FB150 Folding Bike best suits new to intermediate level users who are looking for an inexpensive model that is solid, compact, and comfortable to use.  Experienced cyclists will not find the resistance levels challenging enough.
The bike is recommended for individuals from 4′ 10″ to 5′ 10″ who weigh less than 226 pounds.  Some taller, shorter, and heavier people claim to use it without a problem.  However, it's best to follow the manufacturer's guidelines.
XTERRA Fitness FB150 Overview
While light in weight, the bike's solid steel X-frame design features thick steel tubing that provides excellent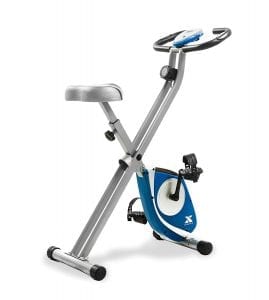 stability.  The frame's painted finish resists rusting and chipping, so the bike will look just as good years down the track as it does the day you buy it.
A belt drive system provides smooth, whisper-quiet sessions, while a 3-piece pedal crank offers durability.
The XTERRA FB150 Folding Exercise Bike has a large, ergonomic seat that has thick padding and a resilient vinyl cover.
Many people who have left feedback for the bike have noted that its seat is very comfortable.  Comfort is subjective, though, so what is comfortable for one person may not be for another.
If you need extra cushioning, you can buy a bicycle seat cover.  Alternatively, try placing a folded towel on the seat.  Another option is to change the seat to any standard sized model if you favor a particular type.  To do this, just undo three bolts that secure the seat, attach your new seat, then tighten the bolts.
The seat adjusts to seven different heights, catering to shorter and taller people.
The bike's large padded multi-grip handlebars feature a foam rubber finish that is sweat-resistant.  Built-in hand pulse sensors enable you to monitor your pulse rate.
Textured pedals with straps prevent slippage, even if you are pedaling fast.  Along with forward pedaling, you can also pedal backward to target different muscles.
The Q-Factor (spacing between the pedals) is quite narrow.  As a result, your feet and legs will be in a natural position while using the bike, so your knees and ankles won't be overly stressed.
Eight levels of magnetic resistance are accessible at the turn of a dial, allowing you to adjust the intensity of workouts.  The first level is exceptionally light, with each level progressing slightly.
This means you can start easy and increase the challenge as you become fitter.  It also provides scope for future growth, and it also allows people of differing abilities to use the bike.
A one-button user-friendly console allows you to track your workout metrics, including your speed, distance,
total distance, time, calories burned, and your pulse rate on a 2″ x 1″ easy-to-read LCD screen.  To activate this feature, press the button.
Your sessions' stats will appear on the screen automatically when you begin to pedal.  You can choose to follow just one metric, or use the scan feature to cycle through each which will display the individual readings for several seconds.
At the end of your sessions, after several minutes of inactivity, the meter will switch off.
The XTERRA Fitness FB150 comes partially assembled, but you will need to finish the job.  The instructions for this are straightforward, and the process is easy and quick.  An Allen wrench is included to facilitate the task, which should take around thirty to forty minutes, tops.
The bike's internal components are pre-lubricated, and, no further lubrication will be needed.
This model folds to store.  Transport wheels in the base make it easy to move.
The bike's warranty covers 1-year for the frame and 90 days for parts.
Next, in this XTERRA FB150 review, we will look at its pros, followed by its cons.

Pros
The XTERRA Fitness FB150 Folding Exercise Bike Silver is very affordable
The assembled bike is compact, and it folds to store
It is smooth and quiet to use
Its seat is height adjustable
An x-frame design and front and rear stabilizer bars with rubber end caps to protect your floor provide safe and stable workouts
Variable resistance enables you to increase the challenge of your workouts as you become fitter and allows others in your household to use the bike
Built-in programs add variety to workouts
An easy-to-use monitor shows your workout stats to help you track your sessions and set fitness goals
It comes with a heart rate monitor
The bike's slip-resistant handlebars are comfortable to grip
Its weighted ABS-finish foot pedals are textured to prevent slipping, and they have safety straps that adjust for a perfect fit
Two built-in transport wheels located in the front stabilizer bar make it easy to move the bike
The assembly process is fast and straightforward. with the needed tool supplied
Low maintenance, with no lubrication requirement
Cons
The position of the bike's handles cannot be adjusted
The angle of the display monitor can't be changed. and it doesn't have a backlight so the screen may be hard to read in a room with low lighting
This model does not have levelers, so, to prevent unwanted movement, it should be used on a level floor.
It lacks accessories such as a water bottle holder, a fan, speakers, and an aux port
It isn't Bluetooth compatible
How do the XTERRA FB150 and the XTERRA FB350 Compare?
Many aspects of the XTERRA FB150 and the XTERRA FB350 are identical.  There are, however, some
differences, which we will look at now.
At 40.5″ (L) x 21″ (W) x 50.5″ (H), the XTERRA FB350 is a little longer and wider than the FB150.  Its folded dimensions are also slightly larger at 20.5″ (L) x 21″ (W) x 50.5″ (H).  This model is also heavier, weighing 43.2 lbs.
The seat designs differ, with the XTERRA FB350 having a backrest and sidebars, so it is classed as semi-recumbent.  The backrest is quite low, so it doesn't allow for a great deal of leg thrust, but it does give a degree of added support.
The XTERRA Fitness FB350 Folding Exercise Bike has an easy-to-access phone holder that can be used to store a small electronic device or your TV's remote control.
The only other difference is the price, with the XTERRA FB350 being the more expensive of the two, but not by much.
Final Thoughts on the XTERRA Fitness FB150 Folding Exercise Bike
The XTERRA Fitness FB150 Folding Bike Silver doesn't have a lot of fancy features, but it has everything you need to get a great low to moderate intensity cardio, calorie-burning, muscle toning workout and to experience all of the other benefits this type of workout offers.
The bike is budget-friendly and solid.  It has adjustable magnetic tension, a quiet belt drive, a fitness meter to track workout metrics, and a pulse monitoring feature.
If you're looking for a basic bike that is comfortable and user-friendly, be sure to take a closer look.  And while you're at it, be sure to check out the FB350 on Amazon.
Not the right bike for you?  Click here to read reviews of other popular upright exercise bikes.