This post may contain affiliate links. If you click a link and buy something, I may receive a small commission at no extra cost to you.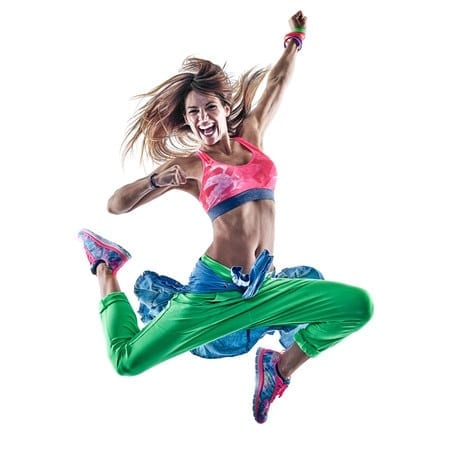 If you're looking for a workout that is as effective as it is enjoyable, then look no further than Zumba Fitness Exhilarate, also known as the Zumba Fitness Exhilarate 7 DVD Set with Toning Sticks.
Created by Zumba Fitness, it certainly lives up to its name in that it will be one of the most exhilarating workouts you'll ever do.
High energy and loads of fun, the driving music in Zumba Fitness Exhilarate Exhilarate will get you on your feet, moving, and "dancing like nobody's watching."
My friend Liz had been doing Zumba for several months, and I'd lost count of the number of times she'd asked me to join her.  I'm not exactly the most "out there" person, nor the most coordinated.
To say I was reluctant to take a Zumba class is an understatement.  Frankly, the thought of dancing and jumping around with a roomful of strangers whooping, hollering, and clapping their hands, filled me with dread.
But I could see the dramatic physical changes regular Zumba workouts had made to Liz's physique, so I decided to go online and check out some Zumba workout DVDs.
I kept coming back to Zumba Fitness Exhilarate due to the high number of positive customer reviews.  I placed my order; it arrived a couple of days later, and I can't say enough good things about it.
Whom does it best suit?
The Zumba Fitness Exhilarate Body Shaping System is customizable to cater to people of all levels, from beginners to experienced Zumba dancers.
What to expect from the workout
Zumba Exhilarate doesn't feel like a workout.  That's not to say it's easy.  I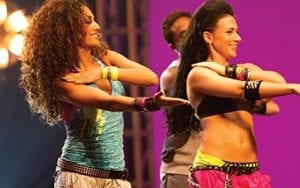 considered myself to be reasonably fit, and I initially found the cardio component quite challenging.  The day after my first run-through, I knew my muscles had had a workout.
Many months have passed, and I still use the DVD in rotation with other forms of exercise, and it is still challenging enough to give me a great workout.
Zumba is customizable to suit an individual's level of fitness.  If you need a break, you can keep moving your hands and feet to the beat, then jump back into the routine after catching your breath.  If you want more of a challenge, put more effort into the moves.
Do the Zumba Fitness Exhilarate workout regularly, and you will quickly improve your muscle tone and lower your body fat.
The next section of this review looks at the individual workouts.

Weight Loss Benefits
When it comes to burning calories, Zumba is up there with the best workouts.
The number of calories burned each session will vary from person to person.  Much will depend on the participant's weight, the effort expended, and the workout duration.  On average, you can expect to burn at least 500 to 700 calories an hour.
To lose one pound of body fat, you will need to burn 3,500 calories.  Do two Zumba sessions a week, and you could lose one to two pounds a month without modifying your diet.  For faster results, combine your sessions with a sensible eating plan.
Video Overview of the Zumba Fitness Exhilarate Workout
Zumba Fitness Exhilarate DVD Set Overview
As its name suggests, the Zumba Fitness Exhilarate 7 DVD Set with Toning Sticks comprises 7 DVDs and a pair of toning sticks.
Toning sticks are similar to maracas, but they contain weights.  Hold and shake them when doing the routines, and you will tone your muscles faster and burn more calories.
Click here to find out more about Zumba Toning Sticks and their potential benefits
Some fitness programs are repetitious, and it seems to take forever before you start noticing physical changes for the better.  That is not the case with this one.
There are 30 rhythms, so
there is plenty of variety, and boredom will never be an issue.
With Beto Perez, the creator of Zumba, frequently featured, you can be sure all of the trainers know their stuff.  This makes the Zumba Fitness Exhilarate DVD one of the best and most popular in the marketplace.
The detailed instructions and ability to view the routines from a front and back angle make even the most complicated moves easier to follow.
There's the option to silence the verbal cueing if desired and work out to the music alone. I do this, but I recommend leaving the commentary on until you've done the workout a few times.
Next, we will look at the workouts/DVDs.
The workouts
The DVDs are as follows:
• STEP-BY-STEP – an instructional DVD, Step-By-Step demonstrates the basic Zumba dance moves.  These include Salsa, Merengue, Hip-Hop, Reggaeton, Cumbia, Calypso, and Belly Dance.
The steps are broken down in a way that even total newbies can learn quickly.  A toggle option enables you to view the moves from behind.
• ACTIVATE – this 45-minute beginner-level workout includes all of the moves from Step-By-Step.
• RUSH – Rush is an up-tempo 20-minute workout led by trainers Kass and Loretta.  This high-energy segment is ideal when you want an effective workout but you are short on time.
• EXHILARATE – featuring instructors Beto and Melissa, this 60-minute workout will quickly accelerate your heart rate and torch calories.
The music for this Zumba class format segment is fast-paced and, well, exhilarating!
Included is Hip-Hop, Reggaeton, Flamenco, Latin Funk, Latin House, Indian, and more.
• RIPPED – another 60-minute workout; Ripped's focus is total body muscle sculpting.
A two-part workout, the first part, hosted by Jani, Melissa, and Beto, focuses on upper body toning dance moves utilizing the toning sticks.
The second part, Sentao, is fronted by Beto and Marcie.  It features chair routines that utilize bodyweight for resistance.  Included are Tricep Dips, Lunges, numerous balance exercises, and more.
• MIX – an exotic-flavored DVD with an international feel, Mix incorporates a number of cultures and various locales.  Hosted by Beto and Tanya, with guest trainers from around the world also featured, this more advanced session provides quite a challenging workout.
Cultures and dance styles you will be doing in this workout include Indian, Latin, Flamenco, African, Asian Fusion, and Hip Hop.  Mix also demonstrates the slightly more complicated Samba dance moves.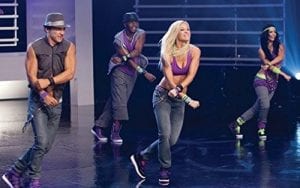 • FITNESS CONCERT – Fitness Concert is an hour-long workout in a live concert format, with Beto and eight other trainers front and center.
Filmed in the presence of thousands of Zumba fans, this contagious workout will have you on your as soon as the music starts.
Final Thoughts On Zumba Fitness Exhilarate
The Zumba Fitness Exhilarate Body Shaping System DVD is a fun and energetic workout that will rapidly get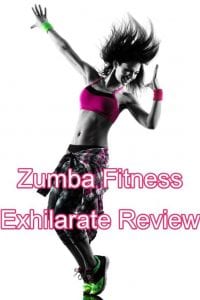 you into great shape.  The workouts are quite challenging until you become used to the pace.
However, being varied and with results coming quickly, it's unlikely you will be tempted to give up.  In fact, the workouts are so enjoyable that time seems to fly.
If you want to experience the fun and the benefits of Zumba, pick up your copy of Zumba Fitness Exhilarate today and join the party!
Not the right program for you?  To read reviews of other popular Zumba workout programs, click this link.