This post may contain affiliate links. If you click a link and buy something, I may receive a small commission at no extra cost to you.
In this article, we will be looking at 10 of the best calorie burning exercises and the approximate number of calories you will burn every hour you do them.
If you are exercising not just to get fit but also to lose weight, it makes sense to focus on doing exercises that burn the most calories.  Providing you enjoy the exercise, that is.  If you don't, you will struggle and find excuses not to do it.
Make cardio sessions a part of your fitness regimen.  Along with promoting weight loss, cardio exercise strengthens the heart and lungs.  It also provides various health benefits including protection against diabetes, heart disease, stroke attacks, and some cancers.
When undertaken frequently, cardiovascular activity boosts the mood and brain performance, and strengthens the bones, helping to prevent osteoporosis.
While any cardio exercise that is done regularly at a brisk pace will provide these health benefits, if you focus on activities that burn the most calories, you will reach your goal weight faster without having to starve yourself or resort to fad diets.
The calorie-burning exercises covered below include walking, Zumba, jogging, elliptical training, swimming, running, rowing, cycling, HIIT, and jumping rope.  Any of these will enable you to burn a lot of calories and with some, enjoy the great outdoors as you do.
If you would prefer to exercise at home, fitness DVDs, the appropriate exercise equipment, or access to a swimming pool, will enable you to do so.
NB: If you are over forty years of age, obese, or you haven't exercised for a while, check with your doctor before starting a new fitness program.  Likewise, if you have a medical condition that could make physical activity detrimental to your health. 
Best Calorie Burning Exercises
Following are some of the best calorie burning exercises that I've tried.  You will notice that there is a significant calorie range listed.  The
reason for this is that the exact number of calories you burn will depend on factors including your gender, age, weight, and how much effort you put in.
The last factor is self-explanatory.  The reason that gender impacts calorie burn is that adult males typically have a higher metabolism than adult females.  This is because they have more muscle tissue and less fat.  As we age, we lose muscle tissue, and with a higher level of fat, the metabolism slows.
The more you weigh, the more calories you will burn during workouts.  This is because more effort is required for a heavy person to move their body, compared to a light one.
The equipment you use also makes a difference.  For example, cycling outdoors over hilly terrain burns more calories than using an indoor cycling bike.  Using fitness equipment that has adjustable resistance or programs that simulate varied terrain will enable you to boost the number of calories you burn.
1. Walking
No article on the best calorie burning exercises would be complete without referencing walking.
While walking burns fewer calories than the other training listed here, it is something that almost anyone can undertake.
It's a low-impact form of exercise that people of any fitness level can do to help them lose weight or maintain their weight and get into shape.
It can even be done by some people who suffer chronic joint pain and those rehabilitating from injury.  And all you will need to get started is comfortable clothing and a pair of walking shoes.
One hour of brisk walking on flat terrain will burn an average of between 224 and 354 calories.  Choose a hilly course, and you can burn between 354 and 558 calories every 60 minutes.
Click this link to read an article on the benefits of walking for thirty minutes a day.
2. Zumba
Zumba is one of the best exercises to burn calories.  It is also likely to be the most fun workout you will ever do.
Regular Zumba sessions will improve your cardiovascular fitness and strengthen, tone your entire body, and help you to lose weight and lower your level of body fat.
Even better is that you will get these benefits while dancing to fast-paced music, either at a class or at home to a Zumba workout DVD.
Every hour you spend doing Zumba burns a minimum of 370 to 600 calories.
3. Jogging
Jogging is one of the most popular outdoor cardio exercises.  It is more gentle than running; however, it will stress your joints more than walking, so it won't be for everyone.
If you'd like to try jogging, start with walking, and gradually introduce jogging as you become fitter.  Jog for a short distance to begin, and don't go too fast.  Gradually increase the distance you cover, and your pace.
As with walking, to jog, your only requirement is comfortable clothing and the right shoes.
On average, for every 60 minutes you jog, you will burn between 515 and 630 calories.
4. Elliptical training
The elliptical trainer offers a total body workout that will improve your cardiovascular fitness and help you to lose weight.
The average number of calories burned on an elliptical machine is 54o to 800 every 60 minutes.
Click here to read an article outlining the top 6 elliptical benefits.
5. Swimming
Swimming isn't just a leisure activity.  It is also an excellent means of burning calories and toning your entire body if you enjoy water sport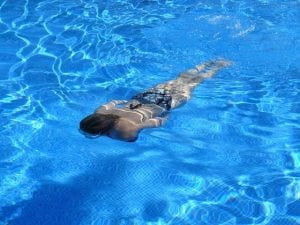 and you live near a pool, beach, or lake.
When swimming, the water provides resistance as it supports the body, and it is very gentle on the joints.  This makes it suitable even for those with arthritis or other joint pain.
Swimming freestyle for one hour will burn between 430 and 817 calories.  For an even higher calorie burn, swim Butterfly.
6. Running
After you've been jogging for a while, you may find that you're ready to take things to the next level and run to help speed up weight loss.
Running has similar benefits to jogging, but it puts more pressure on the joints.  This may make it unsuitable for individuals with joint problems and specific health conditions such as heart disease.
Run for 60 minutes, and you can burn between 775 and 1,370 calories.
Click here to read an article that looks at running for weight loss.
7. Rowing
Rowing is an excellent cardio exercise for anyone with a sense of adventure who has access to a boat and a lake.  If you don't an indoor rowing machine is an excellent alternative that can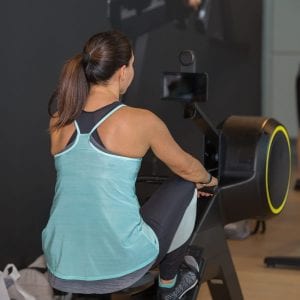 provide as good a workout.
While rowing provides a total body workout, it is particularly useful for toning the legs, arms, shoulders, and back, and building upper body strength.  Additionally, the rocking motion that comes with rowing tones and strengthens the core and improves balance and stability.  It's low-impact too, so the exercise can be undertaken by just about anyone, even people who have joint issues.
Rowing for sixty minutes can burn between 493 and 844 calories.
Click this link to find out about the benefits of rowing machine workouts.
8. Cycling
Cycling offers a fantastic cardio workout that is suitable for people of any fitness level.  It is low impact, so it places very little pressure on the joints, and it is great for toning the muscles of the lower body.
It's also an excellent way to get from point A to point B and boost your cardiovascular fitness at the same time.
Cycling uphill burns more calories than cycling on flat terrain.  Alternatively, you can use a stationary bike, with a Hills function.
Cycling can burn between 420 and 885 calories per hour.
Click here to read about the benefits of spinning workouts for health and fitness.
9. HIIT
With HIIT you can burn a lot of calories doing short, but highly intense sessions.  The exercises you do can be varied, so you will be able to target different muscle groups while getting excellent cardiovascular benefits.
A typical HIIT workout burns approximately 14 calories per minute.  That's a whopping 900 calories an hour.  However, due to HIITs intensity, sessions are typically 10 to 30 minutes long at the most.
Click here for 8 HIIT weight loss workout routines.
10. Jumping rope
Skipping is up there with the best exercises to burn calories.  It also offers excellent cardiovascular benefits and, over time, increases bone density.  You may think that jumping rope is a high impact, but research has shown that when jumping no higher than 3/4″ off the ground, it places less pressure on the joints than jogging.
Jumping rope burns an average of between 730 and 1,090 calories an hour.  It would be almost impossible to jump rope non-stop for sixty minutes.  An excellent way to experience the benefits of skipping and boost calorie burning is to incorporate it into a cardio circuit.
Final Words on the 10 Best Calorie Burning Exercises
Do one or more of the calorie-burning exercises above at least three or four times a week, and you will be well on your way to improving your health and fitness and losing your excess weight.