This post may contain affiliate links. If you click a link and buy something, I may receive a small commission at no extra cost to you.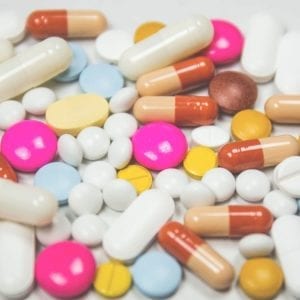 This article on 5 ways to spot a fad diet will help you to avoid diets that promise quick and easy long-term weight loss and fail to deliver.
Fad diets tap into our desire to lose weight quickly.  Sure, you may shed some pounds on such a diet, but the weight loss will be temporary.
We don't like to hear it, but to lose weight and keep it off, we need to make permanent lifestyle changes, these being to eat less and exercise more.
Fad diets, on the other hand, are followed for anywhere from a few days to a few weeks.  The problem with this is that while you may slim down, as soon as you go back to eating as you did previously, any weight you've lost will be regained.
If you're like most people, you will then undertake the diet again.  The result will be the same, with your weight yoyoing up and down.  Over time, this will be detrimental to your health.
Keep reading to learn of 5 ways to spot a fad diet, and why you should avoid this type of weight loss plan.
5 Ways to Spot a Fad Diet and How Not to Fall for the Hype
You've no doubt seen ads promising that if you follow a particular diet, you will lose ten pounds in a week.  This is a tempting prospect for anyone who wants to slim down quickly.  Unfortunately, these "miracle diets" do not result in permanent weight loss.  In our hearts, we know this but can still fall for them out of desperation.
If the first one we try doesn't get results, we may end up trying one after another, thinking the latest one will work.  Dieting this way is a temporary solution at best that will, in fact, hinder weight loss and, over time, cause numerous health problems.
If you were to lose ten pounds in a week, most of it would be due to water loss, and you would quickly regain the weight you'd lost.  Losing one to two pounds a week is wiser and safer.  It will take you longer to reach your goal, but you will feel better and have a far greater chance of keeping the weight off.
Knowing how to spot a fad diet will enable you to avoid jumping onto the latest quick-fix diet bandwagon.  Here are 5 ways to spot a fad diet:
It eliminates certain food groups 
Be cautious of any diet that advocates eliminating entire food groups or eating only specific food combinations.  Eliminating certain foods can leave you short on nutrients.  Each food group in the food pyramid provides valuable benefits, including carbs and healthy fats, which some fad diets veto.  By all means, cut sugar and refined carbs, but don't eliminate unprocessed carbs.
Carbs are a primary source of energy and the carbs in whole grains provide fiber which keeps us feeling full for longer.  Fiber also helps to guard against Type 2 diabetes, and it controls cholesterol levels, helping to prevent heart disease.  Fats insulate nerves, build cellular membranes, and cushion our joints, muscles, and organs.  And there is no reliable proof that combining specific foods aids weight loss.
Eat a balance of healthy foods in a smaller quantity than you do currently.  Doing so will give you a sustainable, healthy diet that enables you to lose weight and keep it off.  Eating this way you will also be less prone to experience junk food cravings.
Click here to read an article on the real truth about carbs and weight loss
It is based on drastic calorie-cutting
Diets that allow fewer than 1,000 calories per day promise quick results.  The problem is our bodies don't respond well to dropping a lot of pounds very quickly.  Members of the medical profession advise that it is unsafe for most of us to lose more than 2 to 3 pounds of fat a week.  An exception to this would be someone who is very obese and needs to lose weight to undergo surgery.
The human body requires a minimum of 1,000 calories each day to sustain itself.  This does not include the calories required to perform daily activities.  Aim to take in around 1,200 calories daily, and around 1,500 calories if you exercise.  Any less than this and you will suffer headaches and feel hungry, tired, light-headed and irritable.
Additionally, when consuming too few calories, your metabolic rate will slow to conserve energy.  So while you will lose weight, when you go back to eating as before, you will regain the weight.  You may even gain more than you lost, as your body will still be burning calories at a slower rate.
It involves taking diet pills or shakes
Be wary if the diet requires you to take special pills, powders, or herbs.  Such diets are often gimmicks that will slim your wallet faster than your waistline.
Another problem with diet pills is that many contain laxatives or diuretics that purge the body of water.  As with eating regimens that allow the bare minimum of calories, the weight you lose will be mostly water, not fat.
Some weight loss supplements claim to contain ingredients that suppress the appetite; speed up the metabolism; or block the absorption of fat, sugars, or carbohydrates.  While some supplements can aid weight loss, others have no reliable scientific research to back these claims.
It's claimed that the diet works for everyone
Another of the most reliable ways to spot a fad diet is that the creator claims that it works for everyone.
No one diet suits all of us, as we are all different.  The best weight loss plans allow some flexibility.  We have varying metabolisms, various nutritional needs, and different energy requirements for weight loss depending on our body type, height, current weight, and activity level.
Food preferences and allergies also need to be taken into consideration.  A vegetarian, for example, would not be happy undertaking a high fat, low carb diet that features meat.  Someone who is lactose intolerant would not be able to have dairy.
A diet should also fit in with your lifestyle to be sustainable in the long term.
Some people find the idea of losing weight without having to exercise very appealing.  The problem with this type of eating plan is that the calorie allocation is extremely low, so you won't be getting the correct balance of nutrients.   When you exercise as well as diet, you will be able to eat more.
Along with aiding weight loss, regular physical activity is good for the heart and bones, and it tones muscles.  It also improves mood and boosts energy level.
5 Ways to Spot a Fad Diet Summary
While quick-fix diets promise amazing results, most fail to deliver long-term sustainable weight loss.  In some instances, they can even be dangerous.  Rather than jump onto the latest fad diet bandwagon, make the necessary changes to your diet and lifestyle to achieve a healthy weight.
Center your diet around lean proteins, whole grains, fresh fruit and vegetables, and plenty of water, and you will experience steady weight loss.
Exercise is also an important factor, but you won't need to run 5 miles a day.  A brisk 20 to 30-minute walk at least three or four times a week will set you on the path to weight loss.
Use this article on 5 ways to spot a fad diet to help you recognize unrealistic diets that will provide a temporary fix at best.
Click here to read, What's a Healthy Weight Loss Per Week in Pounds.