This post may contain affiliate links. If you click a link and buy something, I may receive a small commission at no extra cost to you.
The ProForm ZT6 is an affordable treadmill from fitness equipment manufacturer, Icon Fitness.  While its price is entry-level, its features are anything but.
A commercial grade motor and an ample treadbelt, make this model suitable for walkers and joggers of most heights.
Its wide range of built-in programs cater to exercisers of all levels and provide plenty of scope for you to grow your fitness further.
Adjustable incline enables you to increase the intensity and effectiveness of your workouts as you reach new fitness goals.
This model also has some handy accessories that will make your workouts more comfortable and enjoyable.
In this Proform ZT6 Treadmill review, we will look at its specs, key features, pros, cons, and more.
Who will this model best suit?
This ProForm treadmill suits new to intermediate level exercisers with a modest budget who need a compact treadmill.
ProForm ZT6 Treadmill Specs
Assembled dimensions – The ProForm ZT6 Treadmill measures 68″ (H) x 35 3/4″ (W) x 73 1/4″ (L)
Treadbelt – Its treadbelt measures 20″ x 55″.
Space requirement – You will need a space approximately 6 feet long and 3 feet wide to accommodate the machine.
Weight – It weighs 195 lbs.
User weight – The user weight limit for this model is 325 pounds.
User height – This treadmill is suitable for people up to around 6 feet 4 inches tall.
ProForm ZT6 Key Features
The ProForm ZT6 has 2.5CHP Mach-Z, Commercial-grade Drive-Motor.  The motor stays cool no matter how hard you work out and it delivers a high level of inertia.  This means that your workouts will always be quiet and smooth.  Built to the highest standard, the motor will withstand repeated, heavy use.
The deck of all ProForm treadmills feature ProShox cushioning.  This particular model has 4 shock absorbers beneath the deck.
This combination reduces stress on the exerciser's joints by as much as 28%, compared with walking or running on a hard surface.  As a result, you will be able to do longer workouts and enjoy a faster recovery time.
The ZT6 Treadmill has 18 built-in programs that enable comprehensive workouts with varied purpose and intensity.  5 are speed-based, 5 focus on endurance and 5 focus on Incline.
The other 3 programs are for calorie burning and weight loss.
The incline of the ProForm ZT6 can be adjusted to use at an angle of between 0 and 10%. Benefits of working on an incline include more targeted muscle toning and a greater calorie burn.
The adjustment can be done manually by selecting the desired Quick-Incline control button.  If preferred, adjustments can be made automatically through one of the relevant programs.
The ProForm ZT6 Treadmill is equipped with a 5-inch Backlit Display, which shows ¼ Mile Track, your workout speed, the time elapsed and remaining, distance,
incline level, and calories burned.  Being able to view your workout stats can be a great motivator.
Having access to your stats will also enable you to track your progress and set new workout goals.
Balanced, 1.9″ non-flex rollers decrease tension, reducing wear on the treadbelt.  They also keep noise to a minimum, so you can work out without disturbing others in your household.
Pulse grip sensors built into the handlebars enable you to monitor your pulse rate during workouts.  This means you will be able to train within your target heart-rate zone and get the best results.
If you need to relocate the treadmill, transport wheels built into the base make the process easy.
Next, in this ProForm ZT6 review, we will look at its positives, followed by its negatives.
ProForm ZT6 Positives
A large deck enables even very tall people to stretch out and comfortably jog at full stride, without feeling confined.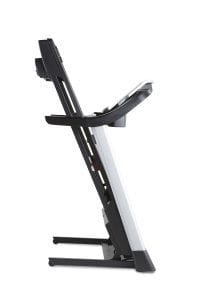 If you want to store the treadmill, its deck can be lifted up, enabling it to fit into a smaller space.
This model has a music port that is iPad, iPhone, and smartphone compatible.
A two-speed fan provides a breeze, to help keep you cooler during workouts.  There is also a water bottle holder and a reading rack
Assembling the ProForm ZT6 is a simple process and it will take most people about two hours, or less.
The warranty that comes with this model covers a lifetime on the frame, 25 years on the motor and 1 year for parts and labor.
ProForm ZT6 Negatives
While ideal for walkers and joggers and even light runners, anyone wanting to run really hard and fast should look for a treadmill with a more powerful motor.
At 55″ long, the track is best suited to people who are under 6′ 4″.
If you are taller and you're looking for a running treadmill, take a look at the Sole F85.  It comes with a higher price tag, but it has some excellent features and a 400 pound user weight limit.
This model is not i-Fit compatible.
This model comes with a pulse grip heart rate monitor.  Chest strap heart rate monitoring is more accurate, but there is no facility to utilize this method with the ZT6 Treadmill.
The warranty for parts and labor is a little short.
ProForm ZT6 Treadmill Summary
The ProForm ZT6 Treadmill is great value.  Solid and sturdy, it has enough features and programs to satisfy most exercisers.  Quiet and smooth to use, its running surface provides a low-impact workout.
If you're looking for a reliable treadmill for walking and jogging and you don't mind not having iFit or chest strap heart rate monitoring, the ProForm ZT6 is worth considering.
Not the model for you?  Click here to read more treadmill reviews