This post may contain affiliate links. If you click a link and buy something, I may receive a small commission at no extra cost to you.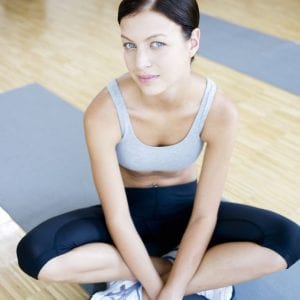 The BeachBody 3 Week Yoga Retreat DVD contains everything you will need to master the basics of yoga.
The course comprises 21 classes done over 21 days.  The weekday sessions are approximately 20 to 30 minutes long each.  On Sundays, you can choose between one of three different 10-minute routines.
Led by four renowned yoga experts – two male and two female – the instructions are detailed and very easy to follow.  So much so that if you wanted to, you could execute the poses without looking at the video, just listening to it.
Each week's sessions build on the previous week's, taking you on a journey that, upon conclusion, will enable you to attend yoga classes confidently without appearing to be a newbie.
The videos show three people doing each pose.  There's the expert trainer, a second person following the trainer's instructions, and a third person who demonstrates a modified version for people new to yoga.
Your progression rate is up to you.  Stick to the schedule, or repeat each week's lessons for as long as need be.
In this BeachBody 3 Week Yoga Retreat review, we will look at what you will be getting for your money and everything else you may want to know before purchasing.
Who will the program suit?
The 3 Week Yoga Retreat Workout Program will suit beginners who want to learn, understand, progress, and ultimately master yoga.
If chanting and working in a room with lit candles is a bit too "out there" for you, you'll be pleased to know that neither feature in this course.
If you've been practicing yoga for a while and you've reached an intermediate or advanced level, this probably won't be the program for you.
Are there any additional equipment requirements?
To undertake the routines comfortably, you will need a yoga mat.  Additional equipment that will be useful includes two yoga blocks, a yoga strap, and a yoga towel.
To find out how a yoga towel can enhance your yoga sessions, click this link.
Click here to read an article outlining how to choose a yoga mat.
The next part of this 3 Week Yoga Retreat review covers the inclusions, the workouts, and their runtimes.
What's in the box?
Along with the 21 yoga classes, the 3 Week Yoga Retreat DVD also contains the following:
Quickstart Guide –

A Quickstart guide provides step-by-step instructions on how to get the most from the program.
Clean Eats Nutrition Guide –
The BeachBody Yoga Retreat Nutrition Guide contains tips to improve your health and appearance and a range of delicious recipes.
Class Calendar –

A 21-day calendar shows you how to build your yoga foundation the simple way.
Pose Tracker –

The Pose Tracker is used to record your progress visually (in the form of photos) and your achievements as you work your way through the program.  Forward a copy to BeachBody, and they will send you a 3 Week Yoga Retreat motivational bracelet in return.
Unbiased 3 Week Yoga Retreat Review
BeachBody 3 Week Yoga Retreat DVD Breakdown
Next, we will look at the four BeachBody 3 Week Yoga Retreat DVDs that make up the set.
DVD One – Beginner Basics
The Beginner Basics DVD comprises 13 short tutorials which demonstrate how to correctly perform and master some of the most popular yoga postures.  Included among these are Downward Dog, Cobra,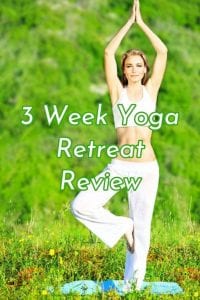 Upward Dog, Savasana (Corpse Pose), Child's Pose, Malasana (Yoga Squat), and Tadasana (Mountain Pose).
This DVD also teaches you:
Why it is important to maintain a healthy length in your spine and how to achieve this through yoga
How to be more mindful and the associated benefits
The core muscles, their importance, and how to strengthen and engage your core during yoga and in everyday life
How to breathe correctly while performing yoga routines
The props and equipment that can make it easier and more comfortable to achieve yoga poses
DVDs 2 to 4 Schedule
The Foundation DVD for week one will teach you the fundamentals of yoga.
Week two's Expansion DVD increases your knowledge of and develops your practical yoga experience.
The Progression DVD for week three further develops on the knowledge gained from the first two weeks of the 3 Week Yoga Retreat DVD program.
Each day's/week's session is approximately the same length.  Week two's lessons are more challenging than week one's, and week three steps things up another notch.
The routines consist of the following:
Core comprises poses that use, engage, and develop an awareness of your core muscles
Day Two – Stretch (32 mins)
This routine will help you to extend all of your body's muscles and release tension
Day Three – Balance (28 mins)
During this session, you will learn how to improve your physical, mental, and emotional balance.
Day Four – Flow (30 mins)
Flow sees you combining everything you've learned to date and combining it with breathing techniques.
Day Five – Flow On-the-Go (20 mins)
A faster version of Flow, this session is ideal for busy people.
Day Six – Relax (24 mins)
This relaxing and enjoyable routine will give you a bit of a breather after the previous five days' work.
On day seven, you can choose to do any one of the following three segments:
Take 10 AM (10 mins)
This morning routine will invigorate your mind and energize your body
Take 10 PM (10 mins)
An evening routine, Take 10 PM relieves stress and helps you to relax and get a good night's sleep
Take 10 Abs (10 mins)
This routine targets the abs and core.  Postures you will do include Easy Pose and Half Lord of the Fishes.
BeachBody 3 Week Yoga Retreat Summary
The BeachBody 3 Week Yoga Retreat Workout Program is an excellent introductory program with clear, concise instructions from four expert yoga trainers.
By the end of the course, along with mastering some of the most popular yoga postures, you will have learned a lot about yoga and know if you wish to continue to pursue the practice.
You may also like to read, How to Prepare for Yoga Class.
Click here to read a review of the Yoga Burn Program for Women.