This post may contain affiliate links. If you click a link and buy something, I may receive a small commission at no extra cost to you.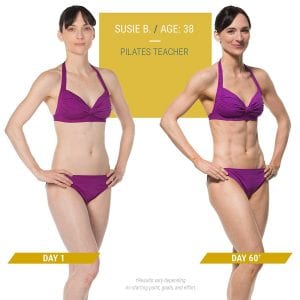 If you're looking for a challenging fitness program that will get you totally ripped in 60 days, check out the Masters Hammer and Chisel Workout.  A BeachBody program, it was created in collaboration with two of the most respected fitness trainers in the industry, that being Autumn Calabrese and Sagi Kalev.
Over the years, this highly-credentialed duo has individually helped thousands of men and women lose weight and get into top shape.  Some of Autumn's most recent releases include 21 Day Fix, 21 Day Extreme, and Country Heat.  Sagi is probably best known for being the creator of Body Beast.
In this BeachBody Hammer and Chisel Workout review, we will look at an overview of the program and what's in the box.  We will cover Week 1 of the Hammer and Chisel Workout schedule, discuss the results you can expect, your equipment requirements, and more.
The Masters Hammer and Chisel Workout Overview
The Masters Hammer and Chisel workout is a 60-day fitness and nutrition plan with a 6-day a week workout schedule.
The program provides the option of following along with a modifier who shows an easier version of the moves.  In theory, this means that anyone can do it.  However, if you are really out of shape, I recommend starting with something easier and Autumn's 21 Day Fix would be a great option.  (Click the previous link to read a review.)  If you are already reasonably fit and your aim is to lower your body fat percentage and sculpt lean, defined muscles, the Hammer and Chisel Workout is hard to beat.
Autumn and Sagi have many years of experience between them.  They will show you their best strength exercises and proven techniques to ensure you get the results you're looking for and get them quickly.  They will also provide you with some fool-proof nutrition plans and fill you in on their personal training techniques.
The 12 body sculpting resistance workouts target all of the body's major muscle groups.  Between 25 and 45 minutes long each, the routines are based on SSP training, this being Stabilization, Strength, and Power.  Most fitness programs focus on one or two of these elements.  With the Masters Hammer and Chisel workout, you are essentially getting three workouts in one.
You can do the workouts without following the nutrition plan, but for the best result, do both.
What's in the Box?
Included in the Masters Hammer and Chisel Base Kit is the following:
6 DVDS, containing 14 workouts in total.
7 color-coded food containers to help with portion control.
The Quick Start Guide, which is an easy-to-follow 3-step blueprint that will help you get the body you want.
The Program and Nutrition Guide, which includes an eating plan, a range of easy-to-prepare recipes and advice for getting the most from the workouts.
The 60-day Master's Hammer and Chisel Workout Calendar, which lists the order in which the workouts should be done to get the best results.
A Cheat Sheet, and a Food List.
24/7 Online support, so you can access a trainer who will answer your diet and exercise questions any time of the day or night.

The Masters Hammer and Chisel Deluxe Kit contains everything in the Base Kit, plus:
A second set of food containers.
The Masters Hammer and Chisel Workout Transformation
Equipment Requirements
Some of the exercises require the use of an adjustable weight bench.  If you don't have one, a fitness ball is a good substitute.  You will also need a pair of dumbbells or an adjustable dumbbell set.  Alternatively, use resistance bands.
Some of the workouts involve doing Pull-Ups.  These will require either a Power Tower or a suitable door attachment.
It's a good idea to have a bottle of water nearby so that you can rehydrate.  And, since you will be sweating a lot, keep a towel handy.
Next, in this Hammer and Chisel Workout review, we will look at all of the workouts along with a brief rundown of their focus and their runtime in minutes.  We will then look at week 1 of the Hammer and Chisel Workout schedule.
BeachBody Hammer and Chisel Workout List
In the safety video, Autumn and Sagi cover your equipment requirements and how to get the most from your sessions without risking injury.  Watch this before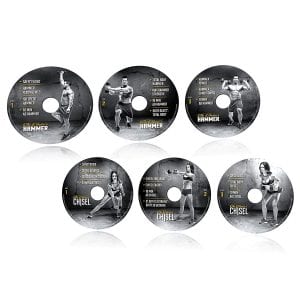 doing any of the workouts.
Chisel Balance is a total-body workout that improves stabilization, muscular endurance, and core strength.
HAMMER PLYOMETRICS (26:29)
Hammer Plyometrics is a total-body jump training workout that hones speed, power, and force.
ISO STRENGTH CHISEL (36:39)
An intense resistance workout based on isometric holds, Iso Strength Chisel enhances flexibility and improves strength.
A tempo training segment, Iso Speed Hammer's focus is isometric holds and speed to build muscle and increase strength.
Chisel Endurance is a time-under-tension segment which increases strength and muscular endurance.
TOTAL BODY HAMMER (43:48)
Total Body Hammer is a hypertrophy workout based on pyramid-style sets that improve strength and maximize muscle growth.
MAX HAMMER STRENGTH (36:53)
Max Hammer Strength improves strength and power and promotes muscle definition.
Hammer Power is a challenging powerlifting-inspired workout.  Its aim is to increase power, speed, and reactive strength.
HAMMER CONDITIONING (30:42)
Based on compound movement, Hammer Conditioning enhances strength, coordination, and stability.
A cardiovascular resistance workout, Chisel Cardio will elevate your pulse rate, improve your circulation and burn lots of calories.
A challenging cardio workout, Chisel Agility will increase your speed as it improves your coordination and stability.
TOTAL BODY CHISEL (36:04)
Total Body Chisel is a total-body resistance workout with a focus on developing strength and sculpting lean muscle.
10 MINUTE AB CHISEL (10:56)
The first of the BONUS workouts, 10 Minute Ab Chisel is a floor-based routine designed to transform the appearance of your midsection for the better.
10 MINUTE AB HAMMER (12.29)
The second BONUS workout is 10 Minute Ab Hammer, which focuses on defining and strengthening the entire abs and core.
The Masters Hammer and Chisel Workout Schedule Week 1
In this section of my Masters Hammer and Chisel Workout review, we will look at the schedule for week 1.  All of the run times include a Warm-Up and Cool-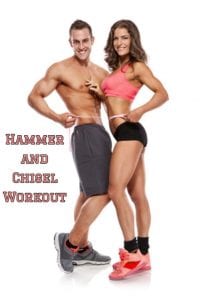 Down.
Day 1:
Chisel Balance – Chisel Balance's focus is the lower body and cardio.  Your heart rate will be elevated throughout, your quads, hamstrings, and glutes will be targeted and you will burn lots of calories. 
Exercises you will do include 1-Legged Squats, 1-Legged Squat Jumps, and 1-Legged Planks.  You will also do Planks, 1 arm bench presses, Bridges while lifting weights and more.  Each exercise is repeated 15 times and you will 2 sets.
Day 2:
Hammer Plyometrics – Hammer Plyometrics is a combination of aerobic and anaerobic moves.  Slightly shorter than Day 1's workout, it is no less challenging.
Exercises you will be doing in this segment include Vertical Jumps and Plank Push-Ups (touching the bench with alternate hands on the way up.  You will jump over a bench (from one side to the other), do Chin-Ups, Crunches Lunge Squat and the exercise most of us love to hate, that being Burpees.
Day 3:
Iso Strength Chisel – Exercises you will be doing in Chisel include Squats, Push-Ups, 1-Arm Rows, Pull-Ups, Dumbell Lateral Raises and various ab exercises.
Each exercise in this workout is done 10 times, with the last rep being held for ten seconds.  This sequence is repeated three times per exercise.
Day 4:
Day 4 is a day of rest.  Make the most of it, because in 24 hours you will be working out again.
Day 5:
Iso Speed Hammer – Iso Speed Hammer is an incredibly fast-paced cardio workout which includes Push-Ups, Pull-Ups, and Lunges.  You will also be doing Dead-Lift Squats, Tricep Kickbacks, and calf exercises.
Day 6:
Chisel Endurance – Chisel Endurance is a "Time-Under-Tension" workout that will increase your strength and muscular endurance.  It comprises 10 moves and 2 rounds.
With lots of bench work, you will be doing Bench Run-Ups, Negative Pull-Ups, and Step-Up Cross Overs.  You will also do Decline Push-Ups, 1-Hand Row Leg Extension (on a bench), Incline Presses, and Plank-Hold Knee Taps.
*Time Under-Tension involves slowing down the repetitions and/or holding onto weights between sets.
Day 7:
Total Body Hammer & 10 Minute Ab Hammer
Total Body Hammer
Today you will do two workouts.  The first of these is a full-body workout called Total Body Hammer.  The second workout is called 10 Minute Ab Hammer.
Total Body Hammer is a fast-paced workout which focuses on traditional weight lifting moves.  Starting with 10 reps per move, this then drops back to 8 reps, 6 reps, etc., of each exercise.  There are three rounds, each of which is repeated twice.
Exercises in this segment include Bench Presses, Squats, Reverse Grip Rows and Incline Flys.  You will also do Reverse Lunges, Wide Pull-Ups, Military Presses, Split Squats and Post Delt Flys.
10 Minute Ab Hammer   
The 10 Minute Ab Hammer workout includes C-Taps, Forearm Runs, Up Down Reach and Oblique Crunch Twists.  You will also be doing Side Plank Wings, Windshield Taps, and Hammer Runs.
Masters Hammer and Chisel Nutrition and Meal Plan
The Masters Hammer and Chisel Nutrition and Meal Plan is customizable to your goal, be it to strip fat and improve your muscle tone, sculpt your body to get
ripped, or maintain your weight.  How much you eat each day is determined by your answers to a quiz, which will give you a calorie range.
If your aim is to lower your body fat, you will eat less, so as to create a calorie deficit.  If you want to add muscle, you will eat more.
Utilizing Autumn's renowned 21 Day Fix portion control containers, following the diet is easy.  The seven containers in the system each come in a different color.  There's no measuring or counting of calories.   All you will have to do is fill the container with the appropriate food and tuck in.
The containers and their use are as follows:
Green for vegetables – 1 cup capacity

Purple for fruit – 1 cup capacity

Red for protein – 3/4 cup capacity.

Yellow for carbs and starches – 1/2 cup capacity

Blue for healthy fats and cheeses – 1/3 cup capacity

Orange (2)  for oils and seeds – Each container has a capacity of 2 Tablespoons

1 shaker bottle – Use this for mixing protein shakes
BeachBody Hammer and Chisel Workout Summary
BeachBody makes some of the most reliable fitness programs out there, and they work in conjunction with some of the best trainers, the Hammer and Chisel Workout being a prime example.  The program provides everything you will need to transform your body, including the workouts themselves and an easy-to-follow nutrition plan.  Whether you want to lose weight, maintain your weight and tone up or build lots of muscle, the Masters Hammer and Chisel workout can help you to achieve your goal.
If you've been struggling to find a program that will take your fitness to the next level, give this one a shot.  It's not easy, but it straight out works.  Do as they say, and phenomenal results are guaranteed.